What you need
Two cardboard boxes (you could try a cereal box)
Sticky tape and scissors
Felt tip, pen or pencil
Watercolours or poster paint (if paint is tricky to find you could use a glue stick and coloured paper, or felt tips)
Paintbrush and water
A plate to mix paint on
Inspiration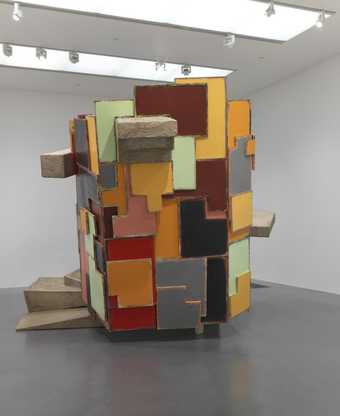 Sculptor Phyllida Barlow uses lots of everyday materials for her sculptures. She uses things from the house like wood and carpet, as well as things you might use to do DIY, like foam, concrete and polystyrene. She also often takes her sculptures apart and reuses the pieces to make something new.
We've taken inspiration from her work, untitled: upturnedhouse2 for our cardboard box sculpture. What words would you use to describe it?
Barlow often layers materials on top of one another and cuts or breaks the sculptures she's made to see how they look afterwards.
Once you've made your sculpture, try taking it apart and remaking it into a different shape. You could also drop it on the floor or cut some of it away. How does that feel? What happens to the sculpture?