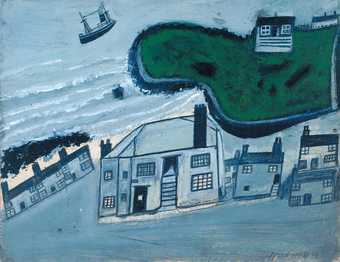 Alfred Wallis was born in Penzance and later lived in St Ives, both towns in Cornwall, UK. He taught himself to paint and made up his own style and techniques. His pictures tell stories of living by the coast and his memories of working at sea.
How did he paint?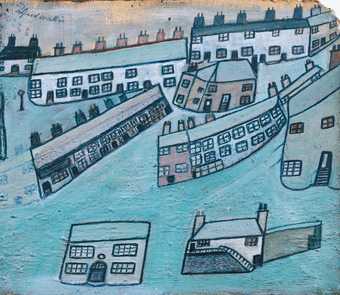 Alfred Wallis painted at the kitchen table of his home in St Ives. He used scrap materials that he found around him. He didn't have much money, so he used bits of spare paint from the boat industry in the town. Shopkeepers' would save old grocery boxes and crates for him to paint on. He left parts of the boxes showing through his works and kept the odd shapes of the boards, so that you can see what they are.
Look closely at the image above. What do you think Wallis has painted on? What scrap materials can you find that you could turn into a work of art?
What are his paintings about?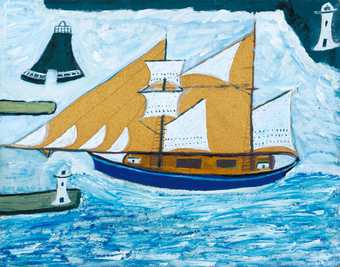 Alfred Wallis painted the places he saw and things he did during his life. The sea was very important to him. He worked as a fisherman, sailor and scrap merchant before he became an artist. Some of his paintings are of his memories of working on ships and boats. He also made paintings that show parts of St Ives.
Wallis made the important things in his paintings the largest. The Blue Ship shows a big sailing boat surrounded by the sea, piers and lighthouses. He wanted to make the ship the centre of attention. Things didn't have to look like they do in real life. His pictures of St Ives look a bit like the town, but the roads and houses are changed. Sometimes, his buildings float like islands in the sea.
What would be the centre of attention in a picture of where you live? You could cut and tear some images from an old magazine or newspaper and mix them together.
Why is Alfred Wallis important?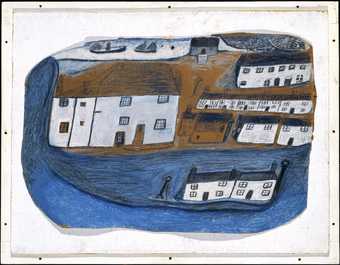 Alfred Wallis inspired lots of other artists. They liked how he arranged simple shapes and played with scale and different materials to make his pictures. In 1928, he met the painters Winifred and Ben Nicholson, and Kit Wood. Their friendship helped Wallis exhibit his work and become known outside of St Ives. His paintings became very popular, but Wallis did not sell many of them during his lifetime.
Where can I see his work?
You can see some of Alfred Wallis's artwork at Tate St. Ives. The gallery is close to where Wallis lived, and you can also visit some of the places that he saw every day. You can see his art in the gallery and play on the beach next to his cottage.
Make Like Wallis
If you like Wallis's paintings, why don't you try for yourself? Follow these instructions to make sand art inspired by the beach and the ocean.