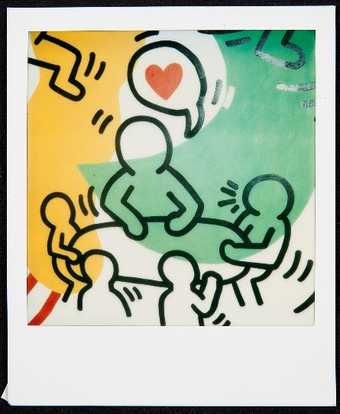 Keith Haring was born in 1958, in Pennsylvania, USA. He loved drawing cartoons and visiting museums. Here he is travelling on the subway.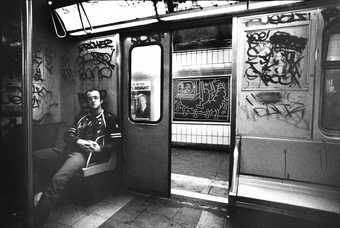 Keith Haring is known for colourful, cartoon artworks and certain characters such as crawling babies, barking dogs and spaceships.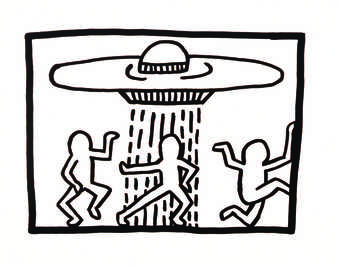 When he was 20 years old he moved to New York City. Keith Haring had relationships with men and was a part of the LGBTQ+ community in New York.
In the 1980s, New York was very exciting place and there were many artists working in the same neighbourhood as Haring, such as Andy Warhol and Jean Michel Basquiat.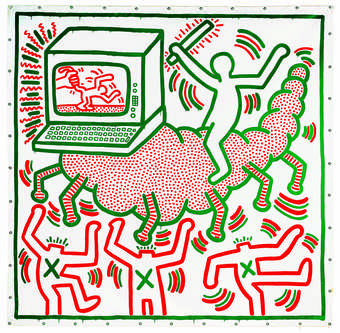 Keith Haring was inspired by graffiti artists. He drew hundreds of drawings on New York's subway. He used chalk to make his art, like the image below.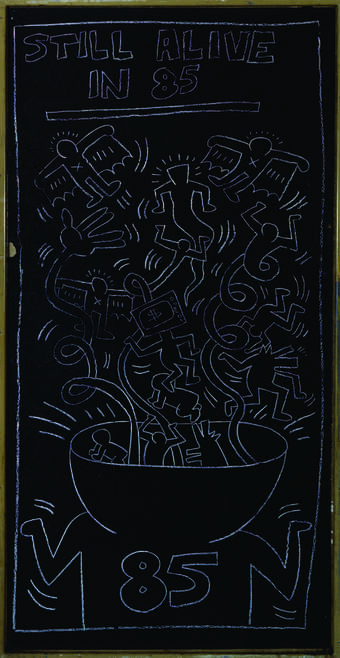 People walked past his art every day. Imagine walking past artworks on your way to school every day!
He got in trouble sometimes for drawing on the subway, but many people loved his art. He carried on drawing because he wanted everyone to experience art.
Keith Haring started becoming famous and had exhibitions in galleries. When the paintings were sold, he often gave the money to children's charities.
Haring, painted art with and for kids. He made murals in lots of children's hospitals and schools. He even painted a massive artwork of the Statue of Liberty with over 1000 kids!
He often listened to hip-hop music. Break-dancers used his pavement drawings as a surface for their performances. Do you think these figures are dancing to hip hop?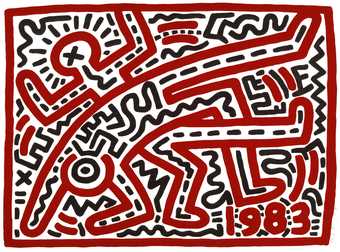 Keith Haring's art became very expensive to buy. However, he wanted everyone to be able to buy his work. He opened a new shop called the Pop Shop to sell his art on badges, posters, games and T-Shirts.
In 1988, Haring became very sick with a disease called AIDS. Haring kept on drawing and he even made posters to tell people about the sickness. Before he died, Haring set up The Keith Haring Foundation to fund AIDS research and to help kids who are in need.
Keith Haring wanted everyone to make art. Have you ever drawn on the pavement with chalk? Have you tried drawing your own dancing characters? Have a go!