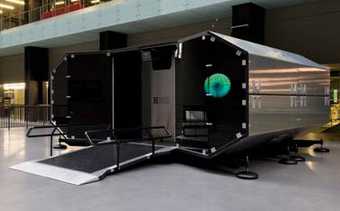 H BOX is an innovative, roaming screening hall, presenting major new video commissions by eight international artists. Designed by architect Didier Fiuza Faustino, the unique structure hosts a rotating, diverse programme of videos by Alice Anderson, Yael Bartana, Sebastián Díaz-Morales, Dora García, Judit Kúrtag, Valérie Mréjen, Shahryar Nashat, and Su-Mei Tse.
Consisting of two entirely collapsible modules constructed of aluminum and Perspex, H BOX can be assembled, disassembled and transported as required. It is designed to travel the world, in search of new audiences. Each year, as H BOX tours between museums internationally, four new artists will join the programme as four others give up their place. The itinerant nature of the structure and the commissions shown within it highlight the exciting fluidity of video, a medium that continues to reshape globally the twenty-first century.
H BOX is produced by Hermès. Benjamin Weil, executive director of Artists Space, New York, is the artistic director of the project. H BOX was first unveiled at the Pompidou Centre in Paris in November 2007 and has traveled to MUSAC, Museo de Arte Contemporaneo de Castilla y Leon, Spain, and MUDAM, Luxembourg. Following its presentation at Tate Modern H BOX will travel to the Yokohama Triennale in Yokohama, Japan.