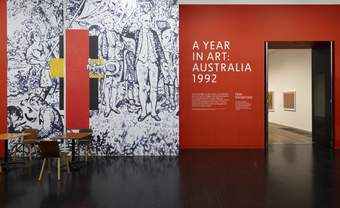 The International Joint Acquisition Programme
The International Joint Acquisition Programme for contemporary Australian art was launched in 2015 through a $2.75 AUD million corporate gift from the Qantas Foundation. The initiative has allowed the Museum of Contemporary Art Australia and Tate to jointly acquire 35 works of art by 24 leading contemporary Australian artists.
This partnership has significantly enhanced both organisations' holdings of Australian art, transformed the opportunities for international audiences to connect with contemporary Australian art and artists, as well as given Australian artists more visibility around the world.
Supporting Free Collection Displays
Several of the works acquired through this programme have been shown in the collection displays of both Museum of Contemporary Art Australia and Tate over the last 7 years. This includes but is not limited to A Year in Art: Australia 1992 which was open from 8 June 2021 – 14 May 2023 at Tate Modern, and Richard Bell: Embassy installed on Tate Modern's Turbine Hall Bridge as part of Tate's free programme from 20 May – 18 June 2023. Qantas also supported the travel of art activists, Richard Bell, Megan Cope and Ghillar Michael Anderson, who participated in a series of talks as part of the programme for Richard Bell: Embassy. The talks explored the artwork, educated visitors and enabled audiences to share their own stories and experiences.