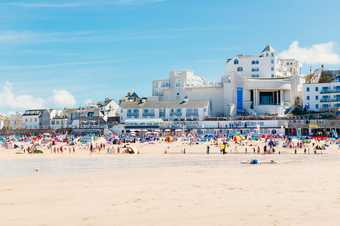 St Ives, a small Cornish town on the southwest coast of England, perhaps seems an unlikely site for a major art gallery. However, its artistic connections date back to Victorian times when numerous artists came to St Ives to paint, attracted by its special quality of light. Artists associated with the town include Barbara Hepworth, Naum Gabo, Alfred Wallis and Mark Rothko.

Tate had formed a close link with St Ives when it took over the management of the Barbara Hepworth Museum and Sculpture Garden in 1980. By the middle of the decade it was decided a gallery should be built there to show works by artists who had lived or worked in St Ives, loaned from the collection.

In 1988, a building was chosen on the site of a former gasworks overlooking Porthmeor Beach and the Atlantic Ocean. The architects Eldred Evans and David Shalev were selected for designs that echoed the shapes of the former gasworks, including the rotunda that forms the heart of the gallery.

Building work began in 1991, funded by donations from the local community, the Henry Moore Foundation and the European Regional Development Fund. The Tate Gallery, St Ives opened in June 1993 and in just six months welcomed over 120,000 visitors – 50,000 more than the original target for the entire year. Since then, the gallery has been an outstanding success with an average of 240,000 visitors per year.

As a result of the large number of visitors at the gallery, it was decided to refurbish and extend Tate St Ives. The making of the new Tate St Ives completed in summer 2017. The original architects, Evans and Shalev designed the changes to the existing building. Jamie Fobert Architects were commissioned to create the new extension which doubled the size of the exhibition space, increased facilities and added new art handling facilities.