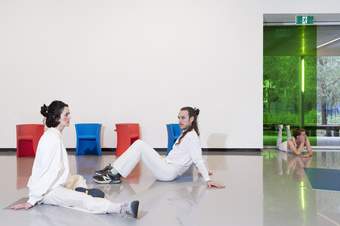 Precarious Movements was awarded an Australian Linkage Grant of nearly $400,000 over three years from 2021 to 2024 worth double this amount including in-kind support from partner organisations University New South Wales (UNSW), National Gallery of Victoria (NGV), Tate, Art Gallery New South Wales (AGNSW) and Monash University Museum of Art (MUMA), Perth Institute of Contemporary Arts (PICA) and independent artist Shelley Lasica.
Against the backdrop of intermedial experiments in the mid-twentieth century, the twenty-first century has seen dance and choreography appear more frequently in art galleries and museums. This is forecast to accelerate, propelled by curatorial inquiries and critical developments associated with a reinvention of the museum. However, processes and protocols concerning performance conditions specific to choreography, curatorial practices, acquisitions, collection, conservation and theory have lagged behind. The project addresses this problem, and its principal aims are to:
Articulate best practice in the life cycle of choreographic work when it enters the museum and gallery.
Model best practice in commissioning, curating, conserving, presenting and interpreting choreographic work in the museum and gallery context.
Develop new critical understandings of dance and the art institution to support further development in the field.
Precarious Movements puts artists and creative practice at the centre of its inquiry, engaging their knowledge and experience as primary research, and supports dancers and choreographers as important end users.
As part of this project Tate Conservation are focused on developing best practice in the conservation of choreographic artworks and working with the project team to develop guidelines and toolkits that support those working in this area. Other outputs from the project include an anthology, Precarious Movements, due for publication in 2024, six commissioned creative case studies, and workshops and forums.
Precarious Movements is led by the University of New South Wales. Tate is a Partner Investigator on the project.
For full details on the project, the project team and research outputs please visit the UNSW Sydney website at https://www.unsw.edu.au/arts-design-architecture/our-schools/arts-media/our-research/our-projects/precarious-movements-choreography-museum.