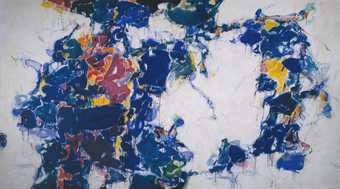 This initiative draws on Tate's collection to reveal a richer and more complex view of post-war American art and culture. Bridging the worlds of academia and the museum, it brings together contributions from leading scholars of American art in the UK and America and will lead to publications (notably, online In Focus projects), gallery displays, academic workshops ;and a conference at Tate.
Led by Dr Alex J. Taylor, the project, which began in 2014, seeks to shine new light on American artists of significant period stature who have fallen from scholarly attention or whose work invites new perspectives. Artworks that can serve to broaden how we understand key movements or complicate the categories of post-war practice are a particular focus for inquiry. Research on the international histories of American art – especially its exhibition and reception in Britain, and at Tate itself – will illuminate the transnational networks that shaped art and society in the post-war decades.
RESEARCH THEMES
Four research themes serve as threads that run through the various outcomes of 'Refiguring American Art':
1. Transnational Modernisms
How did migration and expatriate experience shape American art? What was the role of cold war politics and alleged cultural imperialism in American art's international reception? How did exchanges between American and European modernisms influence their respective histories?
2. Economies of Taste
How did the American avant-garde relate to the nation's booming consumer culture? What role did the art world play in shaping the norms of good taste? To what extent were the forms of post-war art shaped by the interests of a buoyant global art market, and an increasingly powerful museum sector?
3. Contextualising Abstraction
What were the connections between modernist abstraction and the everyday world? How did it engage with the spaces and experiences of modern life? What were its connections with the realms of ideology, philosophy and religion? How did American artists seek to problematise the boundaries between abstraction and figuration?
4. Built Environments
How did the visual culture of the built environment inform the work of post-war artists? How did the politics of urban renewal and redevelopment inform their practices? How did emerging ecological interests shape artistic engagements with industrial waste and other human interventions in the environment?