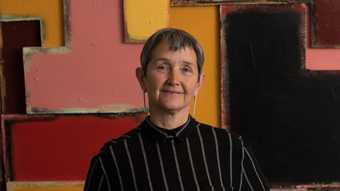 Frances Morris
Function
Frances Morris oversees the day to day operations of Tate Modern, chairing the Tate Modern Management Team and representing Tate Modern on Tate's Executive Group. She also holds overall responsibility for the conception and delivery of programme areas including temporary exhibitions, commissions, collection displays, live and film programmes as well as responsibility and sign off for acquisitions of international art.
Biography
Frances Morris has played a key role in the development of Tate, joining as a curator in 1987, becoming Head of Displays at Tate Modern (2000–2006) and then Director of Collection, International Art until April 2016 when she was appointed to her current role. Frances was jointly responsible for the initial presentation of the opening collection displays at Tate Modern in 2000, which radically transformed the way museums present the story of modern art. Frances led the transformation of Tate's International Collection, strategically broadening and diversifying its international reach, its representation of women artists and developing the collection of live art and performance and pioneering new forms of museum display. She has curated landmark exhibitions, many of which were large-scale international collaborations, including acclaimed major retrospectives of women artists, Louise Bourgeois in 2007, Yayoi Kusama in 2012 and Agnes Martin in 2015. In 2017 she co-curated Tate Modern's major retrospective of Alberto Giacometti.
Earlier in her career Frances Morris curated Paris Post War: Art and Existentialism in 1993 and in 1995 she worked with Stuart Morgan on the exhibition Rites of Passage. Specialising in post-war European and contemporary international art, she has published widely on the subject and has also curated projects with many contemporary artists from Britain and abroad, including Miroslaw Balka, Chris Burden, Genevieve Cadieux, Sophie Calle, Mark Dion, Luciano Fabro, Paul McCarthy and Nicholas Pope.
Frances holds a BA in History of Art from Cambridge University and an MA in History of Art from the Courtauld Institute of Art, London and is an Hon Fellow King's College Cambridge. She is a Board member at Fruitmarket Gallery, Edinburgh and Board Mori Art Museum, Tokyo and a member of the CIMAM Board.
Tate Modern Division
The Tate Modern Division is responsible for the programme of exhibitions and collection displays of international modern and contemporary art from around 1900 to the present day, and for researching and building, through purchase or gift, Tate's collection of international art.