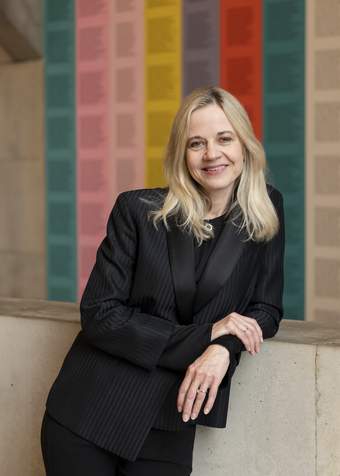 Karin Hindsbo
Function
Karin Hindsbo oversees the day to day operations of Tate Modern, chairing the Tate Modern Management Team and representing Tate Modern on Tate's Executive Group. She also holds overall responsibility for the conception and delivery of programme areas including temporary exhibitions, commissions, collection displays, live and film programmes.
Biography
Karin Hindsbo was born in Denmark and lived in Norway from 2012 to 2023. She has a master's degree in art history and was Director of The National Museum, Oslo, from 2017 to 2023. The institution was created under her leadership, during which she finalised the consolidation of the former National Gallery, Museum of Decorative Arts and Design, Museum of Contemporary Art, Museum of Architecture, and National Touring Exhibitions. The new museum she and her staff developed opened in June 2022 in a new 54,600 square metre building, which cares for a collection of 400,000 items, making it the largest museum in the Nordic countries.
Previously, Hindsbo worked as Director of several art institutions and museums in Norway and Denmark, including Kode in Bergen (2014-17), Sørlandets Kunstmuseum in Kristiansand (2012-14), Kunsthal Aarhus (2009-11) and Den Frie Centre for Contemporary Art in Copenhagen (2006-08). She was previously Editor in Chief of Danish cultural journal Øjeblikket and an external lecturer at the Institute of Art and Cultural Studies at the University of Copenhagen.
Tate Modern Division
The Tate Modern Division is responsible for the programme of exhibitions and collection displays of international modern and contemporary art from around 1900 to the present day, and for researching and building, through purchase or gift, Tate's collection of international art.