1. They started off as a secret society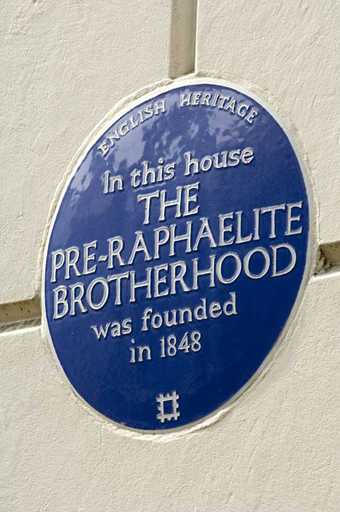 The endeavour held in view throughout the writings on
Art will be to encourage and enforce an entire adherence to
the simplicity of nature; and also to direct attention, as an
auxiliary medium, to the comparatively few works which Art
has yet produced in this spirit.
2. The PRB were radical in their time, and not everyone liked it
In fact most of the establishment couldn't bear it. These young artists aimed to overturn everything artists were being taught at the Royal Academy School. These teachings held up the Renaissance painter Raphael as the pinnacle of artistic achievement, but that the PRB saw as formulaic and backward looking. By going back 'Pre-Raphael' to medieval and early Renaissance painters, they planned to recapture what they saw as simplicity and truth in art. Inspired by the flat compositions and minute detail of these early paintings, particularly frescoes, they rejected any hierarchy of symbols in their paintings (giving equal weight to the figures and the environment surrounding them). They painted directly on to white grounds making their colours startlingly bright, and gave their forms sharp outlines with little shadow.
In 1850, Charles Dickens described Millais's depiction of the Virgin Mary in Christ in the House of His Parents as a degenerate type, one who was 'horrible in her ugliness'.
3. People really like them now, though
John Everett Millais' Ophelia 1851–2 and Dante Gabriel Rossetti's The Beloved 1865–6 have been on an international tour over the last year, to the US, Russia, Japan and Italy where they were collectively seen by over 1.1 million people. Ophelia consistently tops the bill as the most looked at art work on the Tate website and the the most popular postcard in the shop.
4. John Everett Millais was a child prodigy
Growing up in Jersey, Millais was apparently expelled from his nursery aged four. However, his growing talent for drawing was noticed, not only by his mother and drawing master in St Helier, but also by prominent visitors to the island who suggested the young Millais be taken to the Royal Academy Schools in London. The family moved to London when Millais was nine, and by 11 he was admitted to the Royal Academy, as their youngest ever student.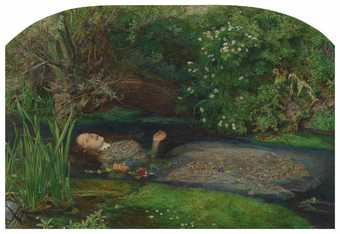 5. They were the first 'high definition' painters
When TV and film began to be filmed in digital HD, it caused a major headache for set dressers and props makers. Film's forgiving grain and the relatively narrow depth of field, could be relied on to cast a warm glow over a painted backdrop or a hastily-amended costume, and not draw too much attention away from the action. Digital HD, however, suddenly brought absolutely everything in shot into horrifying focus. Truth was in all the tiny details. And so it was for the Pre-Raphaelites. They were accused of using the new technology of photography to paint from, though in fact they did not, always painting form the true natural source, often outdoors. Their paintings do, however, have what Tate curator Alison Smith calls 'a discordant quality of focus – rather like a high definition film, where the whole depth of field is sharp'. This does make it hard for the eye to read quickly: do you focus on Ophelia's face, her hands, her dress, the flowers? But it also means that these paintings don't give up their secrets too easily – they benefit from a long look.
6. Lizzie Siddal didn't die from posing in the bath for Ophelia
Though it probably didn't do her any favours. Millais had her in the bath from December 1851 until the end of March 1852, and they normally kept the water warm by placing oil lamps placed below. On one occasion, the lamps went out. Millais didn't notice, and Siddal didn't mention it. She caught a cold which cost her father £50 (over £3000 today) in doctor's bills – he sent the bills to Millais.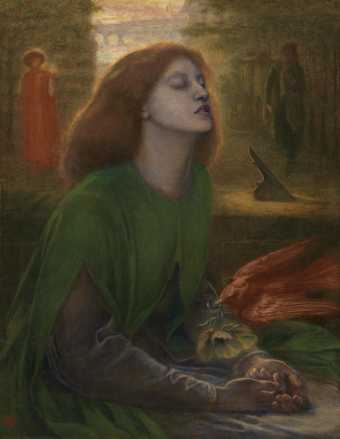 Siddal was in truth, Rossetti's muse, though she sat for others of the PRB. Their relationship continued over a decade, from the early 1850s to their unhappy marriage in 1860, and to her eventual death (possibly suicide) from an overdose of laudanum, an opium derivative. It was this addiction that killed her, whether by accident or design. Rossetti's final homage to her, Beata Beatrix, shows a dove bringing Beatrix (Lizzie) a poppy, of course the source of the drug caused her death.
7. Dante Gabriel Rossetti kept a mini zoo at Chelsea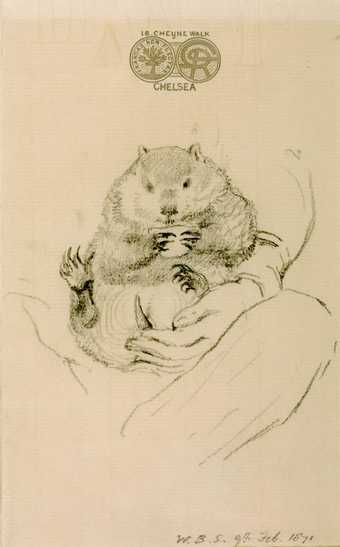 In 1862 Rossetti moved to 16 Cheyne Walk in Chelsea, a house with a large garden that he turned into a miniature zoo. Rossetti had kangaroos and wallabies, armadillos, a racoon, a Canadian woodchuck and a Japanese salamander, as well as larger animals like a zebu. He even discussed the purchase of an African elephant with the wild animal supplier, Charles Jamrach. His favourite animal however, was a wombat named Top. Rossetti loved visiting the wombats at London Zoo, and had purchased two as pets from Jamrach. Unfortunately Top did not care of the change of scenery, lasting only a couple of months. Rossetti had him stuffed and displayed him in the entrance to the house.