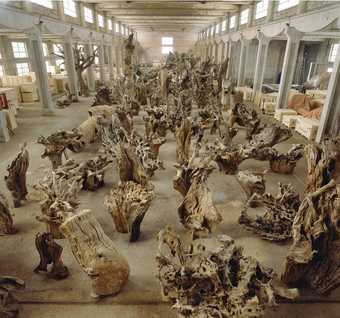 In September 1979 stars group displayed their artworks without permission on railings adjoining the China Art Gallery. When they were forced to remove the works they organised a protest march and as a result were given permission to exhibit their art in an event that was attended by more than 80,000 people. While this marked a watershed for artistic freedom in China, it was short lived.
The group faced harsh official criticism and in 1983, due to political pressure they disbanded with many of the members leaving China. Artists associated with Stars Group include Ai Weiwei, Huang Rui, Li Shuang, Ma Desheng and Wang Keping.
Focus: Ai Weiwei
TateShots: Ai Weiwei in New York
Former stars group artist Ai Weiwei talks about the time he spent as a young man living in New York and the 10,000 photographs he took documenting his life and the city.
The Unilever Series: Sunflower Seeds
In 2010 Ai Weiwei, one of China's leading conceptual artists and an outspoken social commentator, carpeted Tate Modern's Turbine Hall with millions of porcelain sunflower seeds, each intricately hand-painted. In this film he talks about his motivation, and goes back to the Chinese city of Jingdezhen to meet some of the 1,600 artisans who created the seeds for him.
More on Ai Weiwei
Feature: The artist as activist
In this article, Tate Etc. explores how Ai Weiwei translates some of his perceptions of life into his artistic practice.
Ai Weiwei in conversation
Listen to the artist in conversation with Katie Hill, curator and Senior Lecturer in Contemporary Chinese Art.