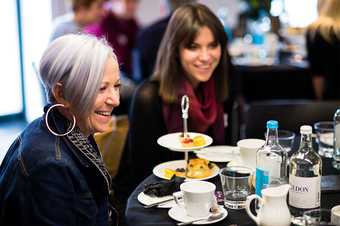 A legacy is a very special gift, and an effective way of helping Tate secure its future. In recognition of legacy gifts, everyone who pledges to support Tate in this way will be invited to join The 1897 Circle.
Current members of The 1897 Circle
Lynn Allan
Anne Berthoud
Marilyn Bild
James Birch
David and Deborah Botten
Geoff Bradbury
Charles Brett
Eloise and Francis Charlton
Paul Cumming-Benson
Alex Davids
Jonathan Davis
Sean Dissington
Ronnie Duncan
Joan Edlis
V Fabian
Ian Fletcher
Lt Cdr Paul Fletcher
Mr. and Mrs. R.N. and M.C. Fry
Richard S. Hamilton
L.A. Hynes
John Iddon
John Janssen
Estate of Paule Vézelay
Dr. Martin Kenig
Vanessa Koster-Goodliffe
Isa Levy
Theo Matoff
Jean Medlycott
Tony Miller
Sonya Newell-Smith
Miss Sue Novell and Mr. Graham Smith
Martin Owen
Ruth Rattenbury
Simon Reyonlds
Dianne Roberts
Dr. Claudia Rosanowski
Ann M Smith
Alan Sprince
Deborah Stern
Jennifer Toynbee-Holmes
D. Von-Bethmann Hollweg
Audrey Wallrock
Rosie WattProfessor Brian Whitton
Simon Casimir Wilson
Kay and Dyson Wilkes
Andrew Woodd
Mr. and Mrs. Zilberberg
and those who wish to remain anonymous
Updated as of 18/05/2022
How can I join The 1897 Circle?
You can become a member of The 1897 Circle simply by letting us know that you have remembered Tate in your Will. You can do this in one of the following ways:
by completing and returning the attached pledge form [PDF, 117 Kb]
by sending us a copy of the relevant section of your Will
by sending us a letter of confirmation from your solicitor.
The size and nature of your pledge will remain confidential and you can remain anonymous if you want to.
Everyone who has pledged a future gift to us will be invited to join The 1897 Circle. There are no administrative fees associated with membership, ensuring your bequest will be used solely for your nominated purpose.
If you are planning to include a gift to the gallery, or have already remembered Tate in your Will, we would be delighted to hear from you. We understand that writing a Will can be a very personal and private matter, but we treat every enquiry and pledge with confidence and would encourage you to allow us to thank you for your plans to support the gallery in the future, by joining The 1897 Circle.
The benefits of The 1897 Circle
As a member of The 1897 Circle you will be invited to a special annual event hosted by Tate's Legacy Ambassadors, David and Jenny Tate. At these events you will meet Tate curators and other supporters like you, who have pledged a legacy to Tate. The event is also an opportunity to learn just how important all legacy pledges are, and how your legacy will make a difference to our long-term future.
We understand that legacy gifts are a very personal matter and we take great care to ensure that our members' wishes are understood. By joining The 1897 Circle you will have the opportunity to talk to members of staff about our legacy programme and ask questions about your legacy.
As a Circle member you will receive a regular newsletter that includes information about upcoming events at all four galleries. Each newsletter also features a spotlight section highlighting the legacy works in the Collection - many of which are on display - demonstrating how past legacy gifts have had an impact on the development of the National collection.
With permission, members of The 1897 Circle will also be acknowledged on our website, in the supporter pages of our Annual Report and in selected Tate publications.
We would like to be a part of the future of Tate and support it far more closely as part of a team of diverse committed supporters who care about its direction and can play a small part in it. As keen supporters of the arts, and in particular British art, we wish to ensure in some way the future of Tate by leaving a legacy to it to help Tate maintain its prominence
David and Deborah Botten, members of The 1897 Circle
Find out more
To request an information pack, containing more information about the different ways to leave a legacy, or to speak with Tate's legacy team, please contact: 
Development, Legacies 
Millbank, London, SW1P 4RG
Email legacy.enquiries@tate.org.uk
Call +44(0) 20 7821 2961