Tate Modern
22 March – 31 March 2019
In partnership with BMW, with additional support from Outset Germany_Switzerland
Admission free during public opening hours, tickets required for evening performances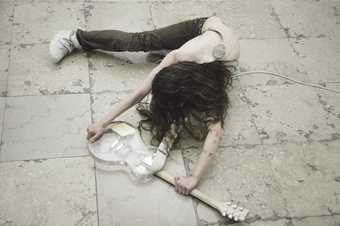 Tate Modern today announced that Anne Imhof will create a new large-scale commission for the BMW Tate Live Exhibition in March 2019. Imhof, who won the prestigious Golden Lion at last year's Venice Biennale, will be the first artist to occupy the full suite of Tate Modern's Tanks with a single project. Her dynamic new installation will combine music, sculpture and painting, unfolding over ten days with six nights of durational performance. This will be the third annual BMW Tate Live Exhibition, part of Tate Modern's ongoing exhibition programme in partnership with BMW.
Anne Imhof has emerged as one of the most pioneering contemporary artists of her generation, renowned for staging complex performative projects over long periods of time. Imhof is perhaps best known for Faust, an intense and engaging installation created for the German pavilion at the 57th Venice Biennale in 2017. The artist divided the interior with glass partitions and floors inhabited by a choreographed group of performers. Other recent projects have included Angst, presented in three acts at Kunsthalle Basel, Hamburger Bahnhof in Berlin, and La Biennale de Montréal in 2016.
Imhof will continue to explore contemporary anxieties of isolation, technology, proximity and identity in her new work at Tate Modern, entitled Sex. Using structural interventions, sound and lighting, she will transform the Tanks into a series of atmospheric spaces inhabited by groups of collaborators. During the day, visitors will be able to walk through and explore the installation freely, while performances will take place on six evenings over the course of the exhibition.
This year's exhibition follows the success of the first two BMW Tate Live Exhibitions in 2017 and 2018. These groundbreaking programmes pioneered a new model for the exhibition format with an ever-changing series of installations and live performances across ten days. Taking place in the Tanks, the world's first museum spaces dedicated to performance, film and installation, the BMW Tate Live Exhibitions have showcased a wide range of artists including Joan Jonas, Fujiko Nakaya, Isabel Lewis, Jason Moran, Mark Leckey, Jumana Emil Abboud, Wu Tsang and Fred Moten.

BMW Tate Live Exhibition is curated by Catherine Wood, Isabella Maidment and produced by Judith Bowdler. Sex is the first of three chapters in a project commissioned by Tate Modern, London, the Art Institute of Chicago, and Castello di Rivoli Museo d'Arte Contemporanea, Rivoli-Turin. In partnership with BMW, with additional support from Outset Germany_Switzerland.