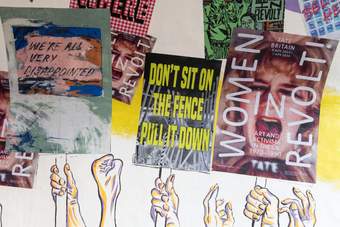 Today, a public mural has been unveiled in the heart of Camden, which celebrates upcoming Tate Britain exhibition Women in Revolt!. Going beyond the gallery walls, Tate has worked with creative street advertising specialists JACK ARTS, part of the BUILDHOLLYWOOD family, who commissioned six local London artists to create new work under the arches of the iconic Camden Lock Bridge, in response to themes in the exhibition including protest, power, radical activism and women's rights.
The mural coincides with Tate Britain's major new exhibition Women in Revolt! Art and Activism in the UK 1970-1990, and will be displayed for the duration of the show from November 2023 – April 2024. A landmark exhibition of feminist art in the UK from 1970 to 1990, it will explore how interconnected networks of women used radical ideas and rebellious methods to make an invaluable contribution to British culture. Showcasing work by over 100 women artists and collectives living and working in the UK, this will be the first major survey of its kind.
Artist Hannah Dickins was selected to design the Camden mural, working with five emerging London-based creatives to develop a collection of protest placards painted under the arches. The six commissioned works created by Anka Dabrowska, Alice Hartley, Esme Lower, Zhou Ning and Olivia Twist join protest slogans supporting women's rights, taken from archival material in the exhibition, including "Sisters for Peace" and "Every Mother is a Working Mother". Women in Revolt! exhibition posters featuring a powerful still from the film 3 Minute Scream 1977 by artist and musician Gina Birch also appear throughout the design. Together, this collection of images form a monumental tribute to activism and the ongoing fight for women's equality, situated in an area of London famed for its long history of alternative culture.
These contemporary artists have been inspired by women whose work in Women in Revolt! tells the story of their activism and efforts to make the world more equal. Pieces by significant figures such as Chila Kumari Singh Burman (Solidarity with Sisters 1981) appear alongside images of the woman-led strikes at the Grunwick photo-lab in 1976 by the all-women Format Photographers Agency; whilst a major sculpture by Margaret Harrison which references the fences of Greenham Common will be installed together with rallying protest banners by Thalia Campbell, Lucy Campbell and Hannah Tyrrell.
This striking public art commission in Camden aligns with Tate's longstanding ethos for supporting and encouraging young and emerging creativity and talent. It follows a specially designed mural celebrating Tate Modern's major exhibition Hilma af Klint and Piet Mondrian: Forms of Life, which brought the artists' vibrant paintings to the heart of Camden earlier this year.