Tate Britain
2 November 2017 – 7 May 2018
Part of the EY Tate Arts Partnership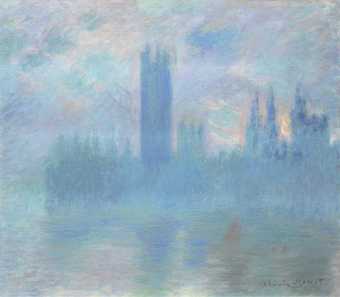 This autumn, Tate Britain brings together over 100 beautiful works by Monet, Tissot, Pissarro and others in the first large-scale exhibition to chart the stories of French artists who sought refuge in Britain during the Franco-Prussian War. The EY Exhibition: Impressionists in London, French Artists in Exile (1870-1904) maps the artistic networks they built in Britain, considers the aesthetic impact London had on the artists' work, and presents instantly recognisable views of the city as seen through French eyes.
The EY Exhibition: Impressionists in London looks at French painters' keen observations of British culture and social life, which were notably different to the café culture found in Paris. Evocative depictions of figures enjoying London parks such as Pissarro's Kew Green 1892 are shown, that were in stark contrast to formal French gardens where walking on the grass was prohibited. Scenes of regattas fringed with bunting as painted by Alfred Sisley and James Tissot in The Ball on Shipboard c.1874 are also displayed, demonstrating how British social codes and traditions captured the imagination of the Impressionists at the time.
While in London, French artists gravitated towards notable figures who would help them develop their careers and provide them with financial support. The exhibition looks at the mentorship Monet received from Charles-François Daubigny and considers the significant role of opera singer and art patron Jean-Baptiste Faure – works that he owned including Sisley's Molesey Weir, Hampton Court, Morning 1874 are exhibited. One of the most influential figures to be celebrated is art dealer Paul Durand-Ruel, who first met Monet and Pissarro in London during their exile in 1870-71. Durand-Ruel purchased over 5,000 Impressionist works over his lifetime which, in Monet's own words, saved them from starving.
Part of the exhibition examines the central role of Alphonse Legros in French émigré networks. As Professor of Fine Art at the Slade School in London from 1876 to 1893, he made a dynamic impact on British art education both as a painter and etcher, and exerted a decisive influence on the representation of peasant life as can be seen in The Tinker 1874. He introduced his patrons Constantine Alexander Ionides and George Howard, 9th Earl of Carlisle, to sculptor Aimé-Jules Dalou who then, together with fellow sculptor and émigré Edouard Lantéri, shaped British institutions by changing the way modelling was taught. Jean-Baptiste Carpeaux's sojourns in London, which he initially planned in order to stay close to his great patron, the exiled Emperor Napoleon III, are also examined.
The final and largest section of the exhibition is dedicated to representations of the Thames. Featuring a group of Monet's Houses of Parliament series, this room looks at how depictions of the Thames and London developed into a key theme in French art. A selection of André Derain's paintings of London landmarks, which answer directly to Monet's, demonstrate the continuity of this motif in art history. The show concludes with the Entente Cordiale – a formal pact of peace and unity between Britain and France – which, in the case of Monet in particular, coincided with the culmination of an artistic project which started in 1870.
The EY Exhibition: Impressionists in London, French Artists in Exile (1870-1904) is curated by Dr Caroline Corbeau-Parsons, with Assistant Curator Elizabeth Jacklin, in collaboration with the Petit Palais and Paris Musées. The exhibition will be accompanied by a fully illustrated catalogue and a programme of talks and events in the gallery.