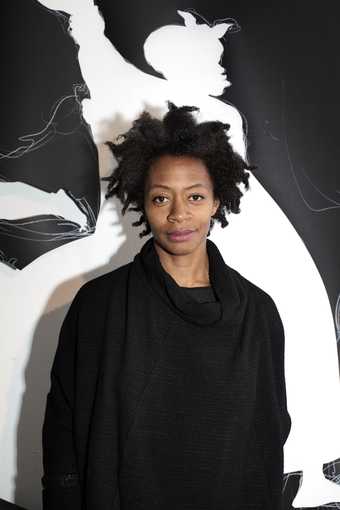 Tate Modern and Hyundai Motor today announced that Kara Walker will create the next annual Hyundai Commission. Walker is renowned for her candid explorations of race, gender, sexuality and violence, from drawings, prints, murals, shadow puppets and projections to large-scale sculptural installations. Her new site-specific work for the Turbine Hall will be open to the public from 2 October 2019 to 5 April 2020.
New York-based artist Kara Walker is perhaps best known for her use of black cut-paper silhouetted figures, often referencing the history of slavery and the antebellum South in the US through provocative and elaborate installations. Her works have featured prominently in exhibitions around the world since the mid-1990s. Her first large-scale public commission opened in the derelict Domino Sugar Refinery in Brooklyn in 2014 and powerfully addressed the history of sugar production. Over 10 metres high and 23 metres long,

A Subtlety

was a monumental sculpture of a sphinx-like figure, covered in sugar and surrounded by smaller figures made of toffee, brown sugar and molasses. She has since designed and directed a production of Vincenzo Bellini's

Norma

for the 56th Venice Biennale in 2015, and most recently she created

The Katastwóf Karavan

2017, a musical installation as part of the Prospect.4 triennial in New Orleans. Taking the form of a calliope (a steam-powered organ) set inside a steel wagon and encircled by silhouetted figures, the work was used in a series of live performances as well as programmed to play songs related to African-American experience.
Frances Morris, Director, Tate Modern said: 'Kara Walker fearlessly tackles some of the most complex issues we face today. Her work addresses history and identity with a powerful directness, but also with great understanding, nuance and wit. Seeing her respond to the industrial scale of the Turbine Hall – and the wider context of London and British history – is a hugely exciting proposition.'
Wonhong Cho, Executive Vice President, Hyundai Motor said: 'We look forward to the fifth Hyundai Commission by Kara Walker, known for her explorations of history, culture, race and identity, and to the new ways in which she will engage audiences in the Turbine Hall. In partnership with organizations across the globe, Hyundai Motor will continue to invite international audiences to unique creative experiences.'
Since Tate Modern opened in 2000, the Turbine Hall has hosted some of the world's most memorable and acclaimed works of contemporary art, reaching an audience of millions each year. The way artists have interpreted this vast industrial space has revolutionised public perceptions of contemporary art in the twenty-first century. The annual Hyundai Commission gives artists an opportunity to create new work for this unique context. The commissions are made possible by the long-term partnership between Tate and Hyundai Motor, confirmed until 2025 as part of the longest initial commitment from a corporate sponsor in Tate's history.
Hyundai Commission 2019
will be curated by Clara Kim, The Daskalopoulos Senior Curator, International Art (Africa, Asia & Middle East) and Priyesh Mistry, Assistant Curator, International Art. It will be accompanied by a new book from Tate Publishing.
ABOUT KARA WALKER
Kara Walker was born in Stockton, California in 1969 and was raised in Atlanta, Georgia. Her work is represented in major museum collections across the USA and Europe and she has received numerous awards, including the MacArthur Foundation Achievement Award and the Eileen Harris Norton Fellowship. She is also a member of the American Academy of Arts and Letters and is the Tepper Chair in Visual Arts at the Mason Gross School of the Arts at Rutgers University. A major survey exhibition of her work opened at the Walker Art Center in Minneapolis in 2007 and travelled to Musée d'Art moderne de la Ville de Paris, The Whitney Museum of American Art in New York, The Hammer Museum in Los Angeles and the Museum of Modern Art in Fort Worth. Other solo shows of her work have been held at the San Francisco Museum of Modern Art, the Art Institute of Chicago, Camden Arts Centre in London and Metropolitan Arts Center (MAC) in Belfast.
ABOUT HYUNDAI MOTOR
Established in 1967, Hyundai Motor Company is committed to becoming a lifetime partner in automobiles and beyond with its range of world-class vehicles and mobility services offered available in more than 200 countries. Employing more than 110,000 employees worldwide, Hyundai sold more than 4.5 million vehicles globally. Hyundai Motor continues to enhance its product line-up with vehicles that are helping to build solutions for a more sustainable future, such as NEXO – the world's first dedicated hydrogen-powered SUV. More information about Hyundai Motor Company and its products can be found at worldwide.hyundai.com or globalpr.hyundai.com.
Hyundai Motor has been supporting art initiatives driven by long-term partnerships with global museums―the National Museum of Modern and Contemporary Art, Korea (MMCA), Tate Modern and the Los Angeles County Museum of Art (LACMA) since 2013. The aim is to support the development of the global art scene and contribute to the establishment of a sustainable art environment, delivering inspiration and unique experiences to the world. Hyundai extended the partnership with global media group, Bloomberg and launched a new series, ART+TECHNOLOGY, which connects the international audience with artists exploring the convergence of art and technology. Also, Hyundai has been a major sponsor for the Korean Pavilion at the Venice Biennale 2015, 2017 and the 20th and 21st Biennale of Sydney.