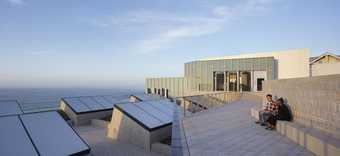 Cornwall's most popular gallery completes major transformation
The new Tate St Ives opens on 14 October 2017. A four-year building project has doubled the space for showing art, adding almost 600 square metres of galleries, and created spectacular new studios for learning activities. This finally gives Cornwall's most popular gallery enough space to accommodate the quarter of a million visitors it welcomes each year – over three times the number for which it was originally designed – who bring £11 million annually to the local economy.
For the first time, Tate St Ives is now able to give a permanent presence to those iconic 20th century artists who lived and worked in the town, including Alfred Wallis, Ben Nicholson and Barbara Hepworth, demonstrating the role of St Ives in the story of modern art. This is combined with a new programme of large-scale seasonal shows, beginning with sculptor Rebecca Warren's first major UK exhibition.
The new gallery, sunk into the cliff alongside the original building, offers artists and curators a column-free space lit by six huge skylights. Designed by the award-winning Jamie Fobert Architects, it will allow Tate St Ives to stay open all year round for the first time, without the need to close each time the exhibitions change. With a public garden on its roof, connected to the cliff above and the beach below, the new building also adds a collection care studio, loading bay, staff offices and visitor facilities. Clad in handmade ceramic tiles with a blue-green glaze, the building is designed to reflect the changing colours of the sky and sea.
Exciting new spaces for learning activities and events have also been created to meet growing demand. Evans and Shalev, the architects of the original Tate St Ives building, returned to add a new space for hands-on workshops and family activities, a studio for visitors to explore archival and digital material about the art on display, and a spectacular glazed studio on the roof terrace with views out over the sea. The existing galleries have also been refurbished and integrated into these additions.
The original building is now dedicated to a display exploring modern art in St Ives and its relationship with the wider world. It offers a chronological overview of 20th century art from the perspective of St Ives, including British and international artists from Peter Lanyon, Barbara Hepworth and Terry Frost to Piet Mondrian, Naum Gabo and Paule Vézelay.
The new gallery opens with a major exhibition of new and recent work by Rebecca Warren, renowned for her exuberant, roughly-worked clay sculptures. In 2018, this space will be used for an exhibition of women artists inspired by Virginia Woolf, a retrospective of Patrick Heron's vibrant paintings, and a specially commissioned project by contemporary artists Nashashibi / Skaer.