Tate presents portrait of NHS workers to Alder Hey Children's Hospital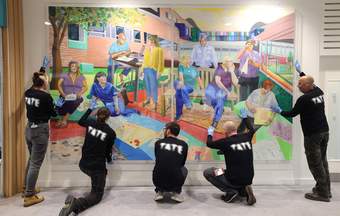 Today, Tate has presented a painting to Alder Hey Children's NHS Foundation Trust in Liverpool depicting its staff who continued working on the frontlines during the Covid-19 pandemic. The group portrait was created by New York-based artist Aliza Nisenbaum (b. 1977, Mexico) to celebrate NHS key workers' achievements during this difficult period. The painting was originally one of 20 portraits commissioned by Tate Liverpool and shown at the gallery in 2021 to great acclaim. Such was the impact of the commission, the gallery felt its home ought to be at the hospital and it is fittingly being presented at Alder Hey ahead of the NHS's 75th anniversary celebrations.
The painting, Team Time Storytelling, Alder Hey Children's Hospital Emergency Department, Covid Pandemic, 2020 shows a group of staff members who had been using reflective practices, focused on the mental health and well-being of medical teams working in traumatic situations as a means of sharing emotional responses to situations at work. The people depicted represent a broad range of roles, including administrative staff, nurses, porters, doctors and more.
The artist was due to undertake a residency in Liverpool in spring 2020 but, due to the pandemic, adapted her practice, working with her sitters remotely, using video technology to develop a bond with her participants and paint them from real life. For this painting, Nisenbaum asked each person to make a drawing about their workplace experiences during the pandemic – a practice that hospital staff use with children to help communicate their emotions – and these are included within the final image.
Both Tate and Aliza Nisenbaum felt it was appropriate that the group portrait should hang in the hospital as tribute to the inspiring work of the Alder Hey staff and to launch it in time for the 75th birthday of the NHS as a celebration of all staff across the service.
Helen Legg, Director, Tate Liverpool, said: "Tate is proud to be able to unveil Aliza Nisenbaum's painting at Alder Hey – a rare example of an artwork from the national collection on view to the public in a non-arts setting. Aliza's image of NHS frontline workers during the pandemic moved everyone who saw it. Seeing it on display again is an acknowledgement of the value of our NHS as it celebrates its 75th anniversary and is a tribute to those who care for us."
Louise Shepherd CBE, Chief Executive of Alder Hey Children's NHS Foundation Trust, said: "There is much to be proud of as we approach the 75th birthday of the NHS and this artwork is a valuable reminder of the outstanding dedication of our staff during the recent pandemic. The unveiling of this stunning painting at Alder Hey is a huge honour and is testament to the fantastic support Tate Liverpool has given to our Arts for Health Programme for twenty years. We have delivered some incredible collaborative programmes during that time and I look forward to us together bringing further benefits to our children and young people in the future."
Alder Hey and Tate Liverpool have a long-standing relationship spanning twenty years. Alder Hey runs a dynamic Arts for Health Programme which has been at the forefront of pioneering approaches to using the Arts in children's healthcare. The hospital has collaborated with Tate Liverpool many times on programmes to benefit children and young people in their care. It is hoped that the presence of Nisenbaum's evocative group portrait will act as a catalyst and inspiration to staff and patients in their Arts Programme.