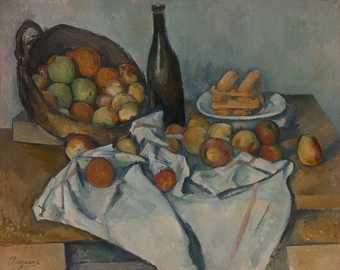 5 October 2022 – 12 March 2023
Tate Modern
Open daily 10.00 – 18.00
For public information call +44(0)20 7887 8888, visit tate.org.uk or follow @Tate #Cezanne
In autumn 2022, Tate Modern will present a once-in-a-generation exhibition of paintings, watercolours and drawings by Paul Cezanne (1839-1906). Famously referred to as the "greatest of us all" by Claude Monet, Cezanne remains a pivotal figure in modern painting who gave license to generations of artists to break the rules. Created amid a rapidly accelerating world, his works focus on the local and the everyday, concentrating on the artist's own personal experiences to make sense of the chaos and uncertainty of modern life.
The EY Exhibition: Cezanne will bring together around 80 carefully selected works from collections in Europe, Asia, North and South America, giving UK audiences their first opportunity in over 25 years to explore the breadth of Cezanne's career. It will feature key examples of his iconic still life paintings, Provençale landscapes, portraits and bather scenes, including over 20 works never seen in the UK before such as The Basket of Apples c.1893 (The Art Institute of Chicago), Mont Sainte-Victoire 1902-06 (Philadelphia Museum of Art) and Still Life with Milk Pot, Melon, and Sugar Bowl 1900-06 (private collection). New research into the colours, compositions and techniques used in these works will reveal how the artist's bold approach challenged conventions and in ways that continue to influence painters working today.
Visitors to Tate Modern will discover the events, places and relationships that shaped Cezanne's life and work. The exhibition will tell the story of a young ambitious painter from the southern city of Aix-en-Provence, determined to succeed as an artist in metropolitan Paris in the 1860s, yet constantly rejected by the art establishment. It will reveal how he befriended Camille Pissarro and associated with the impressionists in the 1870s, but soon distanced himself from their circle and the Parisian art scene to forge his own path, returning to his native Provence in relentless pursuit of his own radical style.
The exhibition will trace Cezanne's artistic development from early paintings made in his twenties such as the striking portrait Scipio 1866-8 (Museu de Arte de São Paulo) through to works completed in the final months of his life like Seated Man 1905-6 (Museo Thyssen-Bornemisza, Madrid). Highlights will include a room of outstanding paintings depicting the limestone mountain Sainte-Victoire, charting the dramatic evolution of his style through this single motif. Another gallery will bring together several magnificent examples of Cezanne's bather paintings, a lifelong subject for the artist, including The National Gallery's Bathers 1894–1905, one of his largest and most celebrated paintings created in the final stage of his career.
While Cezanne is often mythologised as a solitary figure, the exhibition will spotlight the relationships central to his life, particularly his wife Marie-Hortense Fiquet and their son Paul, immortalised in paintings such as Madame Cezanne in a Red Armchair c.1877 (Museum of Fine Arts, Boston) and Portrait of the Artist's Son 1881-2 (Musée de l'Orangerie, Paris). It will examine Cezanne's intense relationship with childhood friend Émile Zola and will reveal how peers such as Monet and Pissarro were among the first to appreciate his unique vision. Many great artists even collected Cezanne's works, with previous owners including Paul Gauguin, Pablo Picasso, Henri Matisse and Henry Moore. The exhibition catalogue will feature newly commissioned essays by contemporary artists including Kerry James Marshall, Lubaina Himid and Phyllida Barlow as a testament to Cezanne's continuing legacy as an inspirational figure to artists today.
The EY Exhibition: Cezanne is organised by Tate Modern and the Art Institute of Chicago. It is curated by Natalia Sidlina, Curator, International Art, Tate Modern, Gloria Groom, Chair and David and Mary Winton Green Curator, Painting and Sculpture of Europe, Caitlin Haskell, Gary C. and Frances Comer Curator, Modern and Contemporary, Art Institute of Chicago and Michael Raymond, Assistant Curator, International Art, Tate Modern.
Tate Members get unlimited free entry to all Tate exhibitions including The EY Exhibition: Cezanne. To become a Member, please visit: shop.tate.org.uk/membership
Everyone aged 16-25 can visit all Tate exhibitions for £5 by joining Tate Collective. To join for free, please visit: tate.org.uk/tate-collective