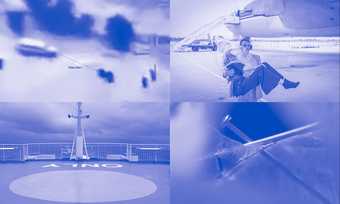 Tate Britain
26 September 2018 – 6 January 2019
Supported by BNP Paribas
Open daily 10.00 – 18.00
For public information call +44(0)20 7887 8888, visit www.tate.org.uk or follow @Tate #TurnerPrize
Tate Britain today unveils an exhibition of work by the four artists shortlisted for Turner Prize 2018: Forensic Architecture, Naeem Mohaiemen, Charlotte Prodger and Luke Willis Thompson. One of the world's best known prizes for visual art, the Turner Prize aims to promote public debate around new developments in contemporary British art. Thanks to a new three-year partnership with BNP Paribas, free entry to the exhibition will be available for everyone aged 25 or under for the first 25 days of the show. The winner will be announced on Tuesday 4 December at an awards ceremony live on the BBC, the broadcast partner for the Turner Prize.
FORENSIC ARCHITECTURE presents its investigations surrounding the Bedouin communities of the Naqab/Negev region of southern Israel. Together with members of the photographic collective Activestills, Forensic Architecture investigated the events of 18 January 2017, a day on which an attempt by police to clear an unrecognised Bedouin village resulted in the deaths of two people. Forensic Architecture are an international research agency that use video, photographs, scale models, text and reproductions to investigate allegations of state and corporate violence.
NAEEM MOHAIEMEN's films and installations weave together archives, photographs and interviews. He explores ideas of hope and loneliness, focusing on countries freed from colonial rule. Two Meetings and a Funeral is a documentary film shown on three screens, centring on the power struggle between the Non-Aligned Movement and the Organisation of Islamic Cooperation in the 1970s. Volume Eleven (flaw in the algorithm of cosmopolitanism) is a concertina book telling a story in the life of Mohaiemen's great uncle. Tripoli Cancelled is Mohaiemen's first fiction film, following the daily routine of a man who spends a decade living alone in an abandoned airport.

CHARLOTTE PRODGER presents BRIDGIT, her most autobiographical work to date, filmed on an iPhone over the course of a year. It is made up of recordings of the Scottish countryside as well as shots from inside Prodger's home. Sounds from her environment are overlaid with a narration read by the artist and her friends including extracts from her diaries and books written by figures from queer history. It forms a framework of historical knowledge, experience and solidarity that has shaped her own queer identity.
LUKE WILLIS THOMPSON works across film, performance and installation. His films examine the relationship between a person and their representation. For the Turner Prize, Thompson presents a trilogy of works on 35mm film: Cemetery of Uniforms and Liveries, autoportrait and _Human. In these three films, Thompson reframes histories of violence enacted against certain bodies, and offers counter-images to the media spectacle of our digital age.
Alex Farquharson, Director of Tate Britain said: 'The artists shortlisted for this year's Turner Prize are tackling some of today's most important issues, from queer identity, human-rights abuses and police brutality to post-colonial migration and the legacy of liberation movements. For the first time, all the shortlisted artists work with the moving image and its thrilling to see how wide a range of techniques and styles they use.'
One of the world's best-known prizes for the visual arts, the Turner Prize aims to promote public debate around new developments in contemporary British art. Established in 1984, it is awarded to a British artist for an outstanding exhibition or other presentation of their work in the twelve months preceding 16 April 2018. The Turner Prize award is £40,000 with £25,000 going to the winner and £5,000 each for the other shortlisted artists.
The members of the Turner Prize 2018 jury are Oliver Basciano, art critic and International Editor at ArtReview; Elena Filipovic, Director of Kunsthalle Basel; Lisa Le Feuvre, Executive Director of Holt-Smithson Foundation; and Tom McCarthy, novelist and Visiting Professor, Royal College of Art. The jury is chaired by Alex Farquharson, Director of Tate Britain. Turner Prize 2018 is curated by Linsey Young, Curator, British Contemporary Art and Elsa Coustou, Assistant Curator, British Contemporary Art, Tate.
Every other year, the prize leaves Tate Britain and is presented at a venue outside London. Turner Prize 2019 will be presented at Turner Contemporary in Margate. The members of the Turner Prize 2019 jury are Alessio Antoniolli, Director, Gasworks & Triangle Network; Elvira Dyangani Ose, Senior Curator at Creative Time and Lecturer in Visual Cultures at Goldsmiths; Victoria Pomery, Director, Turner Contemporary, Margate and Charlie Porter, writer.
IMAGES & PRESS REQUESTS