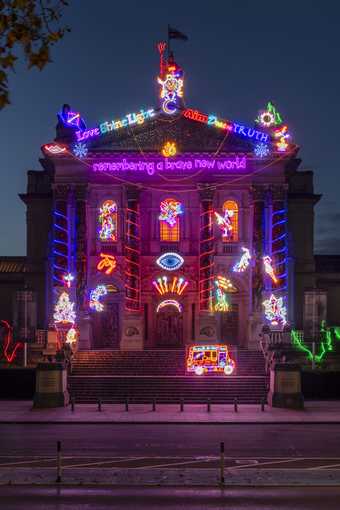 Chila Kumari Singh Burman has created a stunning technicolour installation for Tate Britain's iconic facade. The commission references mythology, Bollywood, radical feminism, political activism and family memories, bound up in a celebration of neon light and swirling colour. This is the fourth in Tate Britain's series of outdoor commissions to mark the winter season, following works by Alan Kane in 2017, Monster Chetwynd in 2018 and Anne Hardy in 2019.
Born in Liverpool, Burman's practice is often inspired by her childhood. In this new commission Indian myths and customs are combined with memories of family visits to the Blackpool Illuminations and her parents' ice cream van. The façade is resplendent with neon sculptures including Hindu deities such as Lakshmi, the goddess of wealth and purity, and Ganesh, the god of prosperity. Hanuman the monkey god and several illuminated animals, including a life size tiger and a peacock, are juxtaposed with luscious lips eating an ice cream cornet and winter snowflakes. The installation also includes the figure of Rani (queen) of Jhansi, a fierce warrior and symbol of Indian resistance after she led a battle against the British in 1857. The figure of Britannia is also fused with the neon image of Kali, the Hindu goddess of liberation and power, and in the centre of the installation is a depiction of the third eye, suggesting the route to higher consciousness.
The opening of the Winter Commission coincides with Diwali, the Festival of Light, celebrating new beginnings and the triumph of good over evil. Remembering a brave new world draws inspiration from personal, social and mythological histories, while offering a sense of hope for the future.
Sadiq Khan, Mayor of London, said:
"Even when its doors are closed, Tate Britain is able to make a powerful cultural impact on our capital with this bold new work. Chila's colourful tribute to her Punjabi and English heritage is a great way to mark Diwali's celebration of light over darkness, and will be a symbol of hope during these difficult times."
Alex Farquharson, Director of Tate Britain, said:
"Although our museums and galleries remain closed, I'm delighted that we are still able to unveil Chila Kumari Singh Burman's new commission. I hope this spectacular transformation of Tate Britain's façade can act as a beacon of light and hope during dark lockdown days and bring joy to all those who live or work nearby."
Chila Kumari Singh Burman is celebrated for her interdisciplinary practice which spans printmaking, drawing, painting, installation and film. Drawing on feminist perspectives and her Punjabi heritage, Burman's work explores the heterogeneous nature of South Asian identity within a British context while challenging stereotypical notions of Asian women.
Winter Commission: Chila Kumari Singh Burman - Remembering a Brave New World is curated by Clarrie Wallis, Senior Curator, Tate Britain. Supported by the Tate Britain Winter Commission 2020 Supporters Circle and Tate Americas Foundation.