University College London
Supervised by Professor Briony Fer, University College London and Frances Morris, Director, Tate Modern
September 2019 –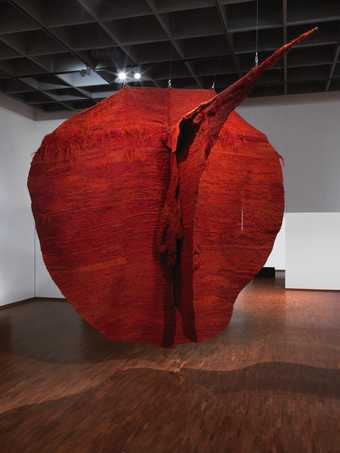 This research project explores the historical reception of textile media in the international circuits of twentieth century art, using a series of case-studies to focus attention on a number of international artists and their role in landmark exhibitions in the 1960s and 1970s. Many of these artists have been represented within major museum collections and exhibitions and yet further research is urgently needed to look at their work in depth.
This study will address questions about the western reception of practices from 'elsewhere', in particular from countries under oppressive political regimes; the relationships between textile practices and 'folk' or indigenous traditions; the relationship between textile media and theories of translation; the subversive potential of the textile medium; the position of textiles within the global histories of art and as presented within the museum of modern and contemporary art; and the significance of international exhibition circuits and networking structures and their legacies for textile-based art practice.
About Ann Coxon
Ann Coxon is Curator, International Art at Tate Modern. Since 2002 she has coordinated and curated the display of works from Tate's collection, including two major re-hangs. She has curated numerous individual collection displays, including monographic galleries of works by Bruce Nauman, Louise Bourgeois, Janet Cardiff, Magdalena Abakanowicz, Phyllida Barlow, Mona Hatoum and many others. She has also curated many thematic displays, most recently a gallery titled 'Beyond Craft' focusing on American Fiber Art from the 1960s and 70s.
Ann has also curated a number of important temporary exhibitions at Tate Modern, including most recently the celebrated retrospectives Dorothea Tanning and Anni Albers. She co-curated Alexander Calder: Performing Sculpture in 2014 and Saloua Raouda Choucair in 2012. Prior to that she worked on the major exhibitions Exposed: Voyeurism, Surveillance and the Camera, 2010; Louise Bourgeois, 2008; Kandinsky: The Path to Abstraction, 2006; and Robert Frank: Storylines, 2004.
Ann's interest in textiles has fed into the projects and exhibitions she has curated both at Tate Modern and for freelance projects. In 2010 she curated the exhibition Craftivism at Arnolfini, Bristol and in 2005 she co-curated Interweaving Cultures at the Jim Thompson House and Museum in Bangkok. She is author of a monograph on Louise Bourgeois and has published reviews and articles in Art Monthly and Frieze magazines.
Ann is currently planning a large-scale exhibition of the early works of Magdalena Abakanowicz to open at Tate Modern in June 2020. The exhibition will bring together a body of monumental sisal sculptures the artist created during the 1960s and 1970s.