Gain insight into the process behind Henry Moore's large public commissions
The second room of the display looks at a selection of Henry Moore's large public commissions, offering a fascinating insight into the process he used to make them.
In the 1950s and 1960s, Moore worked almost exclusively in plaster to be cast in bronze and around themes of the body, landscape and nature. He became known for his large-scale works that were made for locations as diverse as new housing estates in London, the UNESCO headquarters in Paris, and Dallas City Hall.
The major works in this new display, including Reclining Figure 1951, and Draped Seated Woman 1957–8, are exhibited alongside drawings and maquettes, as well as film and photographs of the artist at work in his studio.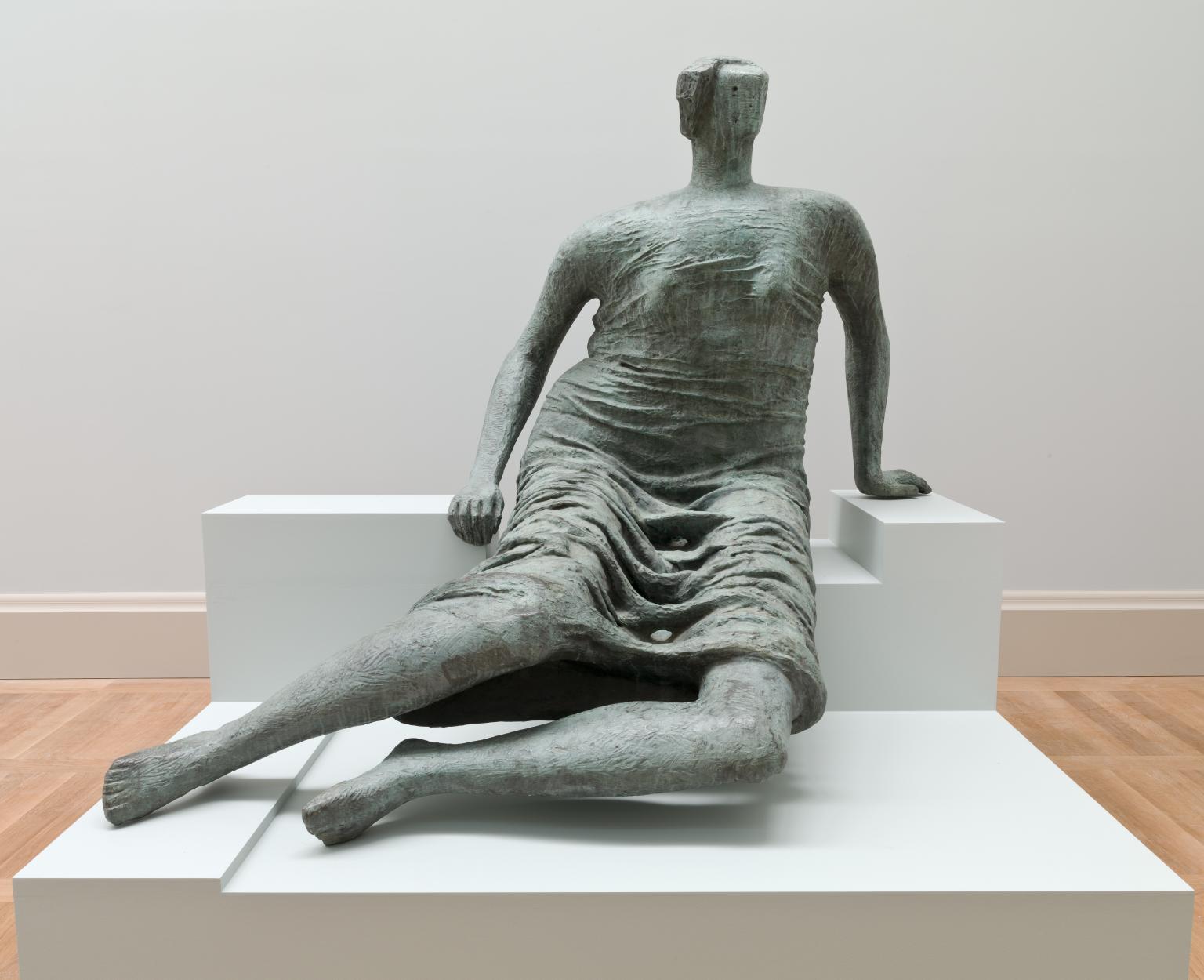 Henry Moore OM, CH

,

Draped Seated Woman

1957–8, cast c.1958–63

Two casts of this monumental female figure have been sited in public urban spaces: one in Wuppertal in Germany, another in the East End of London. London County Council's policy of placing such work in deprived areas was part of a post-war revival of civil aspirations and social reform.

Gallery label, June 2003
1/5
artworks in Henry Moore's Public Commissions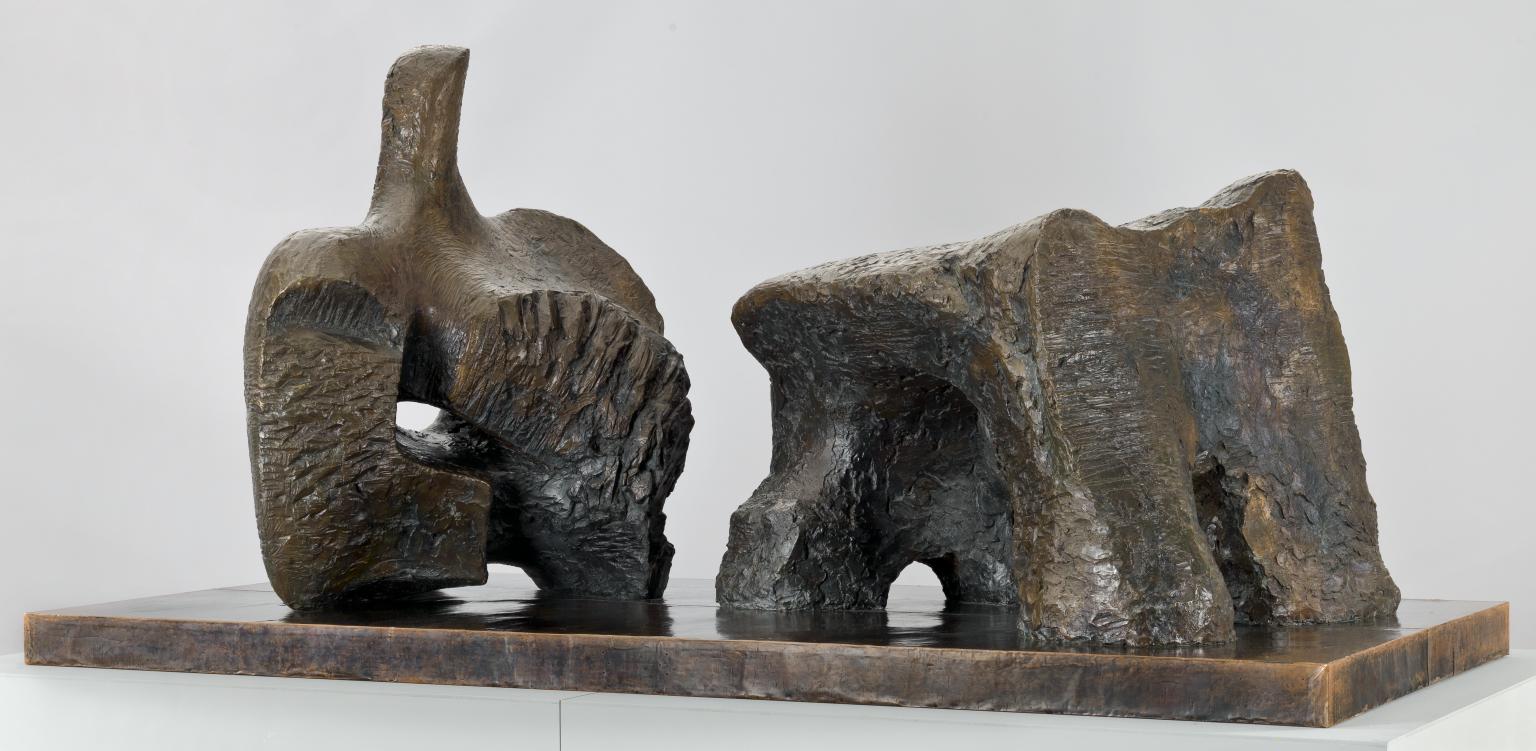 Henry Moore OM, CH

,

Two Piece Reclining Figure No.2

1960, cast 1961–2

The holes and gouged surfaces of this sculpture are reminiscent of eroded cliffs. According to Moore this fusion of human and landscape forms served as 'a metaphor of the relationship of humanity with the earth'. The character of that relationship, however, remains open to interpretation. It could suggest a harmonious union of mankind with nature or equally a crisis-ridden sense of isolation and fragmentation.

Gallery label, September 2004
2/5
artworks in Henry Moore's Public Commissions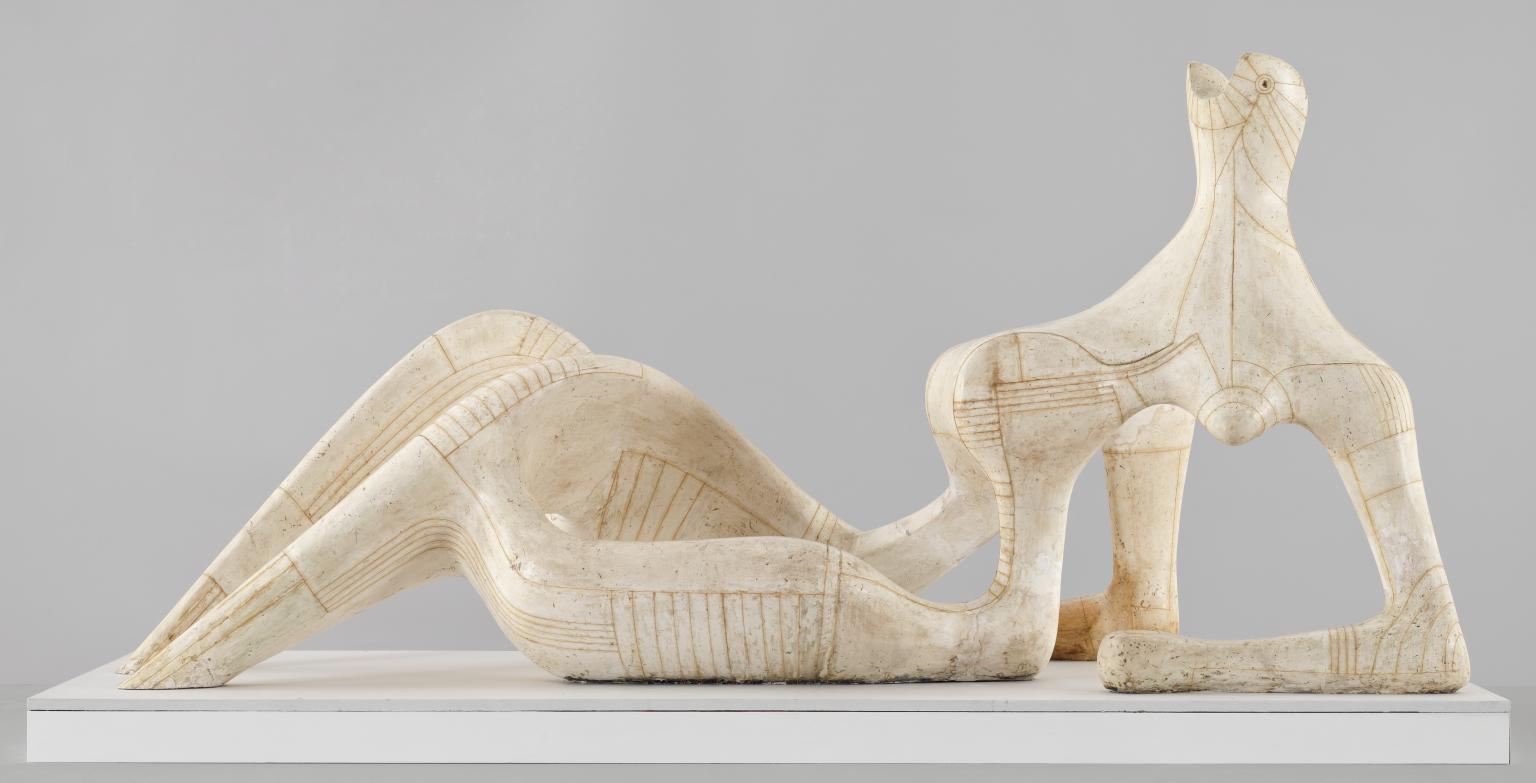 Henry Moore OM, CH

,

Reclining Figure

1951

In the late 1940s, the Arts Council invited Moore to submit ideas for a sculpture to be sited at the South Bank site of the Festival of Britain. Although the organising committee suggested a family theme, Moore chose to make this tense, skeletal reclining form. The work on display is the plaster model for the bronze, which was cast in an edition of five.

Gallery label, September 2004
3/5
artworks in Henry Moore's Public Commissions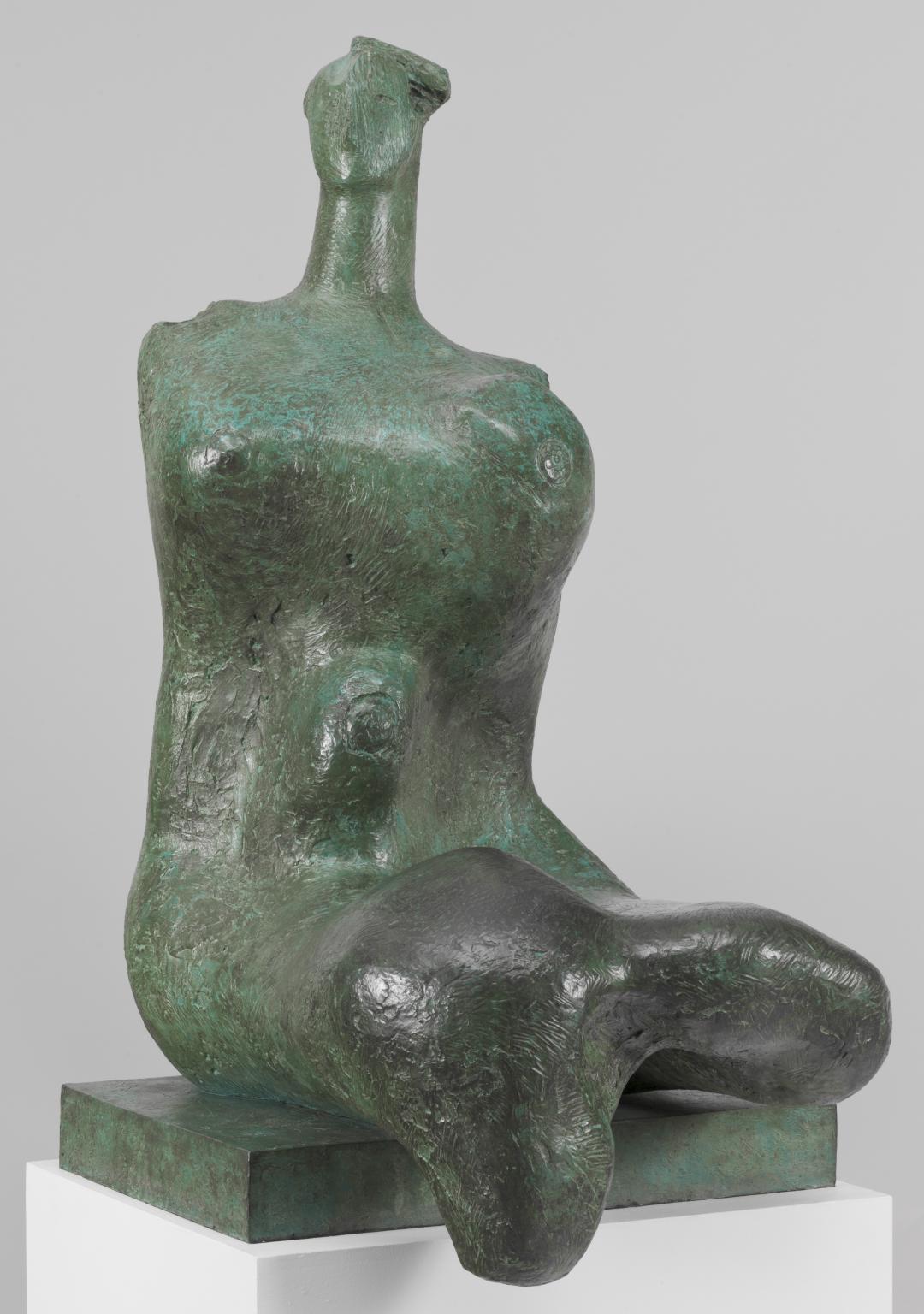 Henry Moore OM, CH

,

Woman

1957–8, cast date unknown

This is one of the largest of Moore's sculptures of a seated female nude, and it was cast in an edition of nine. The original plaster is in the Art Gallery of Ontario, Toronto, and the curator there, Alan Wilkinson, has described this sculpture as 'one of the most potent images of fertility produced in the 20th century'. He also related it to Moore's early interest in Palaeolithic sculpture, an influence the artist readily acknowledged. Moore wrote of the work: ''Woman' has that startling fullness of the stomach and breasts. The smallness of the head is necessary to emphasize the massiveness of the body - if the head had been any larger it would have ruined the whole idea of the sculpture.'

Gallery label, September 2004
4/5
artworks in Henry Moore's Public Commissions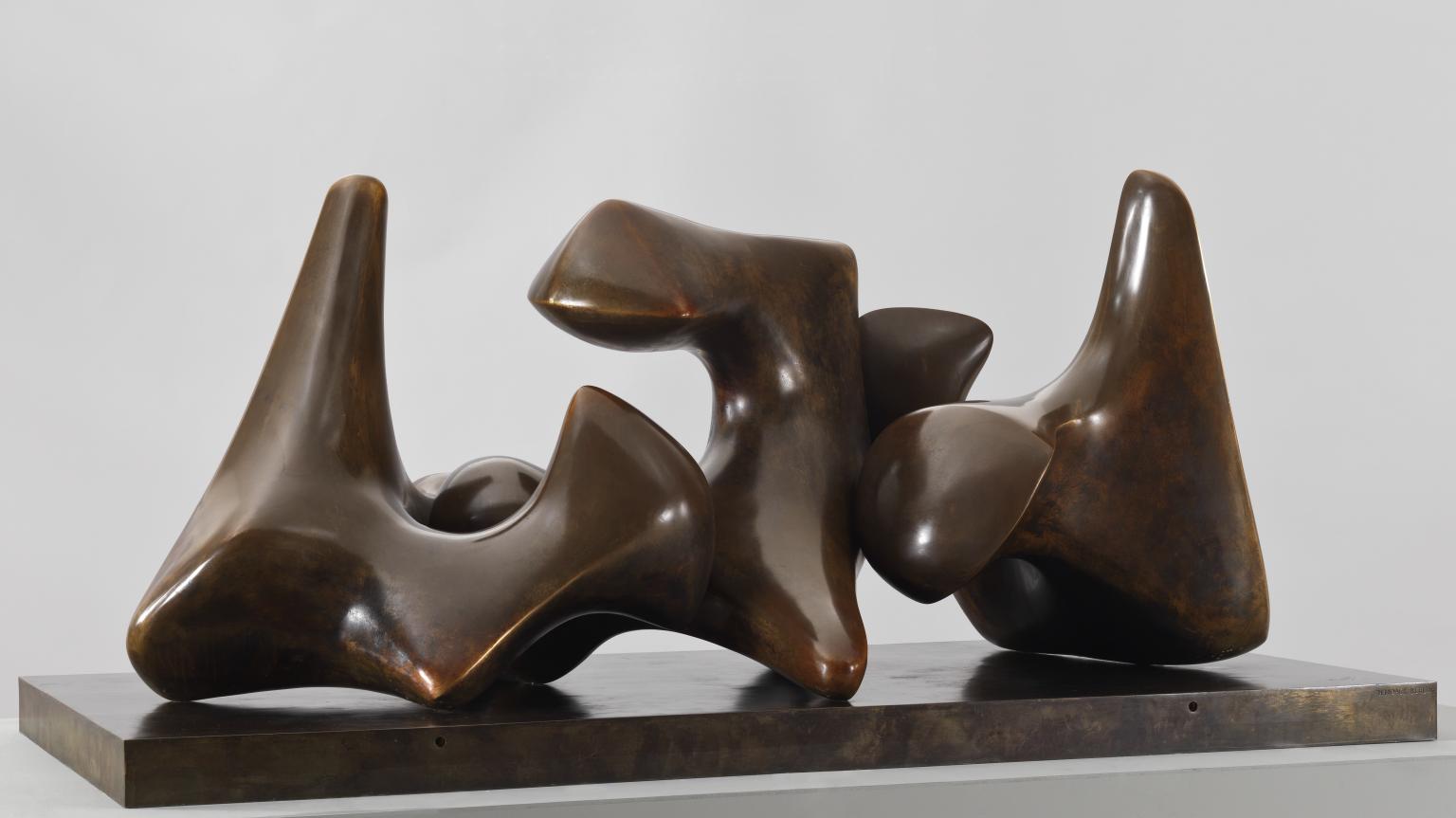 Henry Moore OM, CH

,

Working Model for Three Piece No.3: Vertebrae

1968, cast c.1968

This work is related to Three Piece No.3: Vertebrae, a vast sculpture over twenty-four feet long and the even larger Three Forms Vertebrae outside Dallas City Hall, which is about forty-feet long. Moore argued that the size of a sculpture should be determined by where it is. As he received commissions for sculptures to be sited next to large buildings, the scale of the works grew. According to Moore, it was the intrinsic monumentality of the sculptures which allowed them to be successfully enlarged to such sizes.

Gallery label, August 2004
5/5
artworks in Henry Moore's Public Commissions
Art in this room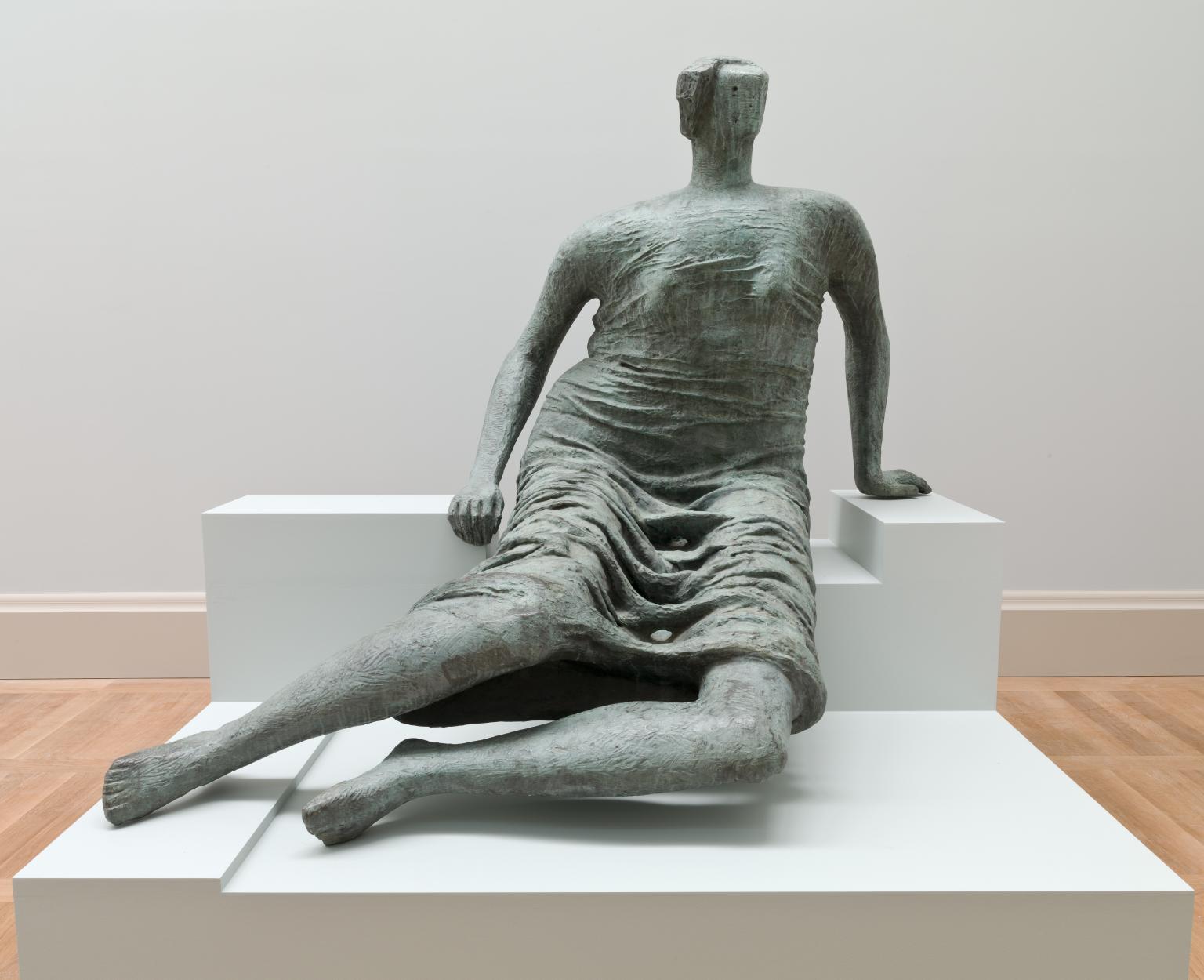 Henry Moore OM, CH
Draped Seated Woman
1957–8, cast c.1958–63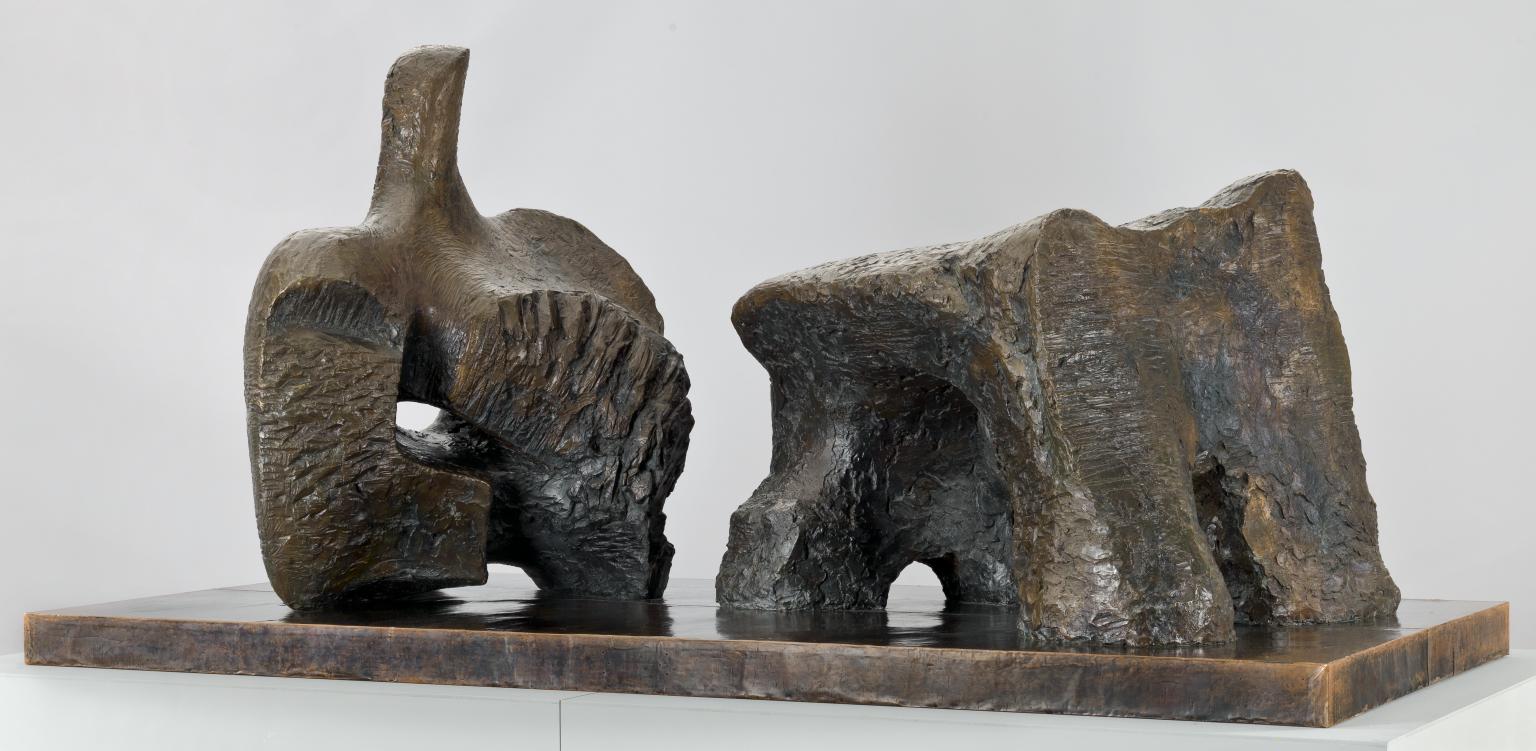 Henry Moore OM, CH
Two Piece Reclining Figure No.2
1960, cast 1961–2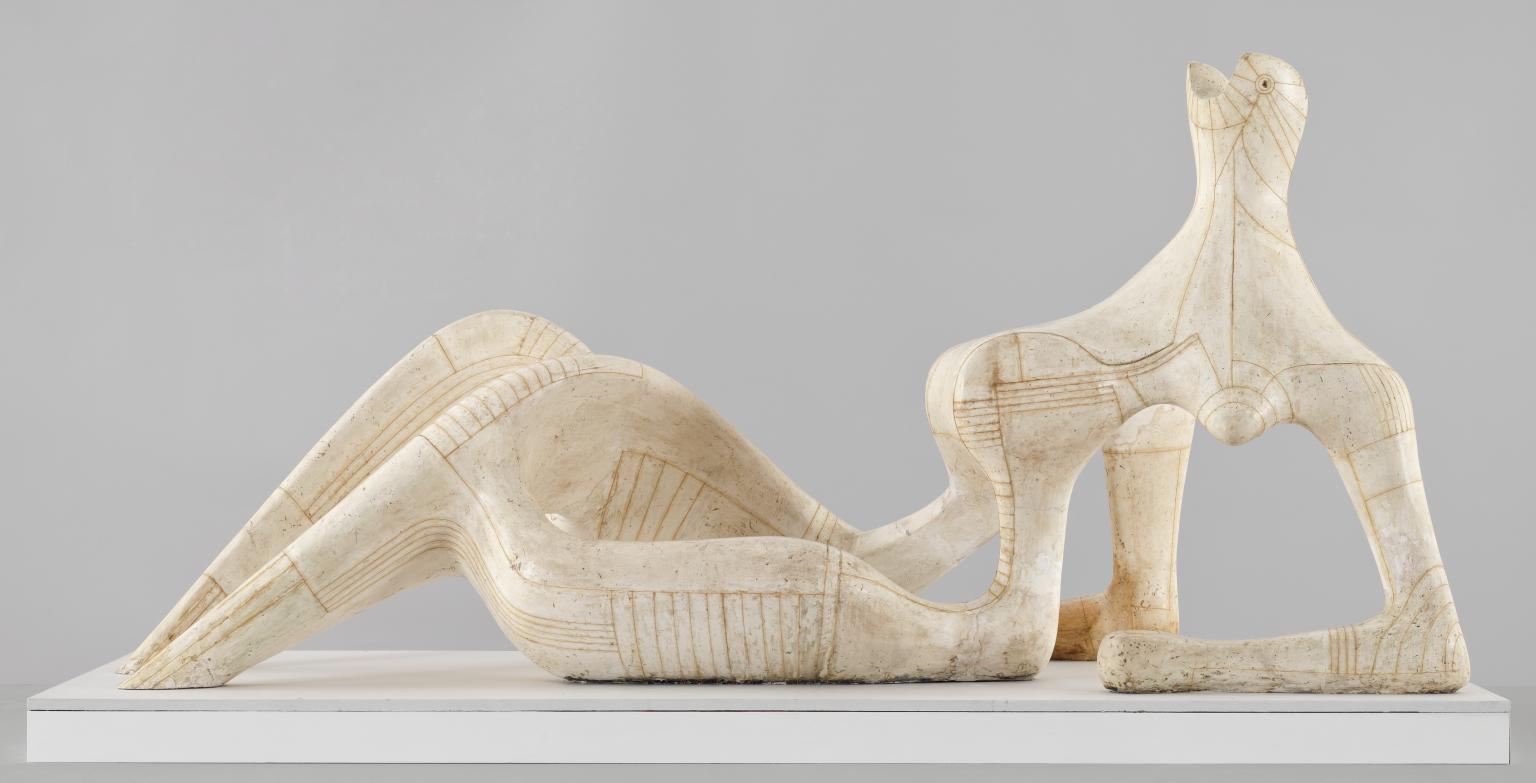 Henry Moore OM, CH
Reclining Figure
1951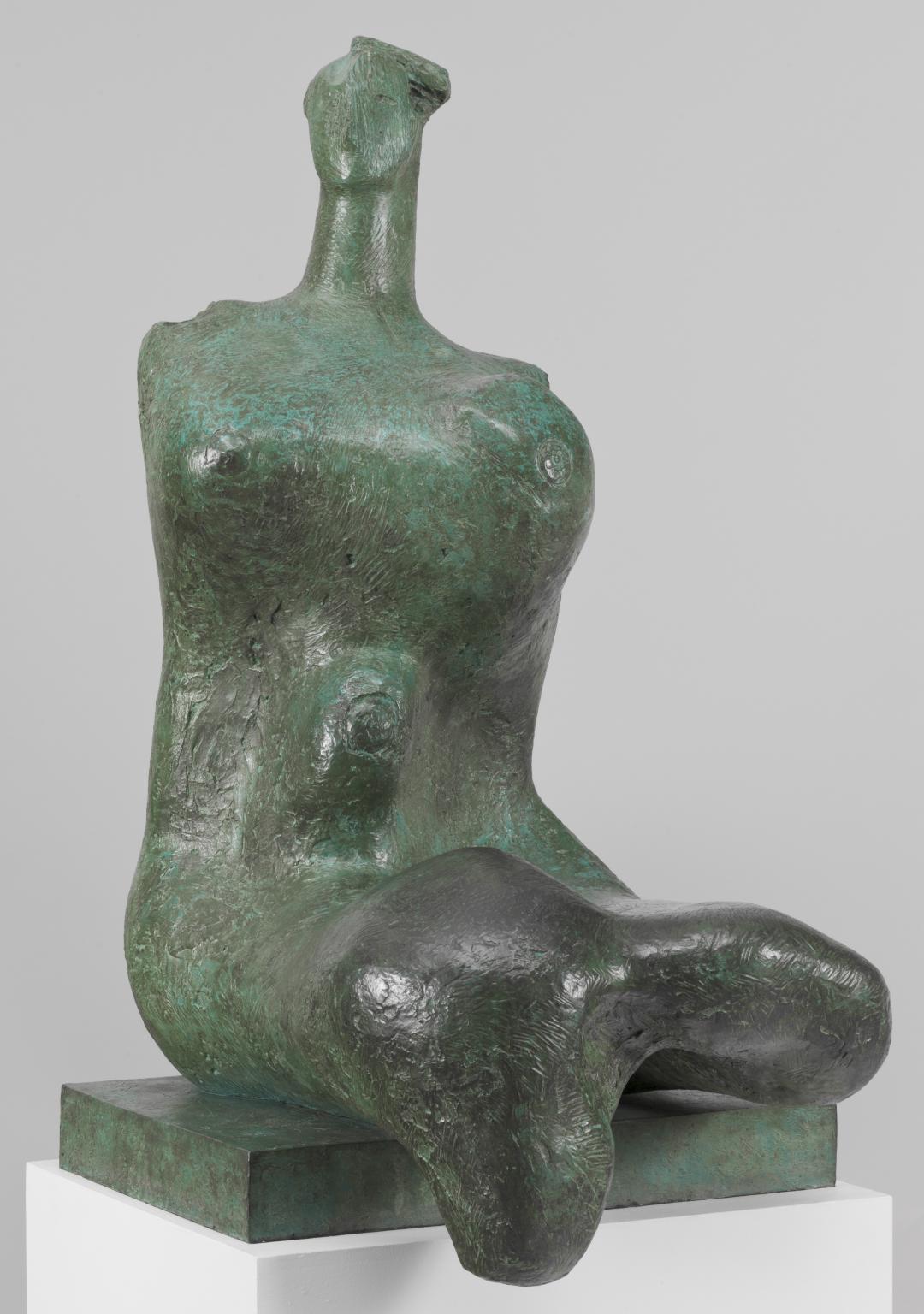 Henry Moore OM, CH
Woman
1957–8, cast date unknown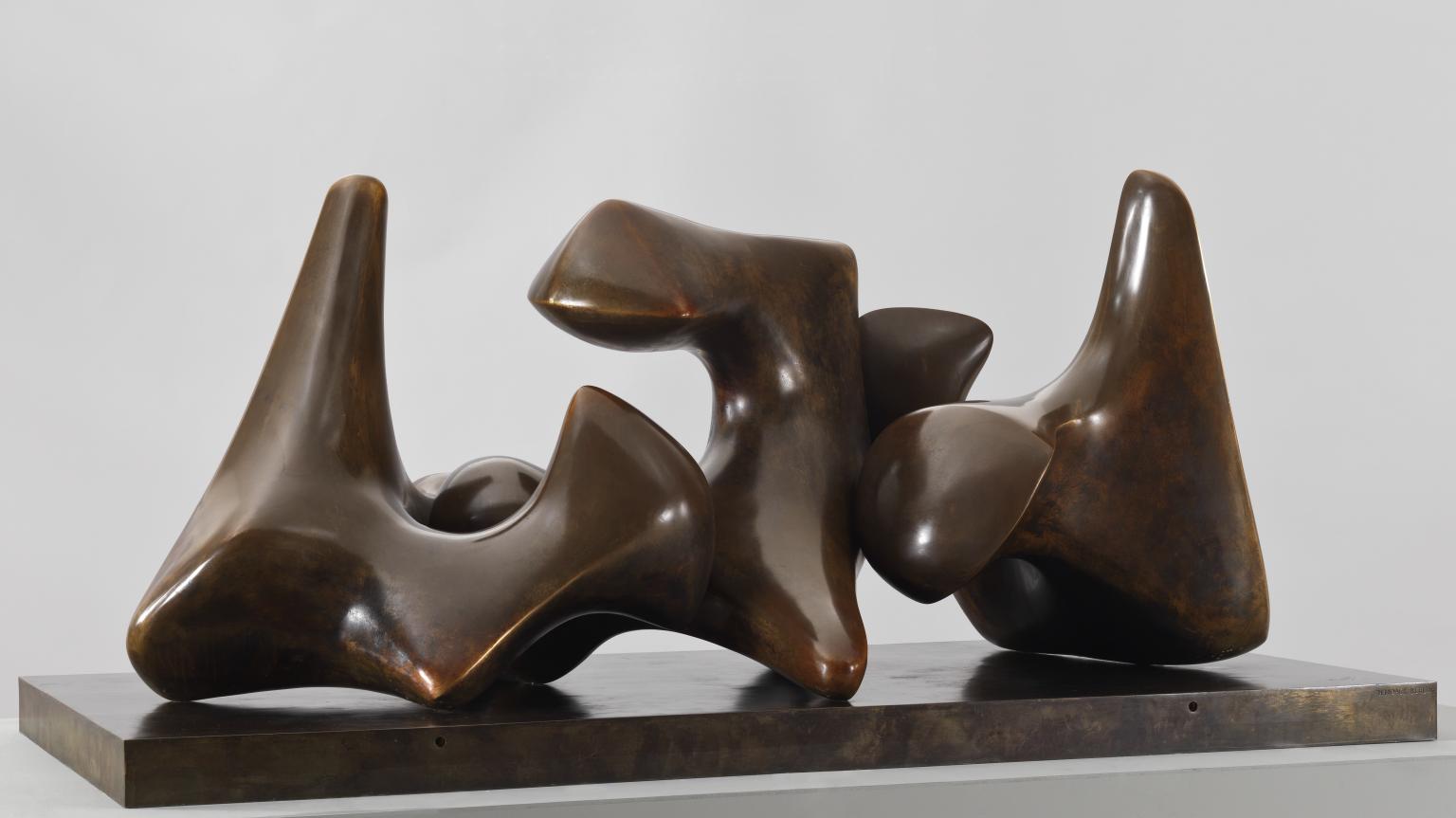 Henry Moore OM, CH
Working Model for Three Piece No.3: Vertebrae
1968, cast c.1968