Explore an avant-garde art movement that emerged in London in 1914
At the heart of the whirlpool is a great silent place where all the energy is concentrated. And there, at the point of concentration, is the Vorticist.
Wyndham Lewis,1914
Vorticism was an avant-garde art movement that emerged in London in June 1914. Its aim was to create a new type of art for a changing, modern world.
The self-proclaimed leader was painter and writer Percy Wyndham Lewis. He publicly launched the movement through his radical journal Blast. The name Vorticism had been coined by the North American poet Ezra Pound. It is based on his idea of 'the vortex' as 'the point of maximum energy'.
Vorticism celebrated the energy of modern life. This included the machine age and the fast-paced instability of city life. While the Vorticists identified with other modernist movements of the time, they argued that they had moved beyond them. The futurists, who admired the achievements of modern technology were attacked for their romantic attachment to speed and movement. Cubist artists broke traditional perspective into multiple viewpoints. But they were seen as too restricted to the trivial and domestic subject of the still life.
The first issue of Blast appeared in the last days of peace before the outbreak of the First World War. One of the artists, Henri Gaudier-Brzeska, was killed in the ensuing conflict. The war brought with it massive social and political upheaval. Vorticism couldn't compete and the movement barely lasted to the end of war.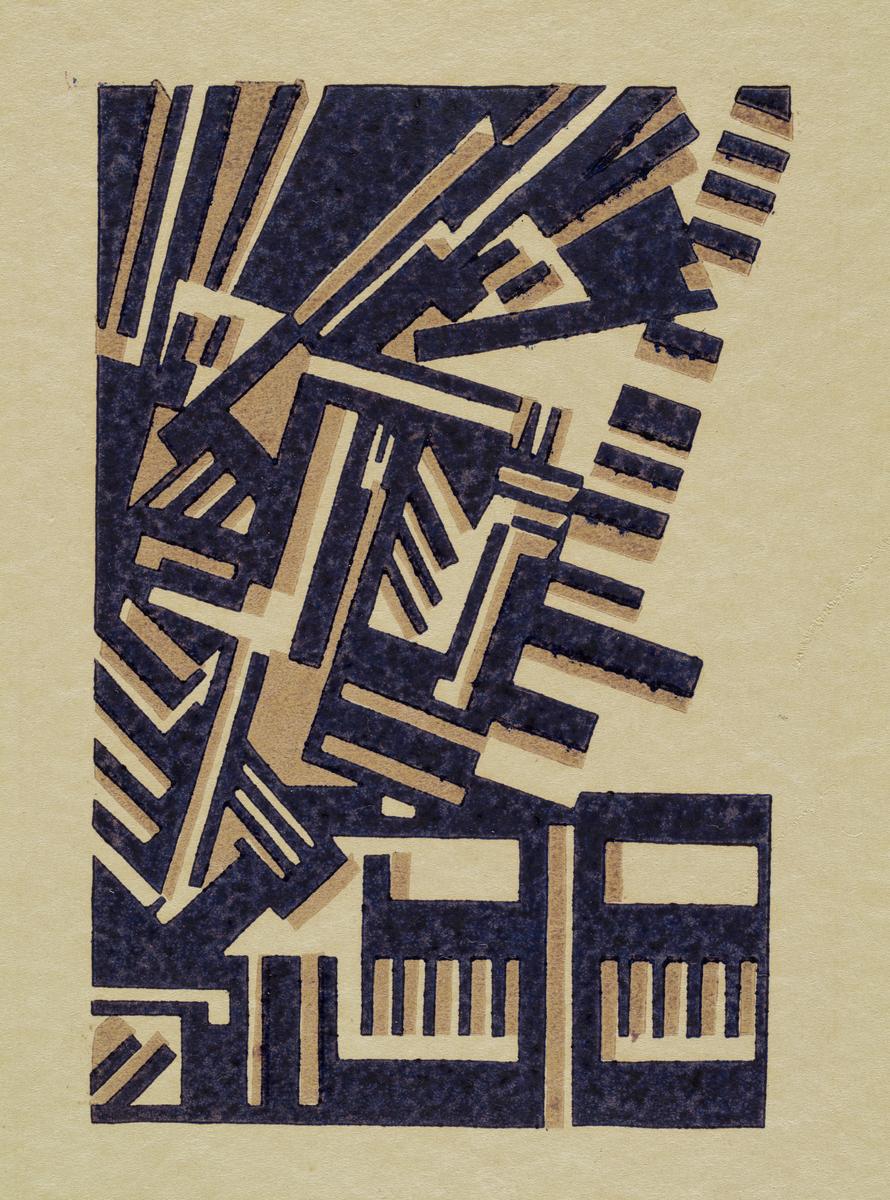 Edward Wadsworth

,

The Port

c.1915

Wadsworth's approach to printmaking was cool and impersonal, deliberately avoiding any suggestion of personal 'handwriting'. Woodcut is a difficult medium, but the precision he applied to it enabled him to emphasise the 'machine-like character of his art'. This print resembles the illustrations Wadsworth produced for the Vorticists' magazine BLAST.

The terrible destruction caused by the first world war (1914-18), the first fully mechanised war, undermined Vorticism's celebration of the machine. Nevertheless, Wadsworth continued to be fascinated by machinery throughout his life.

Gallery label, July 2008
1/20
artworks in Vorticism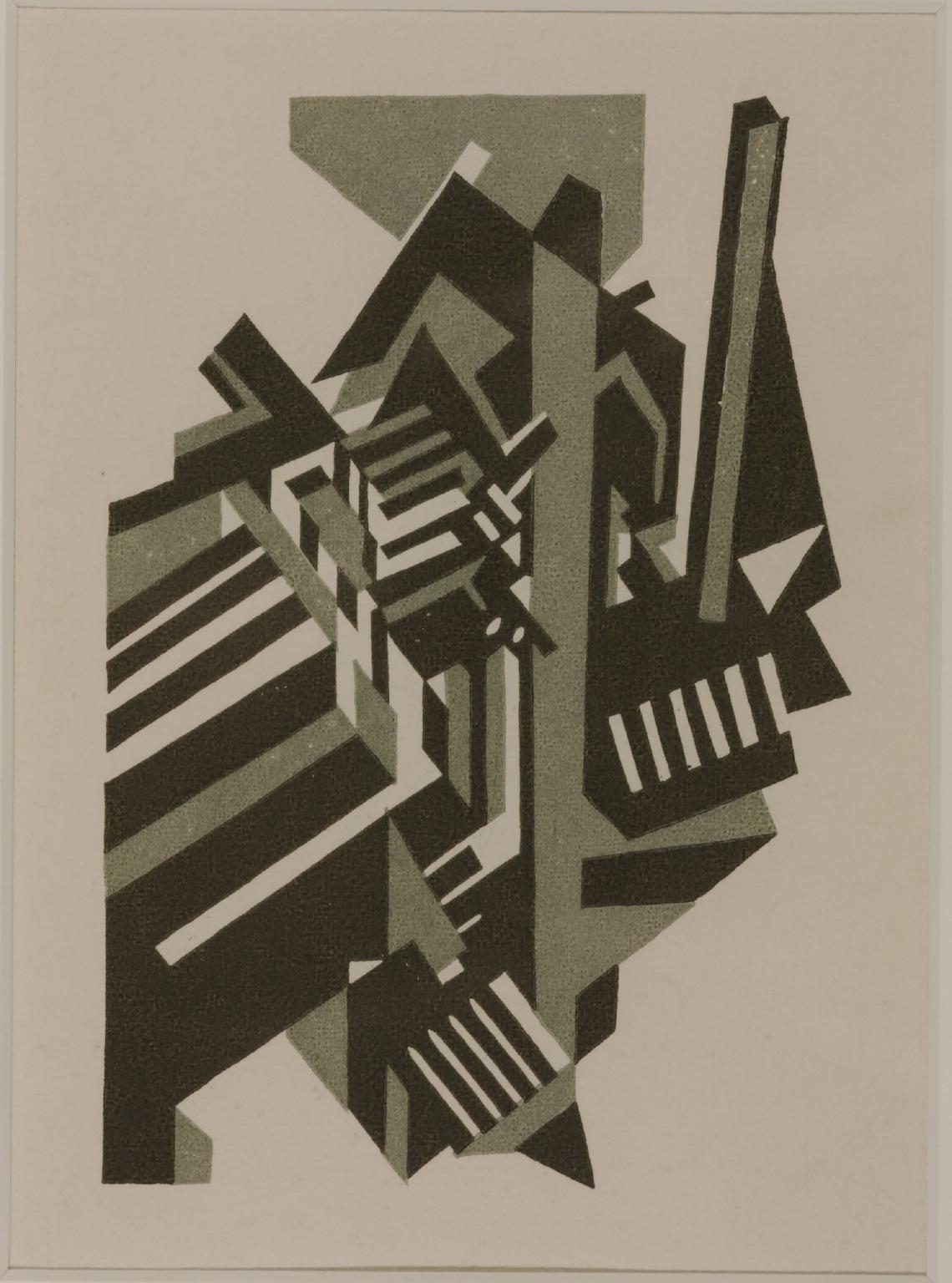 Edward Wadsworth

,

View of a Town

c.1918

Wadsworth's abstract view of an industrial town is made of interlocking roofs and chimney stacks. It has been identified with Bradford. The urban scene is presented as geometric and streamlined, without any trace of people. The work exists in several colour variations, including grey and black (as here), deep purple and green, and lilac and black. This is an approach Wadsworth took with many of his prints. For instance, The Open Window c.1915 (displayed nearby) was produced in six different versions with colours ranging from grey to scarlet – from austere restraint to fierce exuberance.

Gallery label, October 2020
2/20
artworks in Vorticism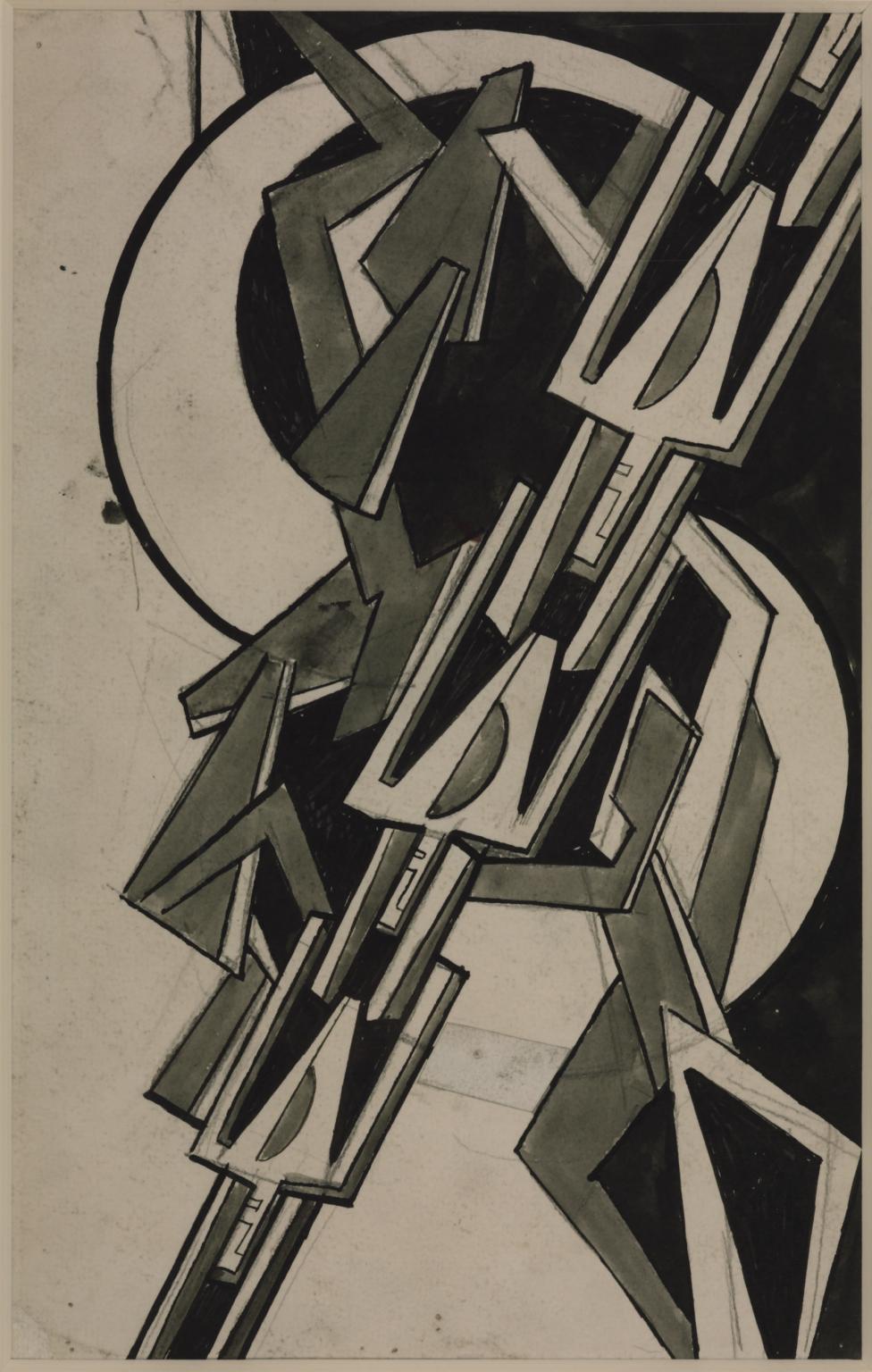 Helen Saunders

,

Monochrome Abstract Composition

c.1915

Saunders's abstract works often have figurative references. Here a column is composed of identical, interlocking figures. These figures resemble the replaceable parts of a machine. The column contrasts with a curved background that seems to be supported by other figures. We see flat jagged shapes that resemble arms and legs. This figurative basis is typical of vorticism, whose abstract forms are often rooted in imagery of machines and the city. In 1914 Wyndham Lewis had suggested that the human figure could be abstracted down to 'a simple black bullet'.

Gallery label, October 2020
3/20
artworks in Vorticism
Wyndham Lewis

,

Vorticist Composition

1915

Lewis had a particular interest in the modern city as a place of tensions. In this work two slanting forms resemble architectural structures. Their steep diagonal focus dominates the composition. However, like other works by Lewis from this period, the drawing communicates a strong feeling of instability, arrested motion and agitation. These abstracted urban forms are also suggestive of figures, perhaps caught in a lull in between actions.

Gallery label, October 2020
4/20
artworks in Vorticism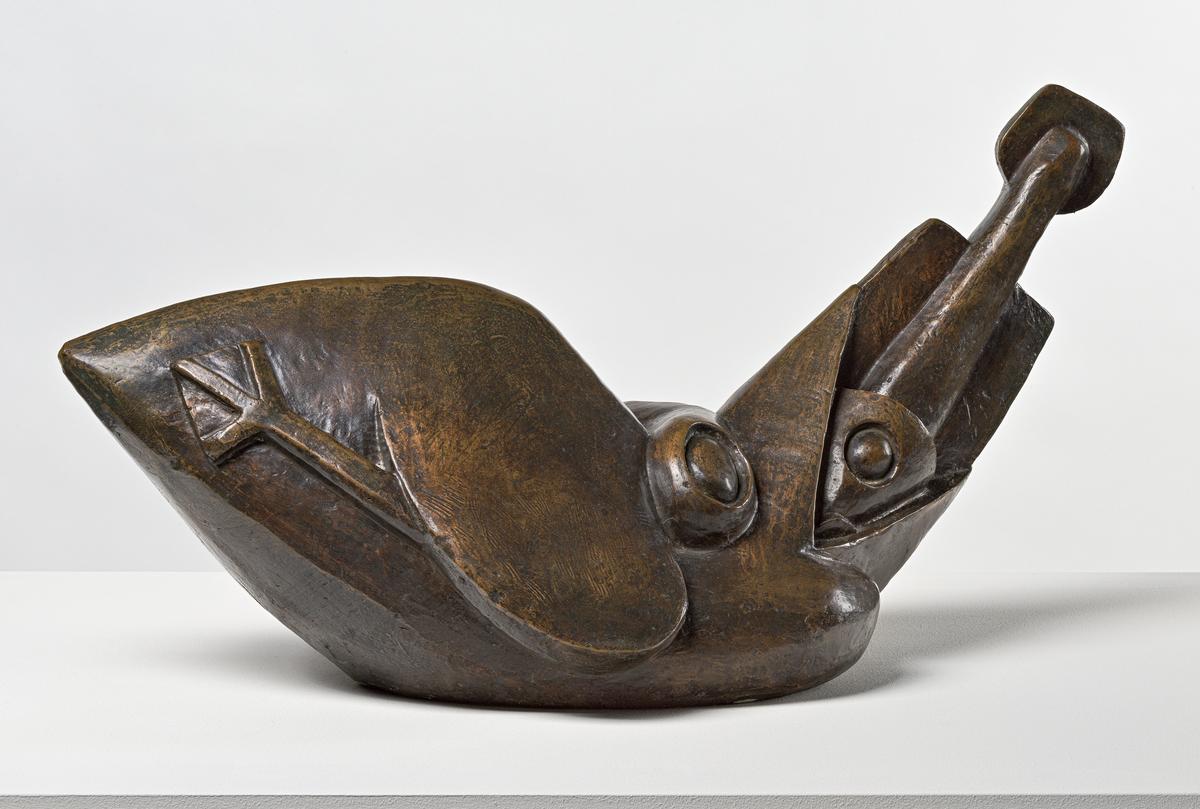 Henri Gaudier-Brzeska

,

Bird Swallowing a Fish

c.1913–14, cast 1964

Gaudier-Brzeska saw a bird catching a fish in Hyde Park. Transforming this incident, his sculpture combines his interest in animal life with forms of themachine age. Bird and fish merge as a dynamic unity born out of violence. The torpedo-like fish is stuck in the gullet of the bird, with both struggling for survival. Even so, the form of the sculpture conveys no expressive emotion. Instead, it suggests a detached, mechanical act.

Gallery label, October 2020
5/20
artworks in Vorticism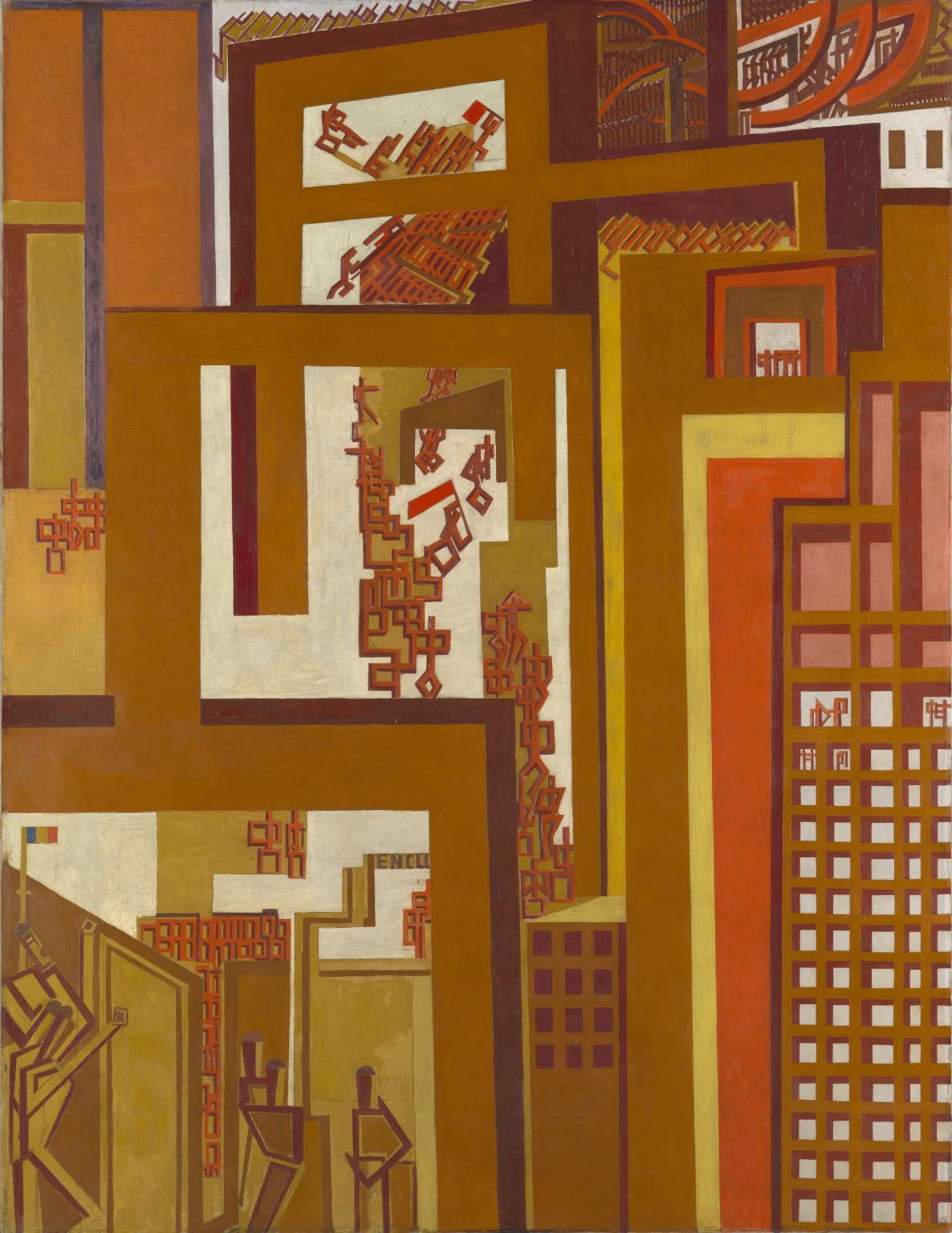 Wyndham Lewis

,

The Crowd

?exhibited 1915

The outbreak of war in 1914 led Lewis to think about the power of political ideas to form and manipulate crowds. 'THE CROWD is the first mobilisation of a country', he wrote in the July 1915 issue of Blast. Here tiny, interlinked figures inhabit a vast abstracted city. Some seem to be leaving the 'Enclo[sure]', perhaps climbing towards the hive-like structure of industrial treadmills at the top right. The larger figures at the bottom are ambiguous. They could represent overseers or be inciting the crowd to revolutionary action.

Gallery label, October 2020
6/20
artworks in Vorticism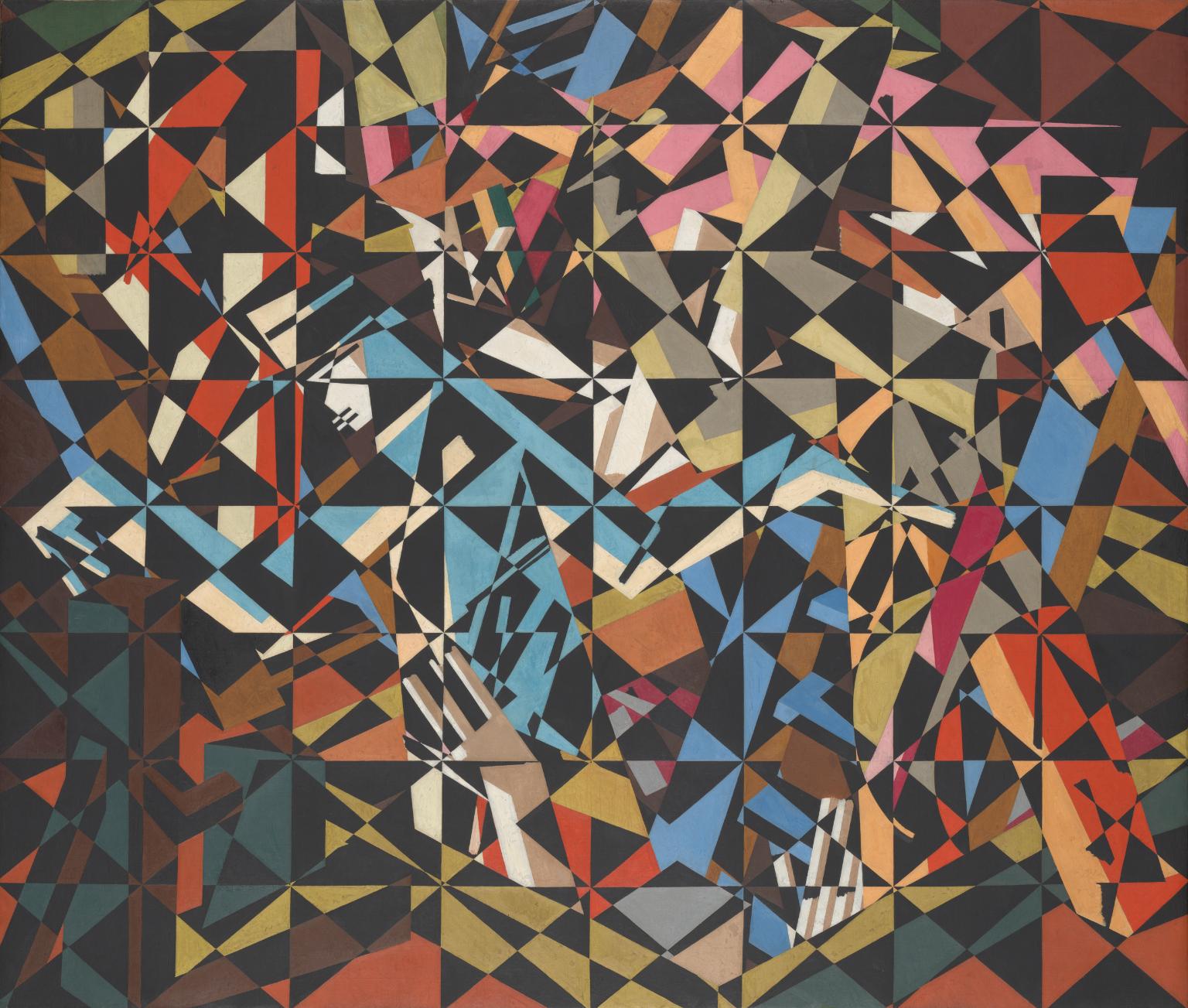 David Bomberg

,

In the Hold

c.1913–14

The subject of this painting is the hold of a ship, in which dock workers are handling heavy freight. However, Bomberg has divided the canvas into a grid of squares that are themselves divided. The effect of this is to shatter form, transforming the scene into a kinetic pattern of shape and dazzling colour. Though the image has become hard to decipher, the fragmented composition expresses the energy of men at work in an industrial environment.

Gallery label, October 2020
7/20
artworks in Vorticism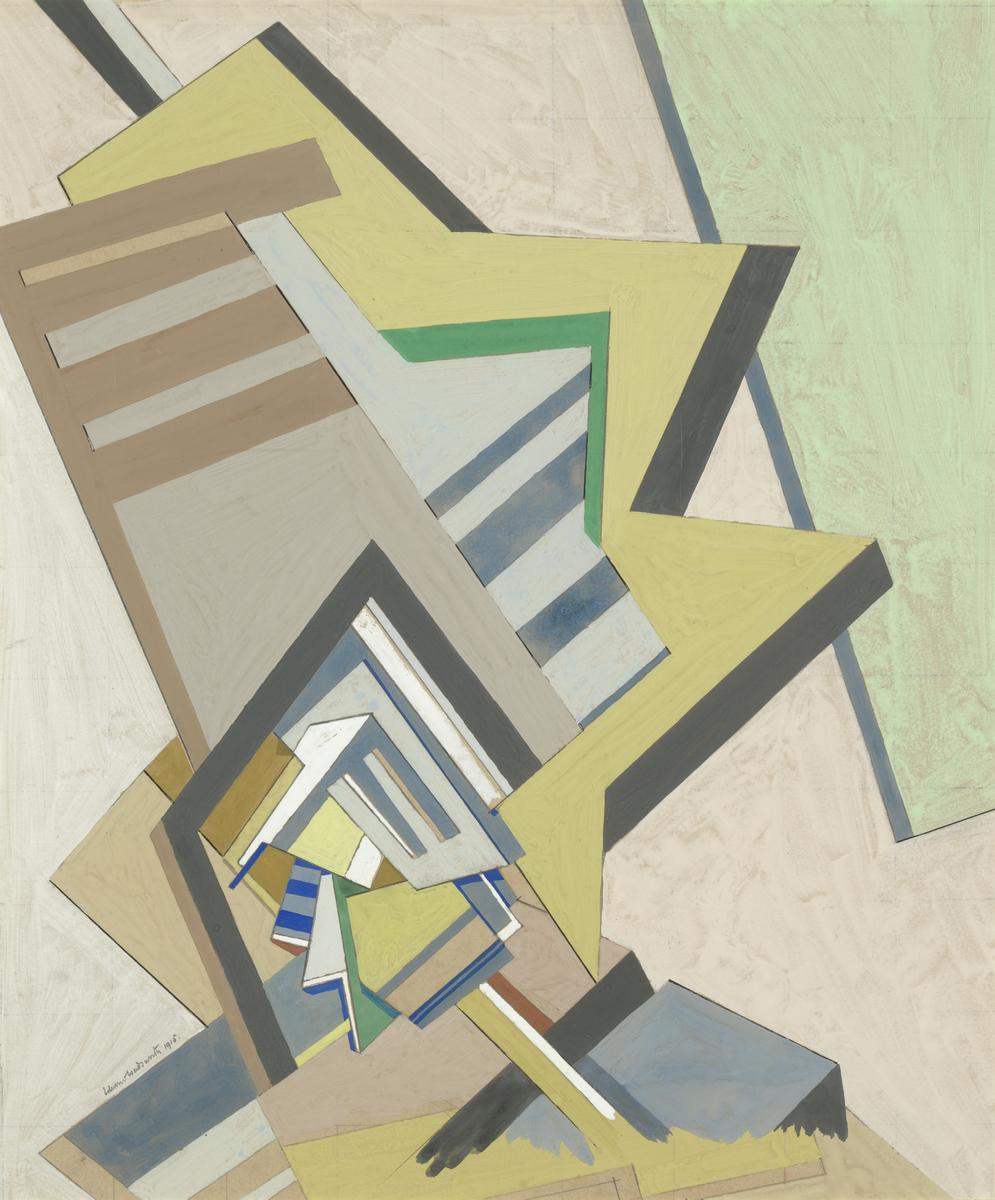 Edward Wadsworth

,

Abstract Composition

1915

Sharp diagonal lines converge towards a focal point. This painting recalls the poet Ezra Pound's description of the vortex as 'absorbing all that is around it in a violent whirling'. The vorticist group's aggressive rhetoric, angular style and focus on the energy of modern life were similar to Italian futurism. However, they did not share the futurists' emphasis on speed, or their romanticisation of technology. Wadsworth and the other vorticists had a more matter-of-fact attitude to the machine age. Their images betray little sense of celebratory excitement.

Gallery label, October 2020
8/20
artworks in Vorticism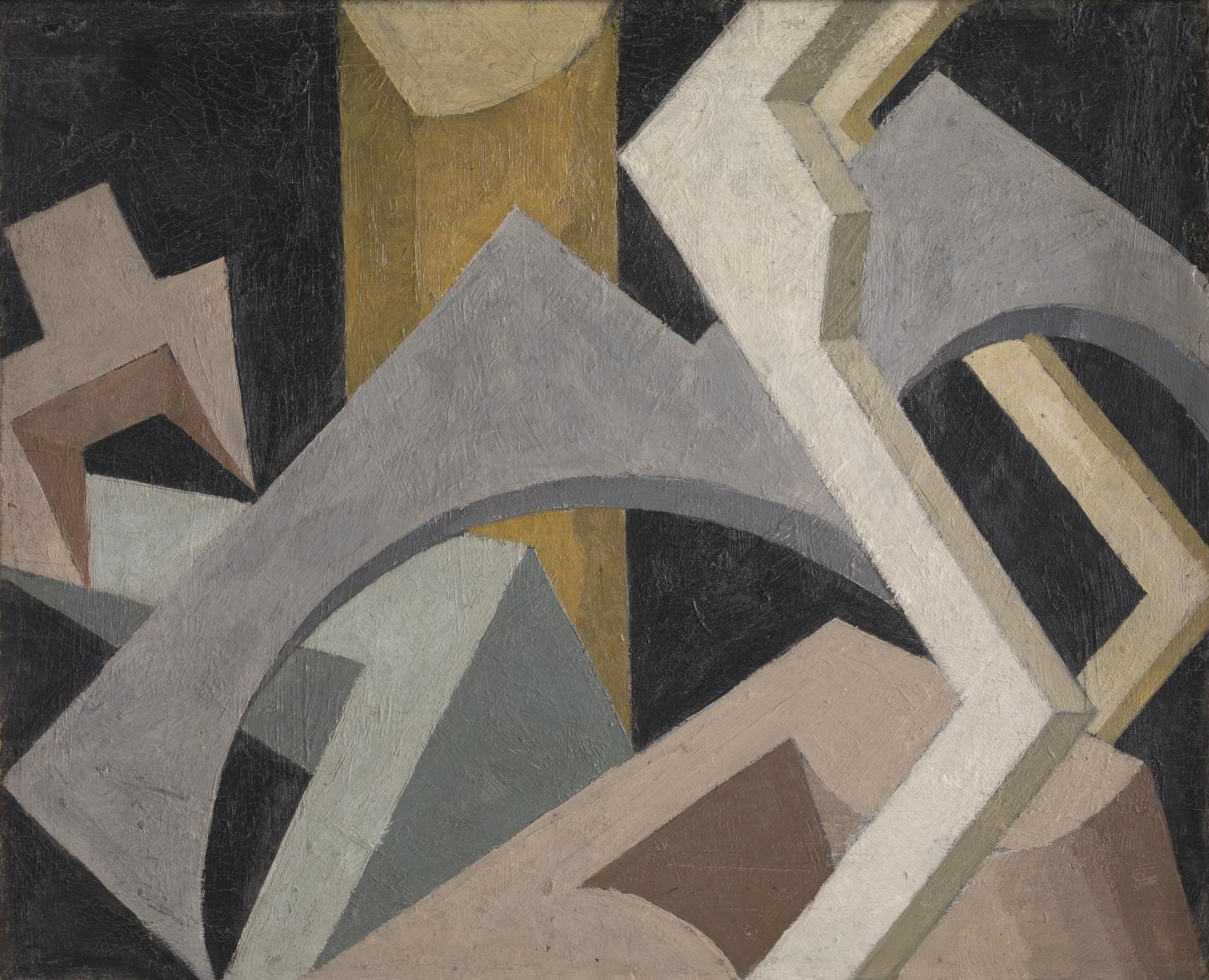 Jessica Dismorr

,

Abstract Composition

c.1915

Dismorr's writings and art reflect her interest in the city and its architectural forms. Here, the simplified elements suggest arches, piers and girders, suspended in a darkened, undefined space. The sense of depth sets her style apart from the flatter compositions of other vorticist artists. Vorticism was unusual for an early twentieth-century avant-garde group, in that it included female artists among its core members. Dismorr and Helen Saunders both showed work at the group's exhibitions. They also contributed to its journal, Blast, which supported the Suffragette movement for women's rights.

Gallery label, October 2020
9/20
artworks in Vorticism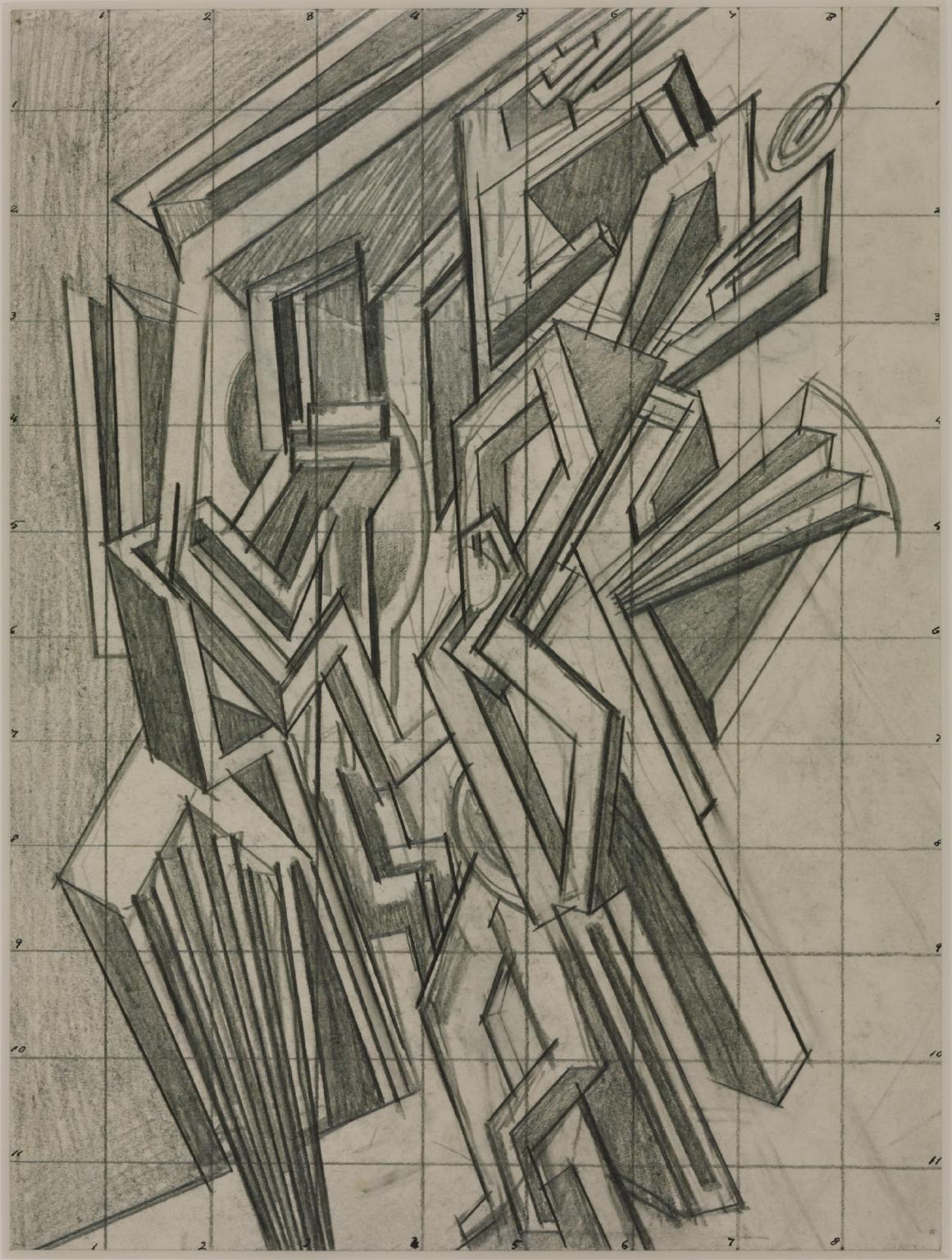 William Roberts

,

Study for 'Two Step'

1915

At least two dancing figures can be identified in this study. Their bodies are simplified into a pattern of hard-edged forms. They are hard to distinguish from the cluster of architectural forms that surround them. Roberts was one of several vorticists who liked to depict dancers. As a subject, dance could show the dialogue between movement, rhythm and rest. It also reflected the popular culture of urban life.

Gallery label, October 2020
10/20
artworks in Vorticism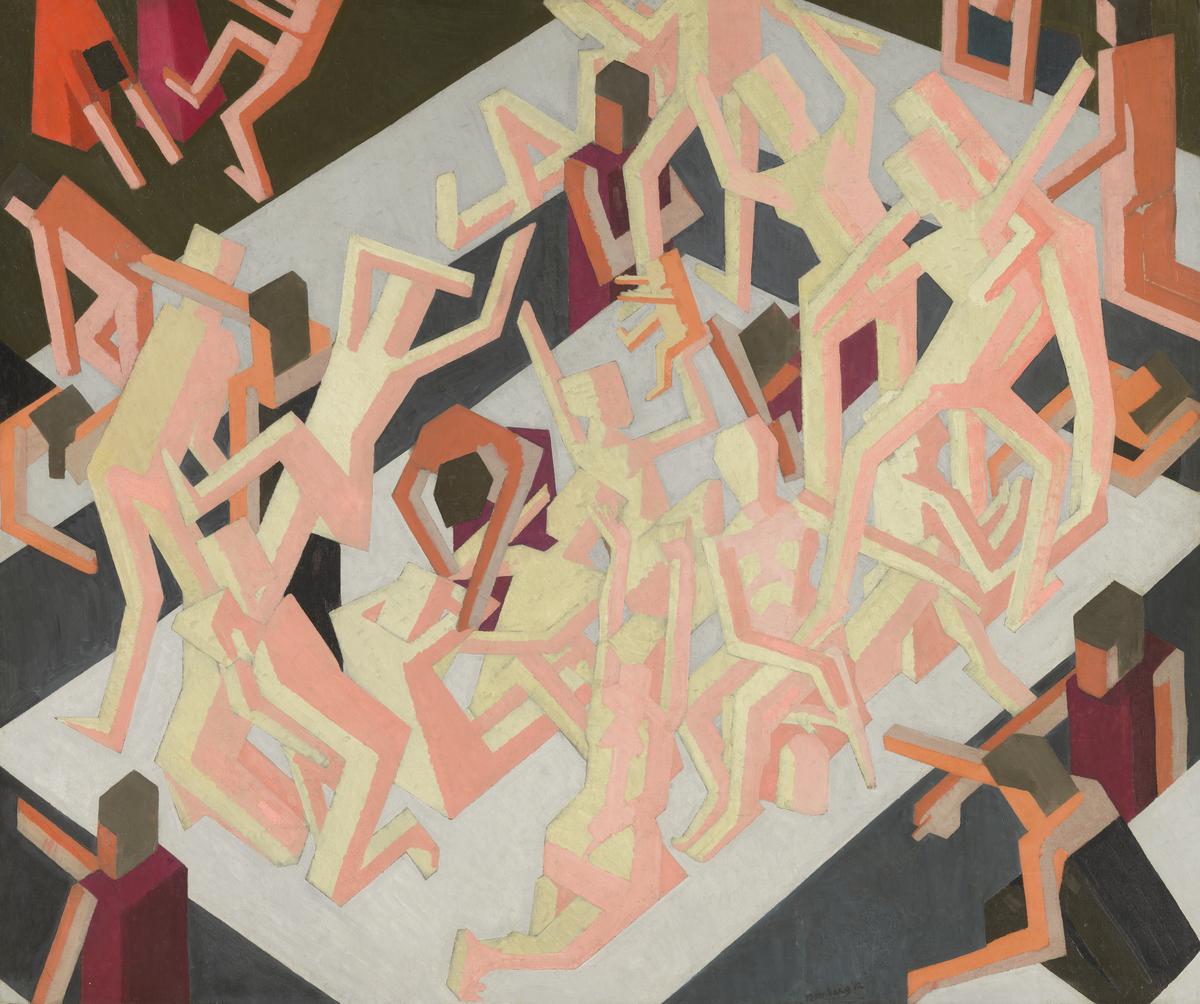 David Bomberg

,

Vision of Ezekiel

1912

The subject is taken from the Hebrew Bible. God guided the prophet Ezekiel to a valley full of bones and commanded him to speak: 'There was a noise, and behold a shaking, and the bones came together.' Skeletal yet animated, the figures appear to emerge from the platform. Bomberg's painting style is often associated with vorticism. However, he did not sign its manifesto. He distrusted the group's leader, Wyndham Lewis, and wanted to retain his independence.

Gallery label, October 2020
11/20
artworks in Vorticism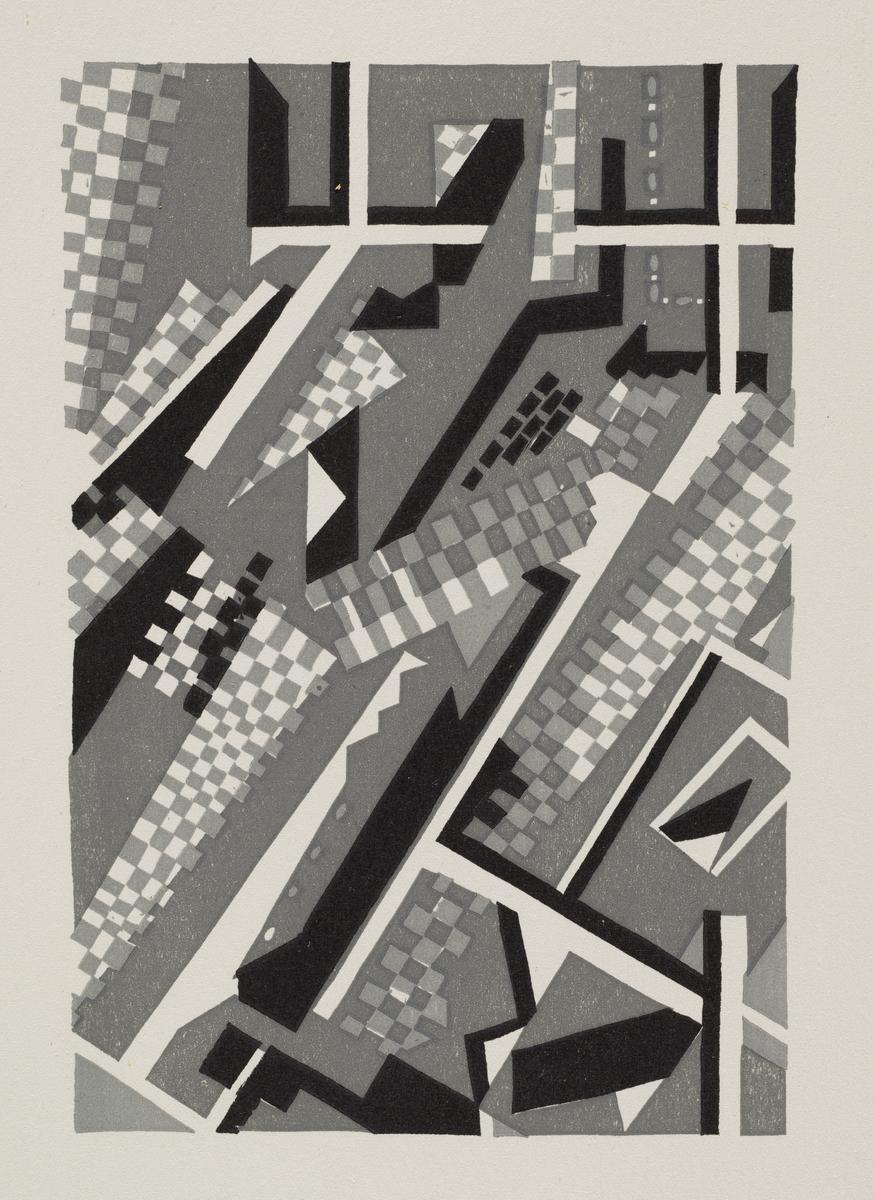 Edward Wadsworth

,

The Open Window

c.1915

Most of Wadsworth's surviving Vorticist works are woodcuts, which he continued to make throughout the war. He was already interested in the effects of colour, and produced six different versions of this woodcut, in colours ranging from grey to scarlet.

The American poet and writer Ezra Pound owned some of Wadsworth's woodcuts and compared their compositions to the abstract language of music. In fact musical references appear in Wadsworth's work through out his career (see for example Dux et Comes I 1932, also in this display).

Gallery label, July 2008
12/20
artworks in Vorticism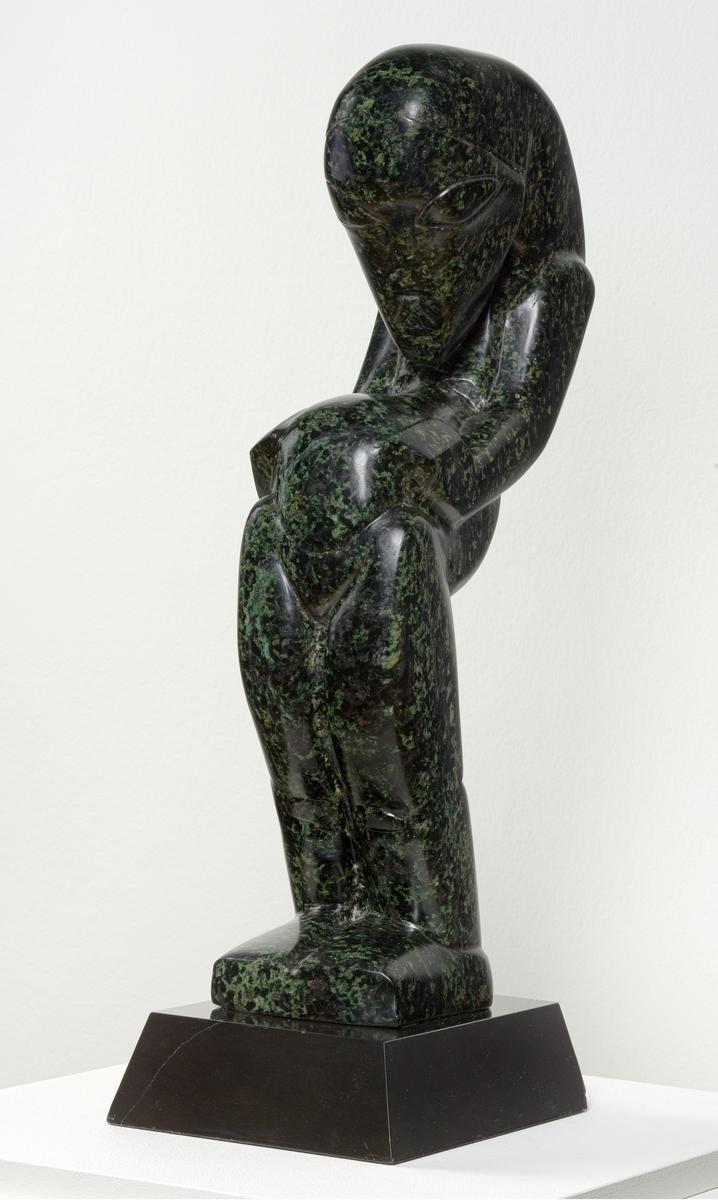 Sir Jacob Epstein

,

Female Figure in Flenite

1913

This pregnant female figure stands in contrast to the dehumanised and mechanised visions of the vorticists. It reflects Epstein's search for alternatives to classical European sculpture. In Paris in 1912 Epstein befriended Amedeo Modigliani and Constantin Brancusi. Both men were producing work influenced by sculpture from ancient Egypt, Greece and Assyria, and by contemporary artworks from Polynesia and west and central Africa. Many of these works were taken to Paris from colonial territories. Modernist artists studied their formal properties, often without understanding their history or purpose. The artists admired what they saw as 'simpler', more 'authentic' cultures. This view may have been influenced by the racist images of 'uncivilized' peoples used by trading companies and governments, including Britain, to justify colonial occupation.

Gallery label, October 2020
13/20
artworks in Vorticism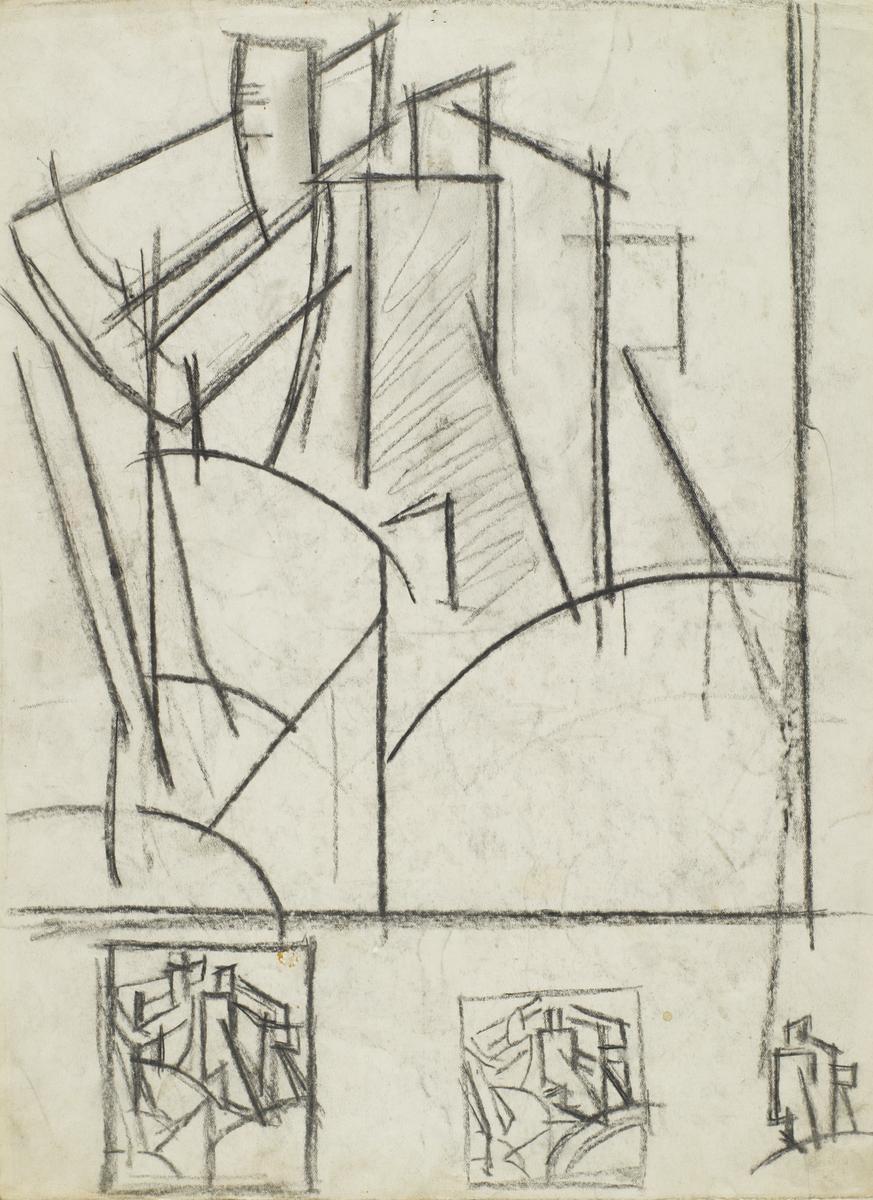 David Bomberg

,

Sketches for 'The Dancer'

c.1913–14

Dance was an important subject for many of the artists associated with vorticism. Bomberg's interest was probably prompted by the Russian Ballet's visit to London in 1911. He was close with the dancer Maria Wajda. Over the two years 1913 and 1914 he produced works on this subject in chalk, charcoal, watercolour, ink and gouache paint as well as lithographic prints. These are among Bomberg's most abstract works. They reflect the modern rhythms and liberated movement for which the Russian Ballet was known.

Gallery label, October 2020
14/20
artworks in Vorticism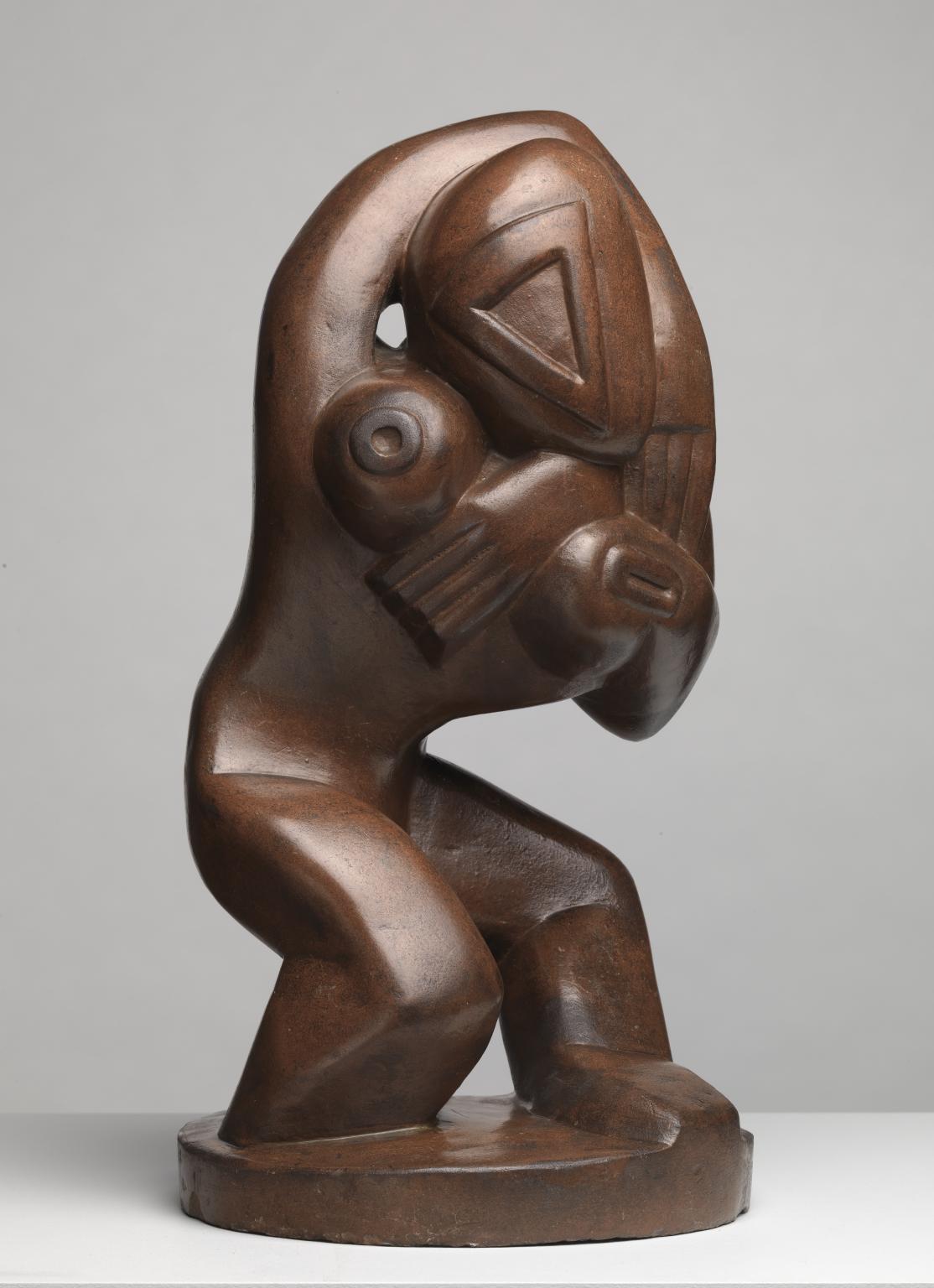 Henri Gaudier-Brzeska

,

Red Stone Dancer

c.1913

Gaudier-Brzeska gathered and incorporated sculptural ideas from many different cultures in his work. At the British Museum he looked at the ancient Greek and Assyrian rooms and the Ethnographical Gallery in the upper floor. This contained artworks taken – sometimes forcibly – from indigenous peoples around the world. In Red Stone Dancer Gaudier-Brzeska draws on these sources to create his own sculptural language, with geometrical elements such as the triangle and circle imprinted on its face and breast. Its stance suggests a twisting movement compressed into a moment of stillness.

Gallery label, October 2020
15/20
artworks in Vorticism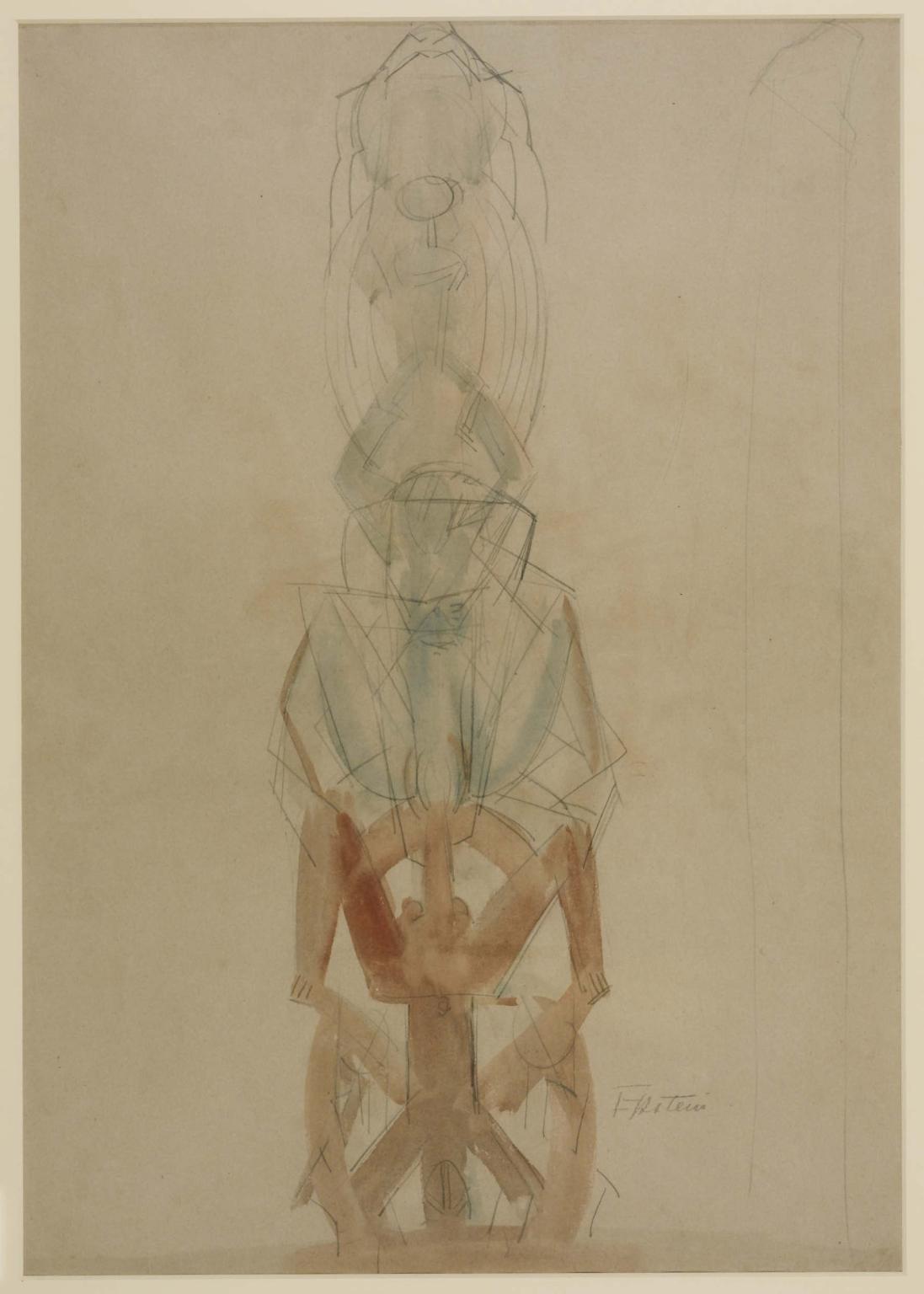 Sir Jacob Epstein

,

Totem

c.1913

In 1912 Epstein designed columns of interlocked figures and animals for The Cave of the Golden Calf, a London nightclub. This related drawing depicts a nude man and woman making love. The woman holds a baby above her head. The drawing's geometrical structure is fused with stylised forms recalling those that Epstein saw in archaic Cycladic art and in sculptures by the Fang people from what are now Gabon, Cameroon and Equatorial Guinea. Epstein admired the expressive power of west African sculpture and built up a large personal collection. He adapted sculptural ideas from these works into his art, without necessarily learning about or appreciating their original meaning. Here he draws upon their forms to explore his own concern with sexuality and procreation.

Gallery label, October 2020
16/20
artworks in Vorticism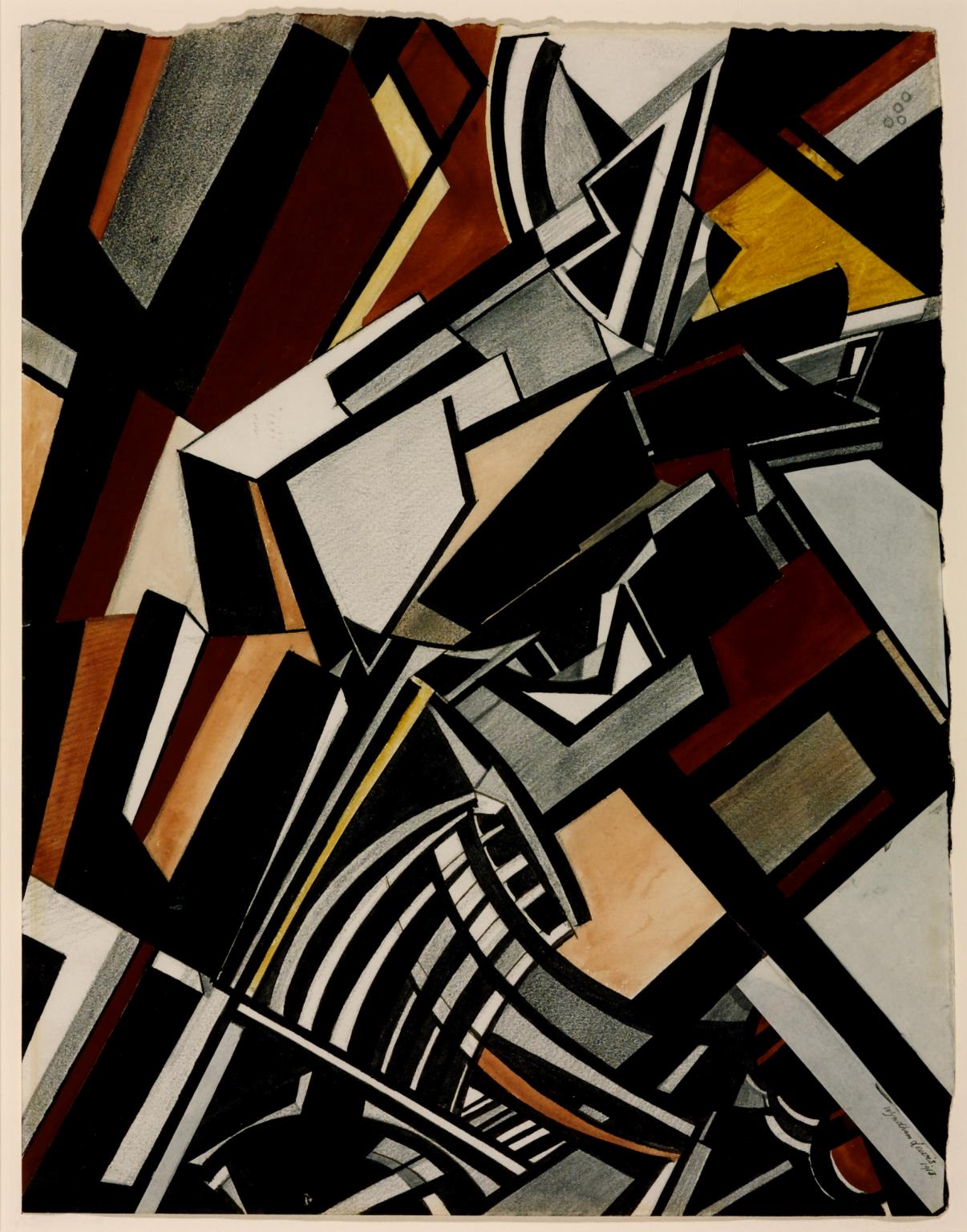 Wyndham Lewis

,

Composition

1913

At first glance Composition presents a compressed series of mechanical forms and abstract references to the modern city. However, it is possible to recognise traces of human figures. Dynamic thrusting shapes rise from the lower left but are contained within a claustrophobic, abstract environment. These forms can be seen as a dancing couple. The woman, on the right, bends backwards. The white parallelogram halfway up the right edge is perhaps her hair. The pleated curving architectural form at the bottom centre could be her skirt.

Gallery label, October 2020
17/20
artworks in Vorticism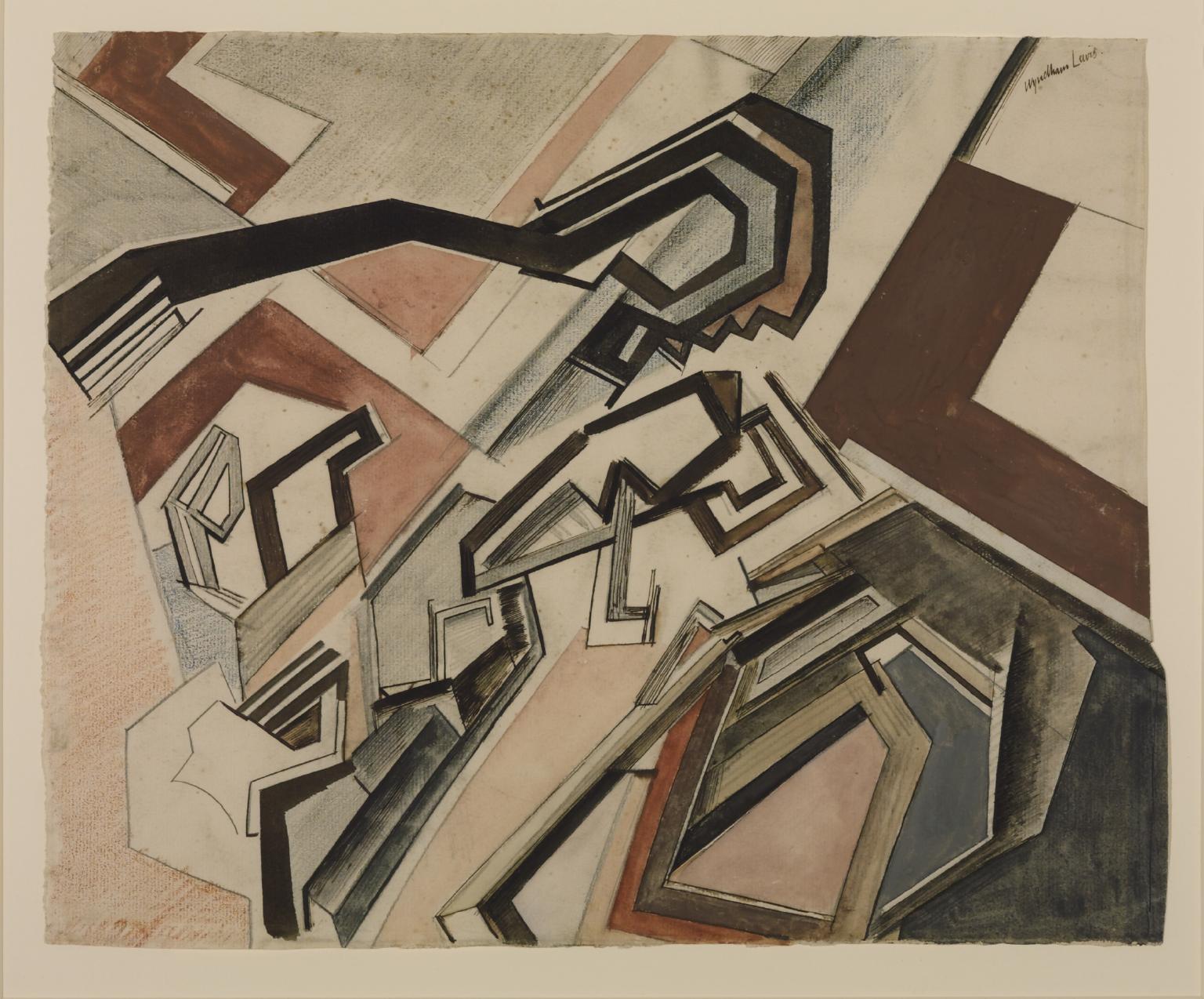 Wyndham Lewis

,

Planners: Happy Day

1912–13

This work seems less assertive in tone when compared with other Vorticist works by Lewis, such as Composition and Vorticist Composition. These later works project an aggressive dynamism lacking from the cool tones of this work. This is reflected in its original title from a 1917 exhibition, A Happy Day. When exhibited 32 years later, Lewis used the more descriptive title Planners. The drawing is suggestive of figures bending over a drawing table. Lewis had a utopian vision for Vorticism, describing his painting as 'more than just picture-making: one was manufacturing fresh eyes for people, and fresh souls to go with the eyes.'

Gallery label, May 2021
18/20
artworks in Vorticism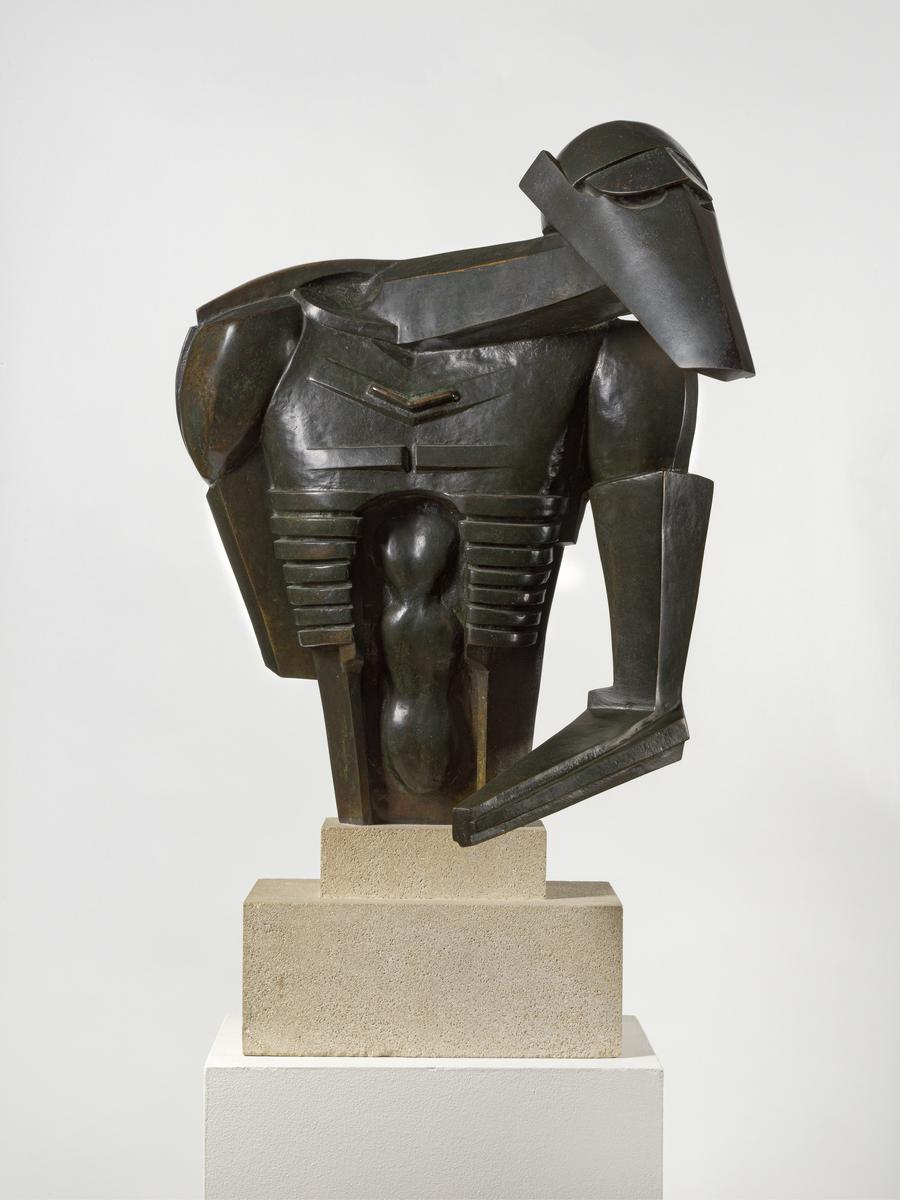 Sir Jacob Epstein

,

Torso in Metal from 'The Rock Drill'

1913–15

Writing in 1940, Epstein described this sculpture as 'a machine-like robot, visored, menacing'. He originally set a plaster figure on top of a real industrial rock drill as a symbol of the machine age. Epstein's attitude to machines changed as the mechanised warfare of the First World War caused vast numbers of casualties. After it was first exhibited in 1915, he removed the drill and cut the figure down at the waist. The left hand and right arm were taken off. It was then cast in bronze. The once-threatening figure appears vulnerable, more a victim than a perpetrator of violence.

Gallery label, October 2020
19/20
artworks in Vorticism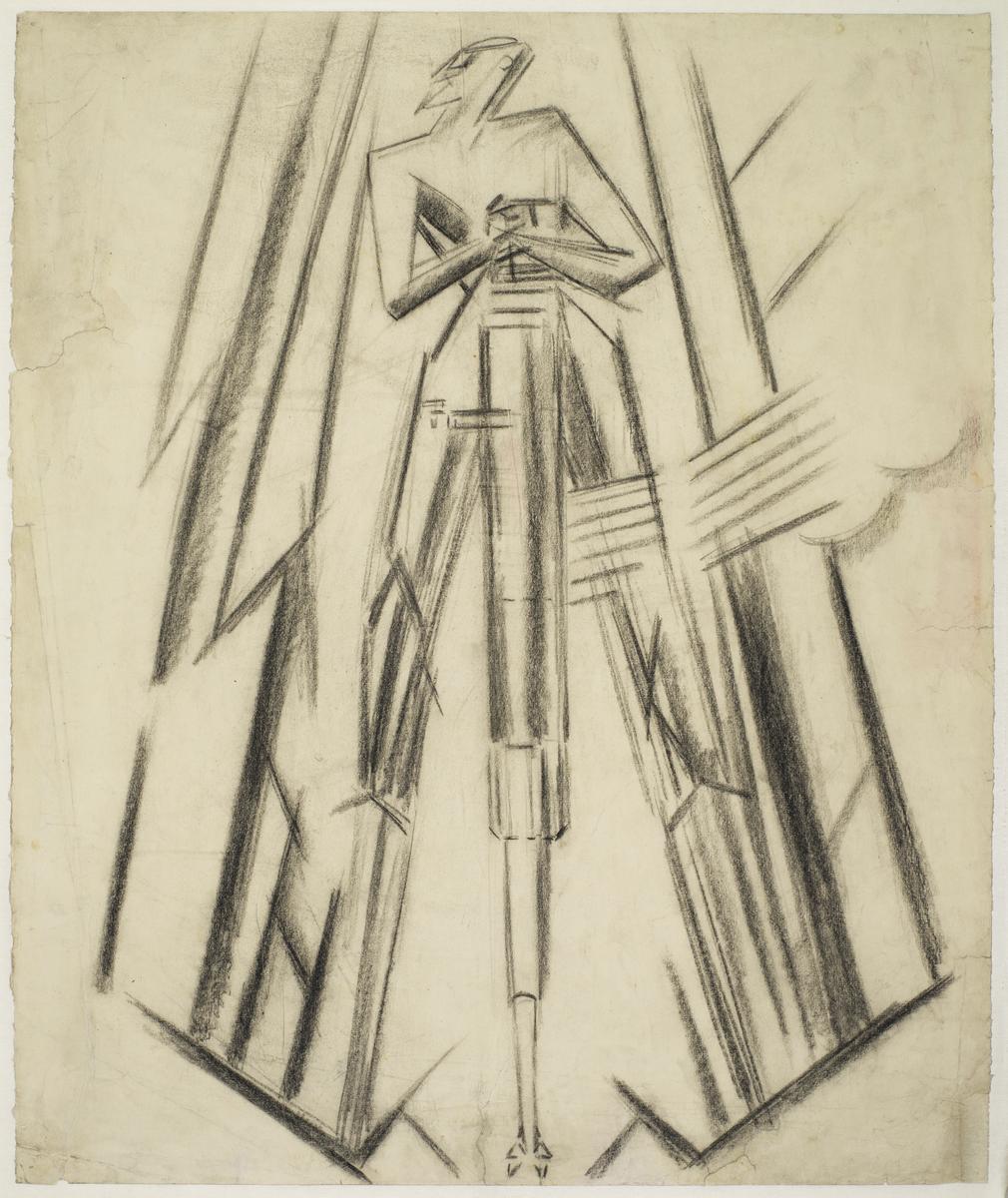 Sir Jacob Epstein

,

Study for 'The Rock Drill'

c.1913

This drawing is a study for the original version of The Rock Drill. As Epstein recalled in 1940, 'It was in the experimental pre-war days of 1913 that I was fired to do the rock-drill, and my ardour for machinery (short-lived) expended itself upon the purchase of an actual drill... upon this I made and mounted a machine-like robot, visored, menacing, and carrying within itself its progeny, protectively ensconced. Here is the armed, sinister figure of today and tomorrow. No humanity, only the terrible Frankenstein's monster we have made ourselves into.'

Gallery label, October 2020
20/20
artworks in Vorticism
Art in this room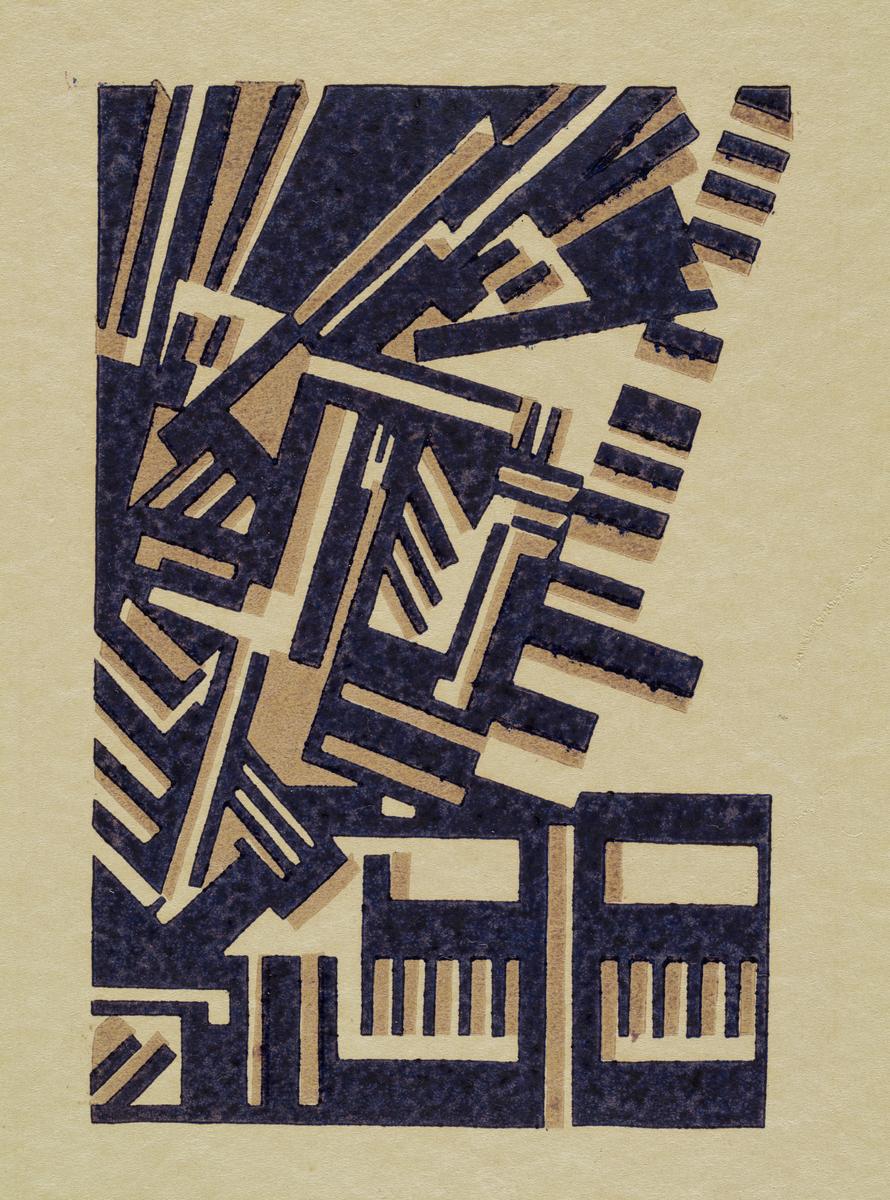 Edward Wadsworth
The Port
c.1915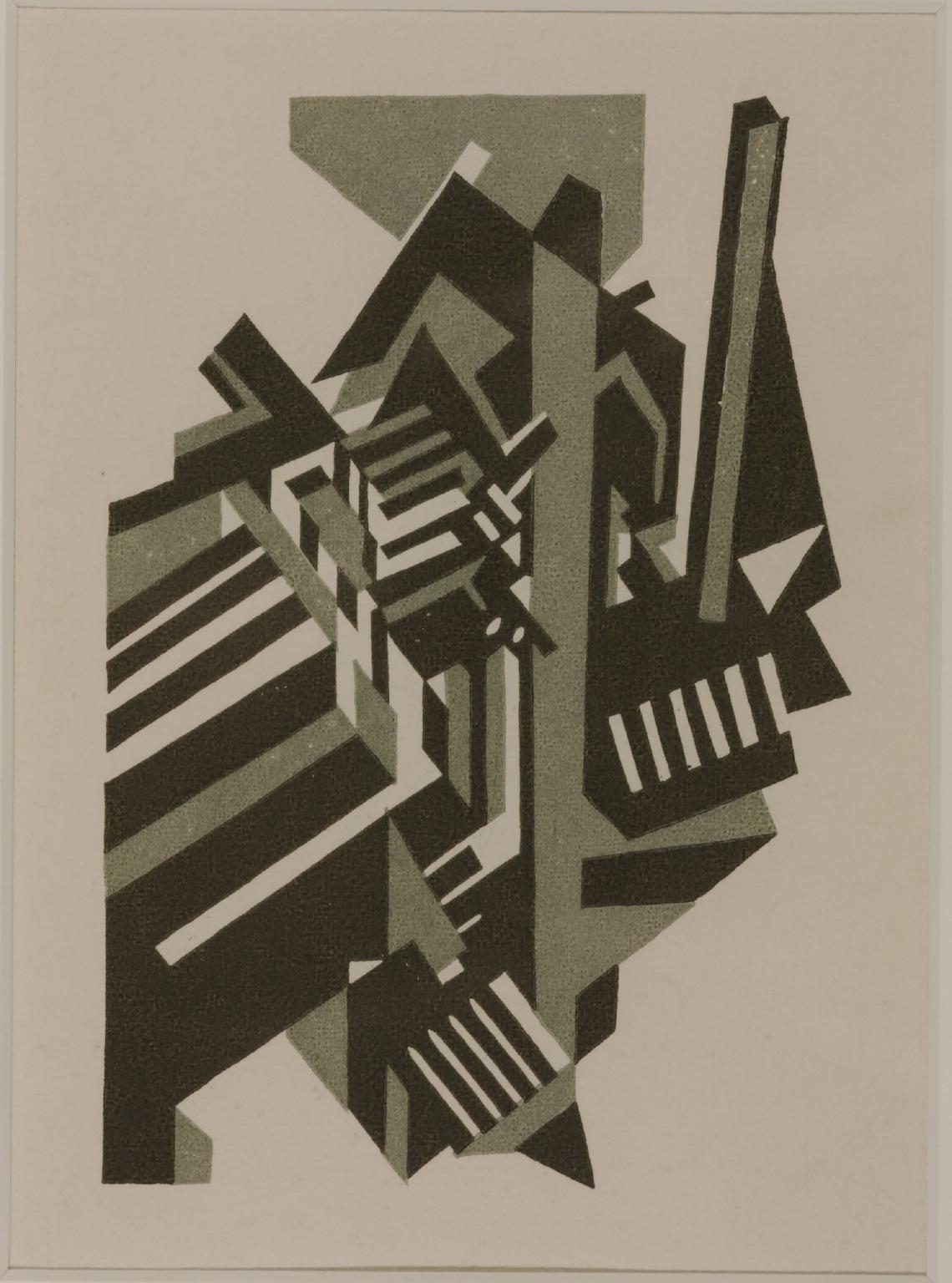 Edward Wadsworth
View of a Town
c.1918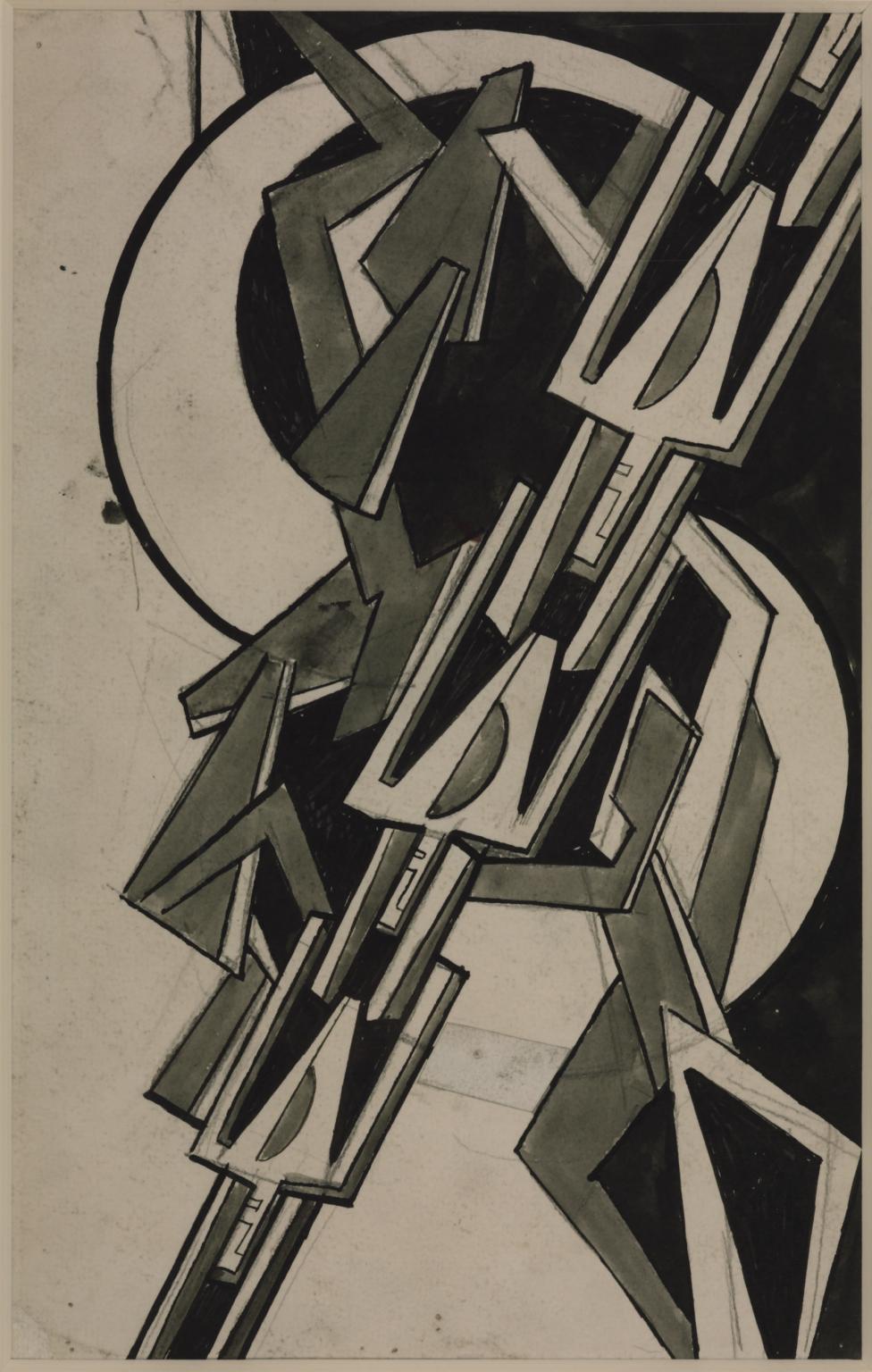 Helen Saunders
Monochrome Abstract Composition
c.1915
Wyndham Lewis
Vorticist Composition
1915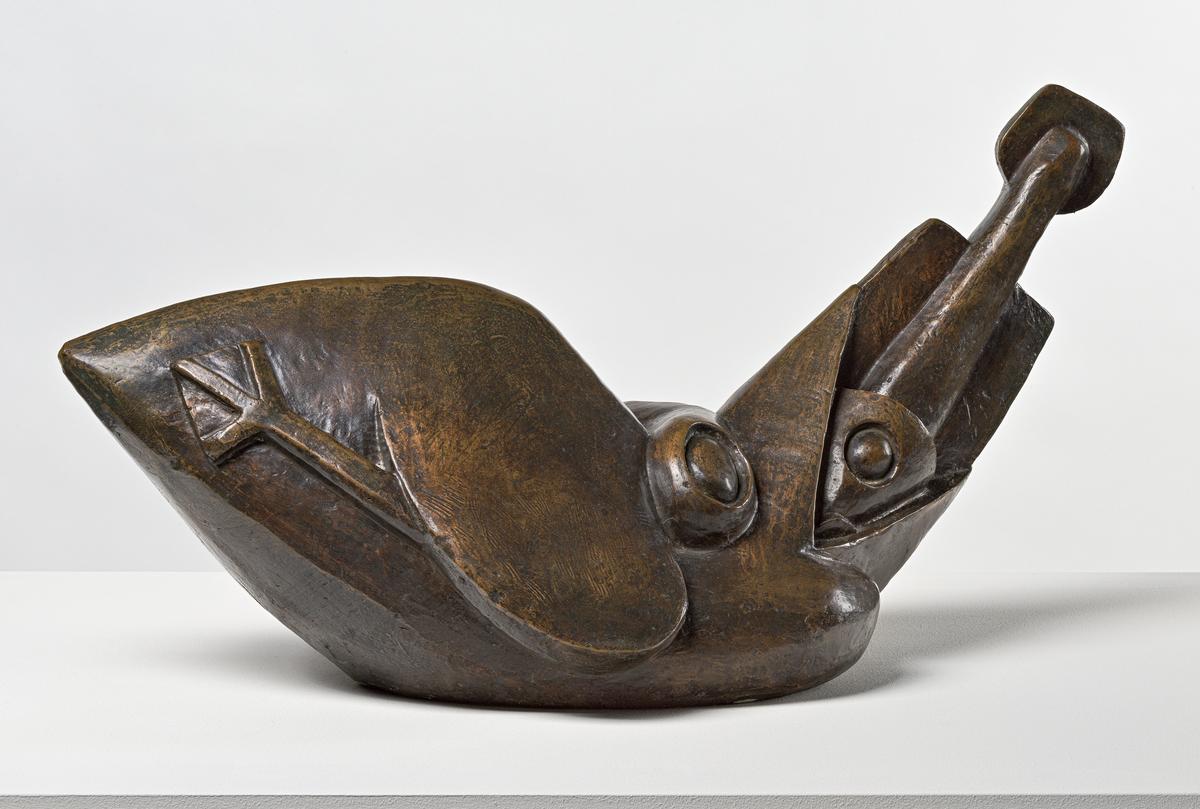 Henri Gaudier-Brzeska
Bird Swallowing a Fish
c.1913–14, cast 1964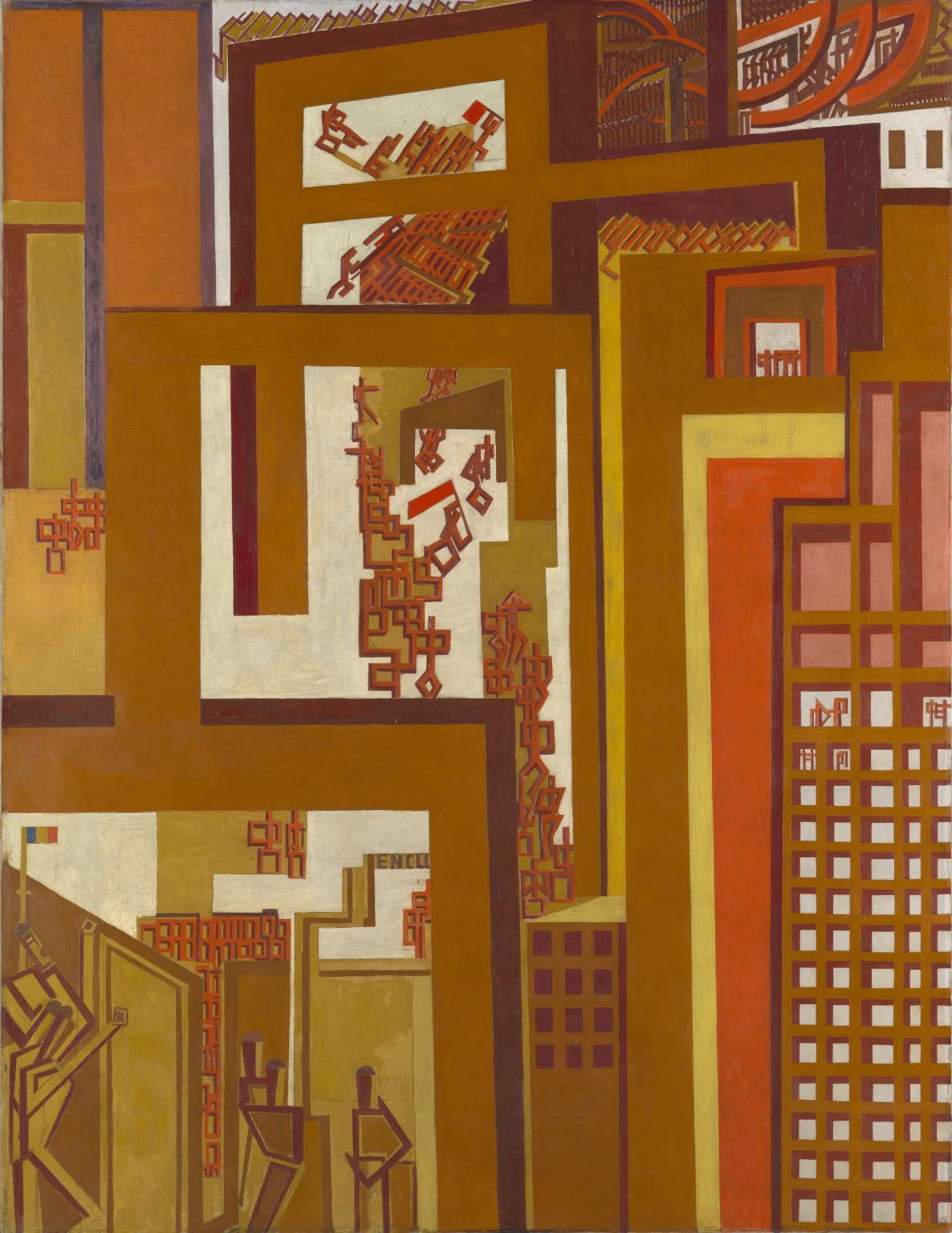 Wyndham Lewis
The Crowd
?exhibited 1915
You've viewed 6/20 artworks
You've viewed 20/20 artworks