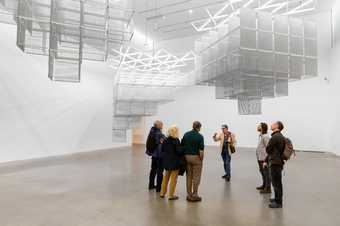 Tate Modern welcomes group visitors.
Book a group visit
Self-led group visits to Tate Modern are free
You are welcome to visit the collection routes as a group, but we ask that you divide up into smaller groups of no more than 6 when in the galleries
Please book online or call +44 (0)20 7887 8888
Private tours for group
A private tour is an excellent way to make the most of your visit to Tate Modern.
Lecturing to your own group
If you wish to lecture to your group, please let us know when you make your booking. The maximum group size for lectures is 20 people.
Please note lecturing inside the temporary exhibitions is not permitted​.
Small groups
We welcome small groups to come to the gallery to explore and be inspired by art.
Check out our handy guide 'Make Time for Art' to support community groups visiting Tate.