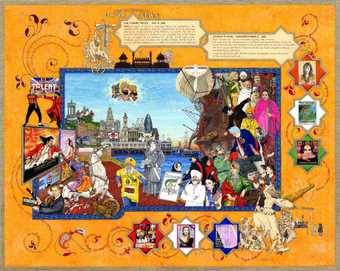 With a vast array of objects from collections across Britain, including maps, flags, paintings, photographs, sculptures and artefacts, this exhibition examines how the histories of the British Empire have shaped art past and present. Contemporary works within the exhibition suggest that the ramifications of the Empire are far from over.
This tour will raise questions about ownership, authorship and how the value and meanings of these diverse objects have changed through history, it also asks what they still mean to us today.
This tour is delivered in BSL by presenter Serena Cant with voiceover interpretation by Ali Pottinger.
If you have any other access needs that you would like to let us know about please contact: Anna Murray, Assistant Curator: Access anna.murray@tate.org.uk or call +44 (0)20 7887 8888