Inspired by The EY Exhibition: Impressionists in London, which explores the experiences and friendships French artists developed with their British counterparts between 1870 and 1904, this salon-style discussion features contemporary French artists currently based in London. How much does a city shape an artist's work? What inspirations and challenges does London provide? How might Brexit change cultural relations in the future?

Contributors include the acclaimed French artists Marguerite Humeau, whose work currently appears in the Art Now display at Tate Britain, and Clarisse d'Arcimoles, whose photography and performances engage with forms of nostalgia in British culture. The discussion is chaired by Sam Thorne, Director of Nottingham Contemporary.
The talk will take place outside of the exhibition but an option is available to attend a private view following the talk for £22 (£17 concessions). This option is now bookable by phone and will be online shortly.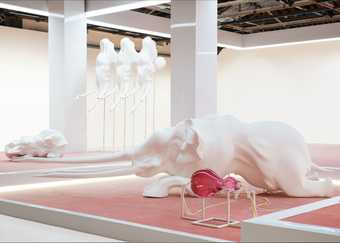 Biographies
Performance is at the heart of emerging French photographer Clarisse d'Arcimoles' (b. 1986) work. Based in London she studied Set Design for Performance at Central Saint Martins followed by a Postgraduate course in photography, her work combines these two interests.
Throughout the years, Clarisse d'Arcimoles' work has been enthusiastically received with exhibitions and awards in the UK and internationally. Her last solo show Forgotten Tale took place at the Photographers' Gallery in summer 2016. Selected exhibitions include I wish you all, Eleven Spitalfields (2017), Forget Nostalgia, The house of St Barnabas, (current), Women Artists Woman collector, Marcel Joseph Projects (2014), Forget Nostalgia, Breese little (2013), Newspeak: British Art Now, Saatchi Gallery, London and Adelaide (2011), Rise and Fall, Concrete and Glass (2010).
Marguerite Humeau is an artist based in London. She studied at the Design Academy Eindhoven and at the Royal College of Art, London, where she obtained her MA in Design Interactions in 2011. Her work has been shown in various solo and group exhibitions in galleries and museums including Palais de Tokyo (Paris), Nottingham Contemporary, the High Line (New York), Manifesta11 (Zürich), Schinkel Pavillon (Berlin), TBA21 Thyssen-Bornemisza Art Contemporary (Vienna), the Museum of Modern Art (New York), and the Hayward Gallery (Touring Programme).
Her work has been recognised internationally through various talks, awards and publications. She is visiting tutor in the MA Space and Communication at HEAD – Genève.
Sam Thorne is a writer and museum director. Since 2016, he has been the Director of Nottingham Contemporary, one of the largest centres for contemporary art in the UK. Prior to that, he was artistic director of Tate St Ives. Sam is a contributing editor and columnist at Frieze magazine, and has written widely about art, music and literature. He is also the author of a book about art education, titled School: A Recent History of Self-Organized Art Education (2017). In 2013, he co-founded Open School East, a free-to-attend art school in East London, which in 2017 moved to Margate. Sam is an Honorary Research Fellow in the Department of Art History at the University of Nottingham.