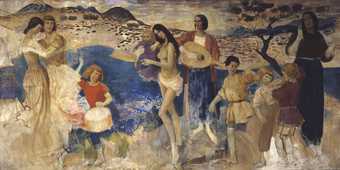 This is the first major exhibition to focus on the work of sibling artists Gwen and Augustus John.
Featuring over sixty paintings and drawings by each artist, the exhibition reveals that although Augustus described himself and his sister as 'the same thing, really', their art developed in different directions. Augustus' work seems wildly exuberant against Gwen's more introverted approach, but both artists indicate a similar flight from the modern world into a realm of fantasy.
Gwen John (1876–1939) and Augustus John (1878-1961) were both students at the Slade School in London in the 1890s. By the time he was twenty-five, Augustus had become the most famous British artist of the day. His talent as an artist was compared with that of Michelangelo, Gauguin and Matisse and he became legendary for his bohemian lifestyle and celebrity circle of friends. Since his death he has moved out of the limelight but the works in this exhibition demonstrate the need to reassess his reputation.
By contrast Gwen has recently become a celebrated painter of international renown. Following a long and obsessive love affair with Rodin in Paris, she increasingly searched for isolation and solitude which was illustrated in her intensely personal studies of interiors and solitary figures. Her methodical technique and palette of subtle mauves and blue-greys is in direct contrast with the bravura and brilliance of Augustus' colours.
This is an exceptional opportunity to witness how two artists from very similar backgrounds went on to have such radically different approaches to art and life. It is also a chance to see some of the finest British paintings from the early Modern period.
The exhibition will also be touring to National Museum and Gallery Cardiff, 12 February - 15 May 2005.