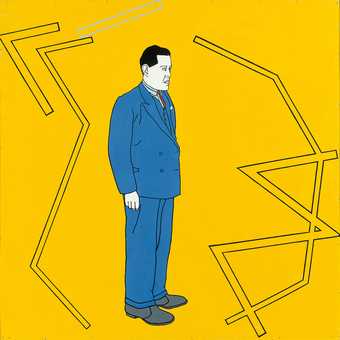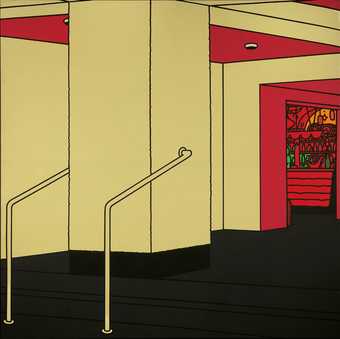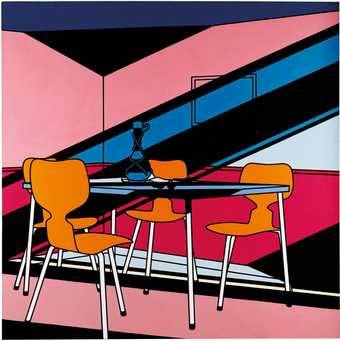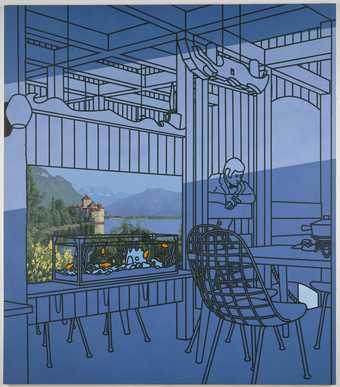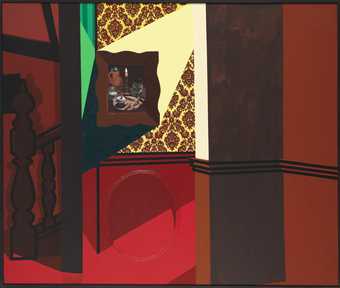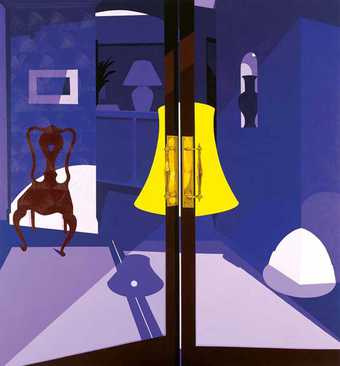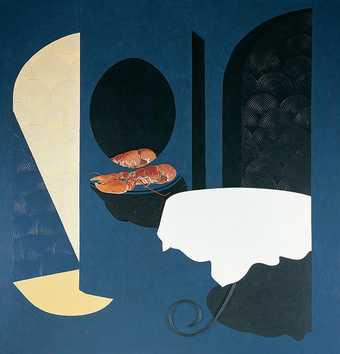 Tate Britain presents a survey exhibition of the celebrated British painter, Patrick Caulfield (1936–2005). From the 1960s, Caulfield has been known for his iconic and vibrant paintings of modern life that reinvigorated traditional artistic genres such as the still life. Celebrating the artist's mastery of colour, graphic elegance as well as his wit, this exhibition will offer the chance to reassess his influences and the legacy of his approach to painting.
Patrick Caulfield came to prominence in the mid-1960s after studying at the Royal College of Art where fellow students included David Hockney. Through his participation in the defining The New Generation exhibition at the Whitechapel Art Gallery in 1964, he became associated with Pop Art. However he resisted this label throughout his career, instead preferring to see himself as a 'formal artist' and an inheritor of painting traditions from Modern Masters such as Georges Braque, Juan Gris and Fernand Léger who influenced his composition and choice of subject matter.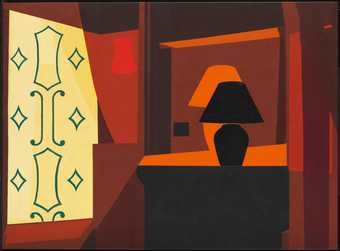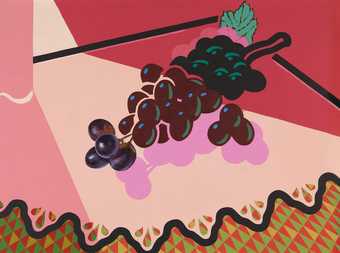 This exhibition will trace the development of Patrick Caulfield's distinctive style. Early in his career Caulfield rejected gestural brushstrokes for the more anonymous technique of commercial sign painters. From the 1960s his paintings such as Still Life with Dagger 1963 (Tate) are characterised by flat areas of colour with objects defined by simple outlines. In the 1970s he began to combine different artistic styles including trompe l'oeil to create highly complex paintings that play with definitions of reality and artifice. For example After Lunch 1975 (Tate) features a photorealist image of the Château de Chillon hanging in a restaurant interior that is depicted in simple black outlines against a flat, two-toned background. This coincided with a subtle shift in subject matter to topics that directly engaged with the contemporary social landscape and the representation of modern life. Such approaches remained his practice for the rest of his career.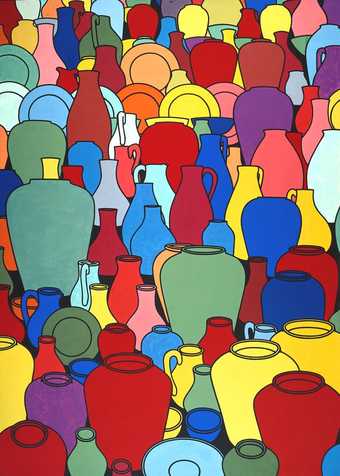 Over thirty significant works from public and private collections will be brought together to represent the key moments of Caulfield's career. Highlights will include well-known popular paintings such as Interior with a Picture 1985–6 (Tate), Portrait of Juan Gris 1963 (Pallant House Gallery, Chichester) and Pottery 1969 (Tate). These will be shown alongside lesser known works such as Bend in the Road 1967 (Collection of the Museé national d'historie et d'art, Luxembourg) and Tandoori Restaurant 1971 (WAVE Wolverhampton Art Gallery). The exhibition will also include later paintings such as Bishops 2004 (Private collection, London) and the artist's final work Braque Curtain 2005 (Tate). Caulfield radically re-imagined traditional genres such as still life and domestic interiors to produce paintings of startling originality.
Patrick Caulfield was born in west London and studied at Chelsea School of Art, followed by the Royal College of Art.  Major exhibitions during his lifetime included retrospectives at Walker Art Gallery Liverpool and Tate (both 1981), Serpentine (1992–3) and Hayward Gallery (1999). In 1993 he was elected a Royal Academician.
The exhibition is curated by Clarrie Wallis, Curator (Contemporary British Art) at Tate Britain. The exhibition will be accompanied by a publication on Caulfield's work.
The Patrick Caulfield exhibition runs in parallel with an exhibition of works by contemporary artist, Gary Hume (born 1962), offering visitors the chance to see two complementary British painters from different generations with one ticket.
Also showing this summer is the much loved British painter L.S. Lowry (1887–1976). Booking is recommended.