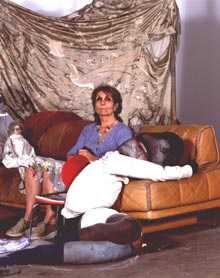 This small-scale exhibition highlights three pivotal phases in Paula Rego's work, showing the breadth of her artistic practice as well as tracing recurrent themes that span her career.
Paula Rego's works take real and imagined stories as their starting points, though she allows the complex narratives in her pictures to evolve out of the process of making the work. Her finished pictures are never simple illustrations; the characters and the events change and develop as she works. The action in her pictures almost always takes place in domestic settings. Rego says she 'can only understand ideas in terms of human relationships'.
Her works belong to an expressive, non-literary tradition of storytelling, a practice that has been shared amongst women for generations, providing an alternative voice that undercuts traditional modes of authority. The stories that she has inherited and personalised are often deeply embedded in our collective consciousness, and by subtly reworking their prevailing meanings she challenges our institutionalised values and moral codes.
The first section of this exhibition features an array of rarely seen collage-based works from the early 1960s. Many of these respond to the oppressive political climate in Portugal, where Rego was born. The works in the second room, from the 1980s, are among her best known. These large-scale figurative paintings are more autobiographical in their subject matter, they depict domestic dramas and focus in particular on female roles within the family. Her latest works, shown in the final room, are on a much larger scale. These continue to explore ideas of femininity but in a new medium: pastel. Her most recent work, The Pillowman 2004, is exhibited for the first time.