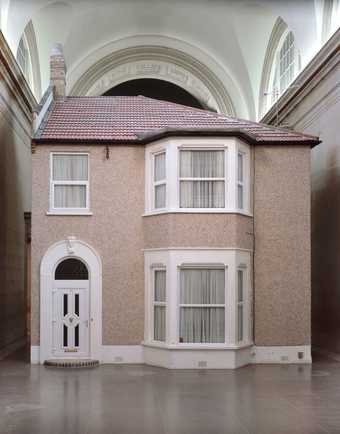 Michael Landy has created an ambitious new installation for Tate Britain's Duveen Galleries. This is the latest in an ongoing series of biennial sculpture commissions whose previous contributors include Mona Hatoum and Anya Gallaccio. The series builds on a long tradition of exhibitions in the Duveen Galleries, which has included memorable installations by Richard Long, Richard Serra and Luciano Fabro.
Semi-detached, a major site-specific installation, takes as its focus the artist's father, a former tunnel miner incapacitated by an industrial accident twenty-five years ago. Through sculpture, video and sound Landy invokes broader questions of value and usefulness, employment and purpose. This major project is Landy's first since Breakdown 2001, his most celebrated work to date, which took place in a former high-street department store in central London. After creating a meticulous inventory of all his possessions, Landy set about systematically destroying them over a two-week period in what he described as a consumerist experiment in identity. This followed a series of theatrically spectacular installations which examined and challenged attitudes to contemporary consumerism, often exposing the less palatable aspects of the society in which we live.
Landy was born in London in 1963, where he continues to live and work. He studied at Loughborough College of Art (1981–3) and Goldsmiths College, London (1985–8). He participated in the group exhibition Freeze (1988), subsequently becoming a key figure in the generation of British artists whose work grew in prominence throughout the 1990s. His first major project, Market 1990, comprised a large scale assembly of generic market-stall stands, artificial grass and plastic bread crates in a vast disused industrial space in south London. Scrapheap Services 1995, now in the Tate Collection, is a room-sized installation presenting a fictional people-cleansing company, a satire of a sanitised society. Most recently Landy produced Nourishment, a series of meticulous etchings of weeds that explores notions of decay and fragility.
Landy has been included in numerous group shows in this country and abroad, most recently Micro/Macro: British Art 1996–2002, organised by the British Council for the Mucsarnok Kunsthalle, Budapest (2003); Shopping: Art and Consumer Culture, at the Kunstverein Frankfurt and Tate Liverpool (2002–3) and the São Paulo Bienal (2002).
A fully illustrated catalogue (Tate Publishing) will accompany the exhibition featuring essays by Judith Nesbitt, Head of Exhibitions and Displays, Tate Britain, and John Slyce, critic and writer.