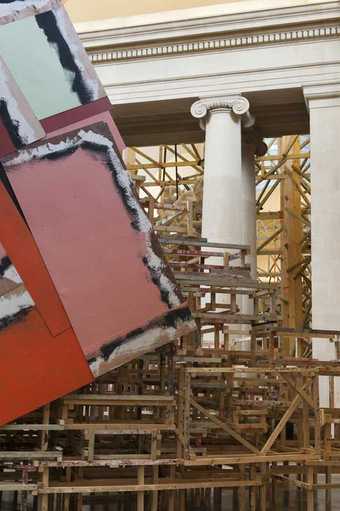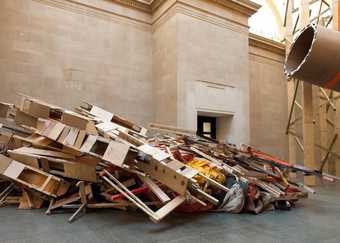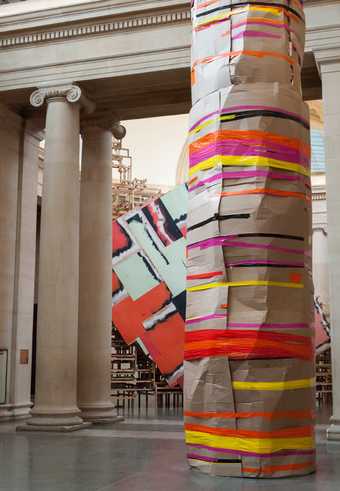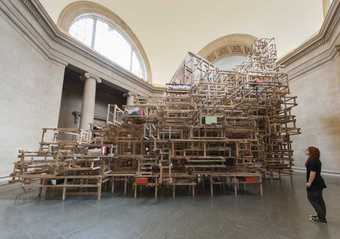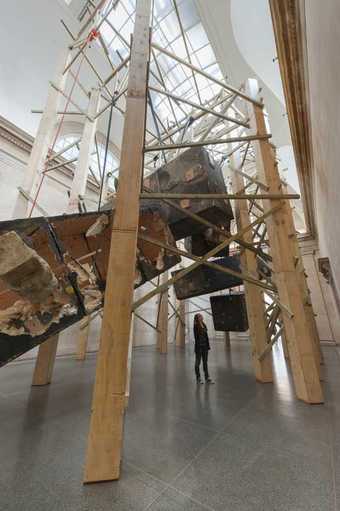 Sculptor Phyllida Barlow will unveil her largest and most ambitious work in London to date for the Tate Britain Commission 2014, supported by Sotheby's, on 31 March 2014. The annual commission invites artists to make work in response to Tate's collection of British and international art and to the grand spaces of the Duveen Galleries at the heart of Tate Britain.
For over four decades Phyllida Barlow has made imposing, large scale sculptural installations using inexpensive, everyday materials such as cardboard, fabric, timber, polystyrene, plaster, scrim and cement. Her distinctive work is focused on her experimentation with these materials, to create bold and colourful three-dimensional collages.
Drawing on memories of familiar objects from her surroundings, Barlow's tactile and seemingly unstable sculptures often contrast with the permanence and traditions of monumental sculpture. In works such as Peninsula at the Baltic Centre for Contemporary Art in 2004 or Stint at Mead Gallery, Warwick Arts Centre in 2008, a cacophony of form, colour and materials filled the spaces. In Barlow's most recent work TIP for the Carnegie International in Pittsburgh, timber lengths wrapped in mesh, cement and brightly coloured fabric ribbons cascaded en masse across the museum plaza to the entrance.
Phyllida Barlow has had an important influence on younger generations of artists through her work and long teaching career in London art schools. At the Slade School of Fine Art, her students included Turner Prize-winning and nominated artists Rachel Whiteread and Angela de la Cruz.
Having seen the space evolve over several decades, I'm very excited by the opportunity to work in the Duveen Galleries. Considering a body of new work, I was very conscious of two particular contradictory aspects: the tomb-like interior galleries against the ever-present aspect of the river beyond.
Phyllida Barlow
Biography
Phyllida Barlow (born 1944) studied at Chelsea School of Art, London (1960–63) and then the Slade School of Fine Art, London (1963–66) where she later became a Professor. Recent international major exhibitions include Venice Biennale (2013), Carnegie International, Carnegie Museum of Art, Pittsburgh (2013), Des Moines Art Centre, Des Moines (2013), Norton Museum of Art, West Palm Beach (2013), New Museum, New York (2012), Ludwig Forum Aachen, Germany (2012), Kunstverein Nurnberg, Germany (2011), BAWAG Contemporary Vienna, Austria (2010), and Baltic Centre for Contemporary Art (2004). She became a Royal Academician in 2011 and lives and works in London.