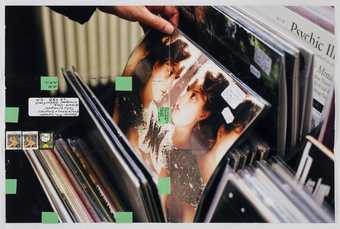 Discover the fascinating photography of Moyra Davey in this brand new commission for Tate Liverpool.
Davey is a New York-based photographer, filmmaker and writer whose work captures everyday objects in new and surprising ways.
For this exhibition, Davey presents works created using photographs she has taken in Liverpool and Manchester. These photographs are influenced by personal stories, as well as narratives drawn from literature and theory. As part of her artistic practice, Davey will mail these works back to their city of origin. The creases, tape and mailing stamps marking each photograph will provide a unique physical trace of its journey.
The exhibition also includes a new version of Davey's celebrated Copperhead series. Inspired by the global economic crisis this series focuses on the most devalued denomination of US currency, the one-cent coin. Copperhead consists of one hundred close-up photographs of the profile of Abraham Lincoln engraved onto United States pennies, which encourage a re-evaluation of the fleeting beauty of the everyday. The series reflects on the psychology of money and the varieties of decay brought about by the passage of time.
Davey's acclaimed body of work uses seemingly modest artistic methods to explore complex themes. In start contrast to the spectacle of large-scale digitally enhanced photography, Davey's practice is based on intimacy and accident. Her seemingly casual images of familiar items, like vinyl records or empty bottles, reveal the innate beauty of these objects and offer an unrushed consideration of the world. Davey's work encourages the viewer to take a second look at the everyday and see it from a different perspective.
Moyra Davey forms part of the parallel programme for LOOK/13, one of the UK's leading international photography festivals.