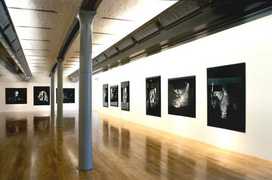 VITAL brings together the work of three contemporary African artists: Farid Belkahia, Touhami Ennadre and Cyprien Tokoudagba. Their work is informed by differing cultural traditions, but each of them has evolved a highly original visual language, which speaks not to the past, but to the present, and to the future. The artists have a common interest in voodoo and the state of trance, and this is reflected in the work on show.
In 1994, Tate Liverpool brought to this country the exhibition Africa Explores: Twentieth Century African Art - organised by the Museum for African Art, New York. To follow this ambitious survey show, which concentrated on sub-Saharan Africa, we have chosen to make a more closely focused exhibition. VITAL presents the work of three individual artists - inviting viewers to explore the affinities and counterpoints between them.
All three artists in the exhibition share an interest in trance. 'Trance is what makes its subjects go into a state of ravishment, the better to return to themselves ... In the state of trance, the individual subject is attracted, almost magnetically, by an external power and energy' Abelwahab Meddeb.
The state of trance is reflected in different ways in the the work of Farid Belkahia, Touhami Ennadre, and Cyprien Tokoudagba, some of the artists using drawings, oil on canvas and photography to express themselves.