Led by Artist Educator Maria Tavares, this 8-week course will explore the work of Vivian Suter. Her colourful paintings and drawings hang in our ground floor Wolfson Gallery and are inspired by the tropical landscape of Guatemala.
Through a series of practical hands-on exercises, you will learn about the visual language of abstract painting using colour, gesture and mark-making. Develop original abstract ideas, from simple starting points, using a variety of painting materials. Experiment with freer and more expressive materials, form and composition. Join in with our discussions about how artists create their work and how art can say something about our lives and communities.
All levels and abilities welcome.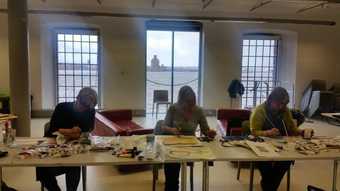 Biography
Maria Tavares is a Liverpool-based artist and art teacher. She qualified as a teacher at the University of Central Lancashire and has exhibited around the world, including FACT in Liverpool, The Brazilian Society of Visual Arts in Sao Paulo and Art Basel in Switzerland.