Set in a world chillingly similar to our own, Empty Metal follows the lives of a disaffected punk band, a militant indigenous family, a Rastafarian computer hacker and a Buddhist hermit in their path towards revolutionary action. Lashing out against racialised police brutality, mass surveillance and indifference, this network of marginal forces collaborates under the radar by means of telepathic, non-complicit communication in a dangerous assassination plot. Simulated drone imagining, camcorder shots and high-definition footage are weaved together in a tangled thread of narratives to reveal an alternative reality of asymmetrical revolt and radical militancy in the face of imminent destruction.
Filled with energy, rage, and the smallest measure of hope, Empty Metal is a new kind of political film for these extraordinary times.
Film Society of Lincoln Centre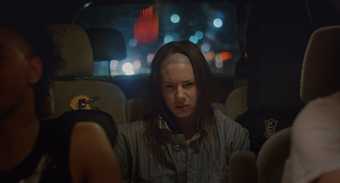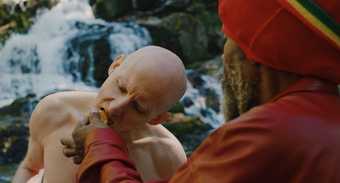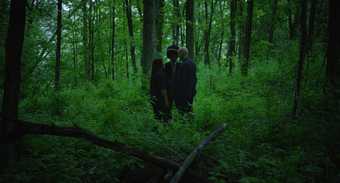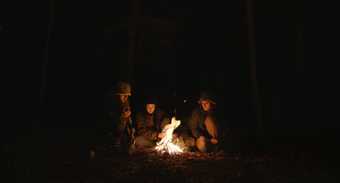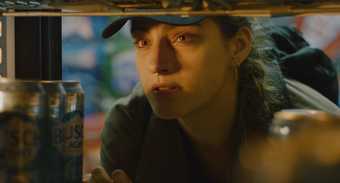 Programme
Introduction by the artists
Empty Metal, United States 2018, DCP, colour, sound, 84 min
Discussion and Q&A with the artists, musicians Leila Bordreuil and Doug Hock, and Tate Film curators​
Biographies
Adam Khalil
Adam Khalil (b.1988, United States) is a filmmaker and artist from the Ojibway tribe who lives and works in Brooklyn. His practice attempts to subvert traditional forms of ethnography through humor, relation, and transgression. Khalil's work has been exhibited at the Museum of Modern Art, Sundance Film Festival, Walker Arts Center, Lincoln Center, and Whitney Museum of American Art, among other institutions. Khalil is the recipient of various fellowships and grants, including but not limited to: Sundance Art of Nonfiction, Sundance Institute Indigenous Film Opportunity Fellowship, UnionDocs Collaborative Fellowship, and Gates Millennium Scholarship. Khalil received his BA from Bard College.​
Bayley Sweitzer
Bayley Sweitzer (b.1989, United States) is a filmmaker currently based in Brooklyn. His practice revolves around a dynamic engagement with the margins and an interest in the chronomorphic qualities of narrative, specifically the camera's ability to consolidate dimensions. His work has been shown at Film Society Lincoln Center, New York; Anthology Film Archives, New York; Pacific Film Archive, Berkeley; Motel Gallery, Brooklyn; Other Cinema, San Francisco; and MIIT House, Osaka. Bayley works professionally as a camera assistant and is a member of the International Cinematographers Guild, IATSE Local 600.