Following from Tate Modern's 2015 film retrospective Albert Serra: Divine Visionaries and Holy Fools we are pleased to welcome the maverick filmmaker back to Tate to present the UK premiere of Roi Soleil.
Winner of the Grand Prix of the 2018 FID Marseille International Competition, the film captures an hour-long staging of the slow agony leading up to French monarch Louis XIV's death. The role is played by Serra's frequent collaborator Lluís Serrat Masanellas and performed as a live installation for visitors to an art gallery. Masanellas is adorned in period dress and seen reclined, alone, gasping and coughing, gorging on candies, gauging his reflection in a handheld mirror and sipping water from a crystal decanter outfitted with a long rubber straw. The indulgent, near-grotesque nature of his transposed world stands in stark contrast to the stripped-back industrial look of the gallery space – with its blank walls and suspended metal lighting grid filling the space with an intense red hue – and the stylings of its visitors.
Roi Soleil follows on the heels of Serra's 2016 The Death of Louis XIV, isolating, extending and recasting its titular death scene in a completely different context. By translating this performative installation back into a cinematic setting, Serra offers us an intensely immersive experience entangled in different times, sites and media.
Unexpectedly riveting
Artforum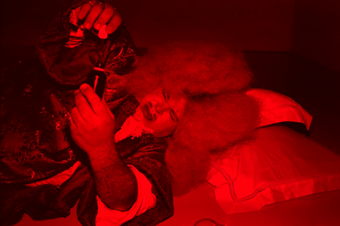 Programme
Curatorial introduction
Roi Soleil, Spain / Portugal 2018, DCP, colour, sound, 62 min.
Discussion with the artists and Tate Film curators
Biography
Albert Serra (b.1975, Spain) is an artist and filmmaker whose vivid and subversive work draws on the history of literature and art.