From 2019–2020, artist Bob and Roberta Smith interviewed people who live in Thamesmead, southeast London. Built in 1968 to alleviate London's housing shortage, Thamesmead was one of many modernist large-scale housing projects constructed across Europe after the Second World War. Smith talked to a number of local residents, from some of its very first occupants to young people growing up during the Covid-19 pandemic. He then turned their conversations into the 24 painted placards you can see here. Reflecting on the work, Smith said 'I thought I was making a painting about a housing estate, but actually I've been painting about the desire to be heard.'
'Codex', from the title Thamesmead Codex, is an ancient term for a manuscript or book. Here, the artist presents a modern-day version. The work documents the histories and identities of Thamesmead and its communities. It records memories from the past, and hopes for a post-Covid future. Alongside this record of people's thoughts and experiences, Smith includes vivid and futuristic landscape scenes much like illustrated pages of a codex.
Bob and Roberta Smith (whose real name is Patrick Brill) brings together sign writing, activism and discarded materials. Talking about his practice, he says he sees 'art as an important element in democratic life.'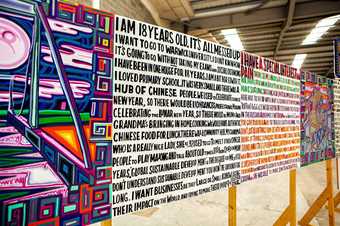 Thamesmead Codex is a collaboration between Tate Modern and Peabody. This work was first exhibited in Thamesmead in summer 2021 as part of Peabody's cultural strategy for Thamesmead and Tate Modern's wider community partnership programme. We would like to thank all the local residents who took part in this project.