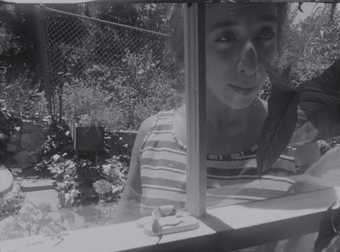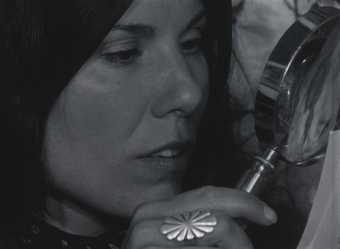 Chick Strand's masterpiece Soft Fiction 1979 is a remarkable work of collective representation. Each of the five women in the film collaborated with Strand to build the films rich and complex picture of female subjectivity blending poetic documentary with lyrical abstraction. It's rare and open depiction of female sensuality was controversial when first shown but Soft Fiction is now celebrated as one of the defining films of the 1970s. The screening will be the European premiere of the newly restored 16mm print courtesy of the Academy Film Archive.
Shown together with Elasticity 1976, Strand's most autobiographical film created from footage from her life in San Francisco and Los Angeles featuring friends and lovers, a complex reflection on Strands past and future. Richly editing together a range of material from archival footage including sequence with Amelia Earhart to a range of audio samples the film is a beatnik self-portrait, as one voice states in the film 'ecstasy is knowing exactly who you are and still not caring.' 
Elasticity 
Chick Strand, USA 1976, 16mm, colour & black & white, sound, 25 min 
Soft Fiction 
Chick Strand, USA 1979, 16mm, black & white, sound, 54 min 
Preserved by the Academy Film Archive with funding provided by the Los Angeles County Museum of Art (LACMA) and The Film Foundation
Prints courtesy of the Academy Film Archive
Programme duration: 79 min
Followed by discussion with film curator Jemma Desai, Edinburgh based artist Kathryn Elkin and London based artist Rehana Zaman, chaired by writer and editor Sophie Mayer developed in collaboration with LUX and Electra.
Speaker biographies
Jemma Desai
Jemma Desai is a film programmer for the Independent Cinema Office and BFI London Film Festival. Interested in the way that women interact with screen depictions of themselves, in 2012 Jemma started I am Dora, a curatorial initiative to explore the way that women identify with one another through the medium of film. Encompassing a screening series and bespoke printed materials and publications, Jemma is currently working on an edited volume that brings together this work. With an interest in film criticism, Jemma has contributed to Sight & Sound, BFI online and Cléo Film Journal and is also developing a new film journal that unites her passion for film with her interest in art and design.
Kathryn Elkin 
Kathryn Elkin grew up in Bangor, Northern Ireland, and is currently based in Leith, Scotland. She graduated from Glasgow School of Art's Environmental Art course, 2005 and received a Post Graduate Diploma in Art Writing from Goldsmiths College, London, 2012. She was a Lux Associate Artist, 2012–2013 and Artist in Residence as part of the BBC's Artists in the Archive project, 2014. Recent exhibitions, screenings and performances include: Why La Bamba, CCA Derry, 2015; The Elephants in the Room, ICA, London, 2015; Michael's Theme, CCA Glasgow, 2014; Mutatis Mutandis, London Film Festival, 2014; Until the Stars Turn Cold, S1 Sheffield, 2014; and 30 Years of the Future, Castlefield Gallery, Manchester 2014. 
Sophie Mayer
Sophie Mayer is the author of Political Animals: The New Feminist Cinema (IB Tauris, 2015) and The Cinema of Sally Potter: A Politics of Love (Wallflower, 2009). She is a regular contributor to Sight & Sound and The F-Word, with a focus on feminist, queer and alternative cinemas. She works with queer feminist curators Club des Femmes and campaigners Raising Films, and was the co-editor of Catechism: Poems for Pussy Riot (English PEN: 2012). Currently a full-time feminist film activist, she is also a poet; her most recent collection is (O) (Arc, 2015).
Rehana Zaman
Rehana Zaman is an artist based in London working with moving image and live performance. She frequently collaborates to produce deadpan, narrative based works upended by race, sex, neurotic behaviour and the failures of language. Recent solo exhibitions include Some Women, Other Women and all the Bittermen (commissioned by The Tetley, Leeds, 2014), What an artist dies in me/ Exit the Emperor Nero (commissioned by OUTPOST, Norwich, 2013) and I, I, I, I and I (commissioned by Studio Voltaire, London, 2013) Group exhibitions and screenings include The Irish Film Institute, Dublin, Berwick Film and Media Arts Festival, The Showroom, Tenderpixel and Whitechapel Gallery, London, Projections Art Rotterdam, OFF – Biennale Budapest, Konsthalle C, Stockholm and Baro, São Paolo. Zaman completed her MFA in Fine Art at Goldsmiths in 2011.