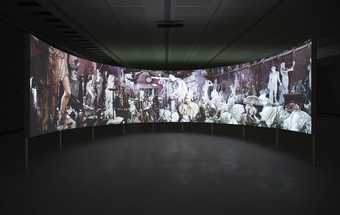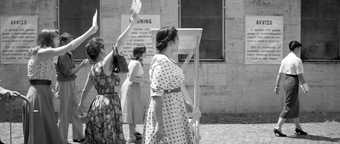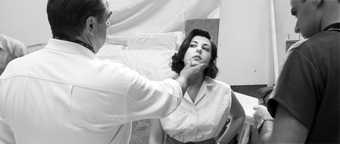 Time, cinematic space, and forgotten myths are the main themes explored in Clemens von Wedemeyer's project The Cast, receiving its UK premiere at Tate Modern.
The various sections of the multi-part work will be presented alongside a discussion with Clemens Von Wedemeyer and Christa Blümlinger, critic, curator and professor of film studies at the University Vincennes-Saint-Denis Paris 8. The project is the result of research conducted by the artist in Rome in 2013. The Cast recalls at the same time the production process of sculptures (the casting of forms) and the selection of actors (casting).
The project consists of three parts that will be screened in between a conversation with the artist:
Afterimage, a 3D animation in which the main character is the camera, navigating through an abandoned store of sculptures in the workshop of Cinears, the oldest company at Cinecittà Studios, which has been producing sculptures and props since the beginning of the Italian film industry.
The Beginning, Living Figures Dying depicts the relationship between humans and sculptures throughout cinema history through fragments of films.
The Cast (Procession) is a film recreated with the collaboration of Teatro Valle Occupato's activists, which recalls an incident that took place in 1958 in Cinecittà during the shooting of Ben Hur, when thousands of extras tried to enter the studios demanding work. Following the screening will be a discussion with the artist.
Clemens von Wedemeyer, Afterimage, 2013, HD video on Blu-Ray, colour, sound, 6 min
Clemens von Wedemeyer, The Beginning. Living Figures dying, 2013, HD video on Blu-Ray, 18 min
Clemens von Wedemeyer, The Cast: Procession, 2013, HD video on Blu-Ray, sound, 15 min
Programme duration: 39 min
Listen to the recording:
Speaker biography
Christa Blümlinger is professor of film studies at the University Paris 8 Vincennes-Saint-Denis (UFR Arts, Philosophie, Esthétique). Previously, she has been teaching at the Free University Berlin and at the University Sorbonne Nouvelle; in 2013 she was Research Fellow at the IKKM Weimar. Her activities include curating and criticism, in Vienna, Berlin and Paris (she as member of the boards of Forum Expanded Berlin and of sixpackfilm Vienna). Her publications include books on essay film, avant-garde film and media art, theatres of memory and landscape; she also edited writings of Serge Daney and Harun Farocki. Her book Kino Aus Zweiter Hand. Formen Materieller Aneignung im Film und in der Medienkunst (Vorwerk 8, 2009) was published 2013 in French (Editions Klincksieck); her latest publication is Attrait de l'archive, Cinémas, vol. 24, no 2-3, 2014 (guest editor).