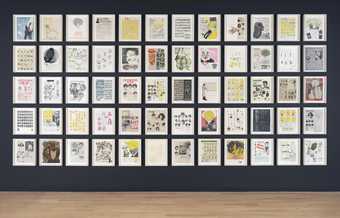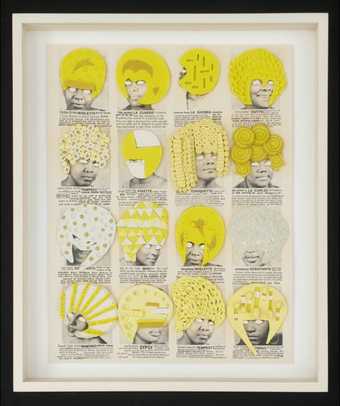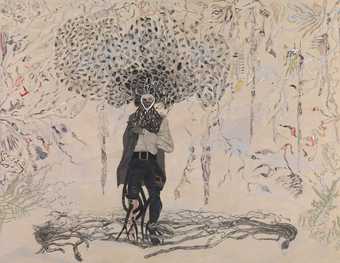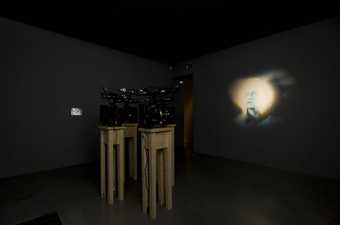 Ellen Gallagher is one of the most acclaimed contemporary artists to have emerged from North America since the mid-1990s. Her gorgeously intricate and highly imaginative works are realised with a wealth of virtuoso detail and wit. This is her first major solo exhibition in the UK, providing the first ever opportunity to explore an overview of her twenty-year career.
Gallagher brings together imagery from myth, nature, art and social history to create complex works in a wide variety of media including painting, drawing, relief, collage, print, sculpture, film and animation. The exhibition explores the themes which have emerged and recurred in her practice, from her seminal early canvases through to recent film installations and new bodies of work.
In her series of wig-map grid collages, Double Natural, POMP-BANG, and eXelento, Gallagher has appropriated and incorporated found advertisements for hair and beauty products from the 1930s to the late 1970s from publications such as Ebony, Our World and Black Stars. These advertisements fostered ideals in black beauty through wigs and hair adornments, which Gallagher has then recontextualised, collaging the Afro wig elements and embellishing them with plasticine. As she comments: 'The wig ladies are fugitives, conscripts from another time and place, liberated from the "race" magazines of the past. But again, I have transformed them, here on the pages that once held them captive.'
The exhibition includes other such key works as Bird in Hand 2006, a complex relief built up in layers of printed matter, plasticine, crystal, paint, gold leaf and salt. In Bird in Hand, human life and marine life converge at the bottom of the ocean in a mythical black Atlantis.
Gallagher's mysterious vision of marine life extends beyond the canvas and into other media, such as the 16 mm film installation Murmur 2003–4 (a collaboration with Edgar Cleijne), as well as the ongoing series of delicate watercolours and cut paper works entitled Watery Ecstatic. New and recent work on display for the first time at Tate Modern include Morphia, a series of two-sided drawings, which show how Gallagher combines the intimate with the epic, the urban with the oceanic, the ethereal with the physical and history with the present.
Ellen Gallagher was born in Providence, Rhode Island in 1965 and now lives and works in Rotterdam and New York. Her work is held in many major public collections, including MoMA and Metropolitan Museum of Art in New York and Centre Pompidou, Paris.
..what will hold the visitor is the sheer fascination of the works... They are possessed of an intriguing force. You certainly won't have seen an artist who sees the world in this way before.
Rachel Campbell-Johnston, The Times ****


Other-worldly but grounded within real histories, obsessive but not dully repetitive, AxME might just be one of the most exciting contemporary art shows in London this spring.
Amy Dawson, Metro ****
@tessagillett Thoroughly enjoyed the @Tate Ellen Gallagher exhibition. Witty and inspiring stuff.
@andrewrjw Ellen Gallagher's AxME show at Tate Modern is fantastic. Imaginative, passionate, beautiful and varied: room after room of great work.