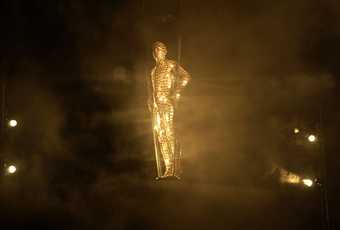 As part of Tate's commitment to supporting diverse forms of contemporary artistic practice, Tate Modern collaborated with the Live Art Development Agency on Live Culture, which took place from 27 – 30 March 2003. This initiative placed contemporary performance against the context of the gallery's display of the collection for the first time.
You can explore this permanent resource to find out more about the artists involved in Live Culture.
Live Culture provided an opportunity to engage with the shifting nature of Live Art practice in relation to the visual arts, by bringing together distinguished artists, theorists and curators to examine the expansion of performance art across broader artistic and social arenas, and its role in relation to cultural change.
A resurgence of interest in experiential and performative practices within the visual arts and the status of 'liveness' as a prime object and value in the media-dense environment of contemporary culture, made Live Culture a timely and critical intervention into current discourses. Live Culture was a framework to appraise key shifts in performance art over the last few decades: its spread out of the gallery and into other spaces and forms; its increasingly hybrid nature and disruption of global and cultural borders; its use of risk and extremity in confronting the art and politics of the body; its impact on social activism and political intervention; its interface with the digital world; and its role as a site for expressions of new identities beyond the distinctions of ethnicity, gender and sexuality.
Live Culture set out to highlight the ways in which the term Live Art has come to represent an array of contemporary practices that employ performance as a generative force to destroy pretence, to break apart traditions of representation, and to open different kinds of engagement with meaning.
Live Culture will be followed in 2004 by a major publication produced in collaboration with Tate Publishing. The publication will contain essays from key writers in the field, visual documentation of influential contemporary performance and