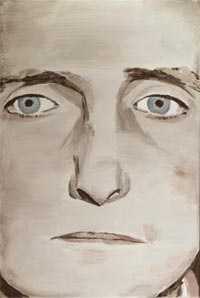 Luc Tuymans is considered one of the most significant and influential contemporary painters working today. He is one of the key figures of a new generation of figurative painters who have continued to paint during a time when many believed the medium had lost its relevance. In the context of the new information age, many artists felt that painting was a deeply conservative form of expression which did not match the heterogeneous nature of contemporary experience. Tuymans' work specifically addresses the challenge of the inadequacy and 'belatedness', as he puts it, of painting.
Tuymans was born in Antwerp, Belgium in 1958 and began to study fine art in 1976. He concentrated on painting but in the early 1980s he lost faith in the medium and gave up for two years. During this time he worked as a film-maker, and when he returned to painting in the mid-1980s, he introduced new techniques such as cropping, close-ups, framing and sequencing, which remain key elements of his work today.
Tuymans' work is a vast repository of data, drawn from photography, television and film, combining a range of different styles and subject matter. His subjects range from major historical events, such as the Holocaust or the politics of the Belgian Congo, to the inconsequential and banal - wallpaper patterns, Christmas decorations, everyday objects There are also paintings which express abstract emotional states, titled 'Embitterment' or 'Insomnia', which imply existential or philosophical responses to the human condition.
Tuymans' range of imagery deliberately resists categorisation. Events and ideas are not expressed explicitly, but implied through subtle hints and allusions, creating an ambiguous collage of disconnected fragments and details. Tuymans has extended this approach in the exhibition hang at Tate Modern. He has chosen to present individual paintings from various bodies of work, bringing together disparate images from different points in his career. This approach signals Tuymans' belief that representation can only be partial and subjective, and meaning must be pieced together, like memories, through isolated fragments.