Collectively titled Night Soil, this series of short documentaries explores three growing movements that actively counter or destablise the pervasiveness of global capitalism and patriarchal structures. Engaging with women users of ayahuasca, sex work activists and an array of alternative farmers, the trilogy considers the socially and ethically progressive facets of these practices – some of which are currently deemed illegal. Asserting new attitudes and perspectives toward sexuality and the natural world, Bonajo's approach to her subjects challenges traditional divisions between humans, nature and technology.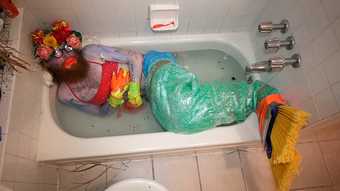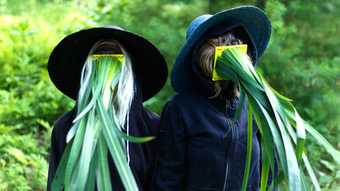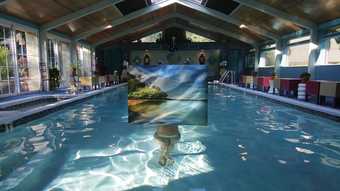 Watch the trailer for Night Soil – Fake Paradise
Programme
Night Soil – Fake Paradise, USA / Netherlands 2015, digital, colour, sound, 32 min
Fake Paradise considers the spiritual, medicinal and social dimensions of ayahuasca, an Amazonian plant with psychedelic properties. Navigating personal stories of experiences and perspectives induced by ayahuasca, the video pays close attention to the female voice, which has traditionally has been neglected in psychedelic research andpopular culture.
Night Soil – Economy of Love, USA / Netherlands 2016, digital, colour, sound, 32 min
Economy of Love centres on a Brooklyn-based women's activist movement that approaches sex work as a way for women to reclaim their power in a male-dominated pleasure zone. Their emphasis is on nurturing, educating and empowering both sexes around the power that lays within the female orgasm, advocating for a shifting vocabulary around sex work and gender roles and moving toward mutual respect and understanding of the body and spirit.
Night Soil – Nocturnal Gardening, USA / Netherlands 2016, digital, colour, sound, approximately 50 min
The nearly-complete Nocturnal Gardening considers how communities come together through alternative and pre-colonial uses of land. Structured around four central storylines, the video explores indigenous land rights, off-the-grid subsistence, racism and injustice in the food system and the consequences of consumer behaviour on farm animals. 
The screening is followed by a discussion with Melanie Bonajo and writer/lecturer Nina Power.
Please note that this screening contains nudity.
Biography
Dutch artist Melanie Bonajo lives and works between Amsterdam and New York. Through her videos, performances, photographs and installations, Bonajo examines subjects of spirituality, gender, sexuality and our shifting relationship with nature. Her work has been exhibited and performed in international art institutions including De Appel Arts Centre, Amsterdam; Center for Contemporary Art, Warsaw; The Stedelijk Museum, Amsterdam; The Moscow Bienniale; National Museum of Modern and Contemporary Art, Seoul and PPOW Gallery, New York. Her films have screened at festivals including International Film Festival Rotterdam, the Berlinale and the online platform Vdrome. Bonajo is the initiator of the Genital International collective and a member of the band Z▲Z▲Z◎Z◎.