'A visually and sonically striking ensemble piece that plays mischievous games with audience expectations' –The Hollywood Reporter
In this highly stylised new feature, the streets of Paris are taken by barricades and furious protesters. Antonio and Giorgio, an eccentric and improbable couple, take refuge in the Hotel Occidental. As the hotel staff grow increasingly suspicious of the couple, a series of absurd events unfold provoking homophobia, racism, misogyny, terrorist threats and political manipulations. Featuring Paul Hamy (The Ornothologist, Fort Buchanan) and Idir Chender, Occidental marks Beloufa's first production with professional actors. Shot in the artist's own studio, the film's retro scenery recalls 70s cult cinema while cell phones and surveillance cameras situate it squarely in the present. With its eclectic range of influences, this genre-bending film reflects satirically on the uneasy context of our time.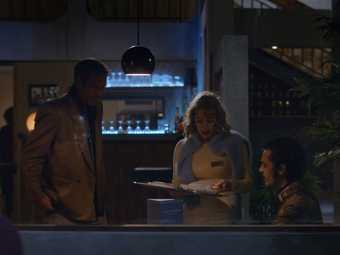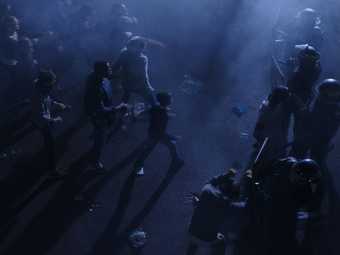 Programme
Neïl Beloufa, Occidental, France 2017, DCP, colour, sound, 73 min
The screening is followed by a discussion with the artist and audience Q&A.
Biography
Neïl Beloufa (b.1985, France) is a French-Algerian artist based in Paris who works across film, sculpture and installation. He studied at the École Nationale Supérieure des Beaux-Arts, Paris; the École Nationale Supérieure des Arts Décoratifs, Paris; California Institute of the Arts, Valencia; Cooper Union, New York; and Le Fresnoy–Studio National des Arts Contemporain, Tourcoing, France. He has exhibited internationally, including solo shows at Palais de Tokyo, Paris; New Museum, New York; Hammer Museum, Los Angeles; K11 Art Foundation, Shanghai; and Institute of Contemporary Art, London, among others. His films have been screened at the Toronto, Rotterdam, London and Berlin international film festivals, and he was awarded grand prizes at the 54th and 57th International Short Film Festival Oberhausen. Beloufa is the recipient of the 2011 Audi Talent Award and the 2013 Meurice Prize for contemporary art. His works are in the public collections of Centre Georges Pompidou and the David Roberts Art Foundation.