Fifty-Five Years on the Infinite Plain is the evolving title of an at-once mesmerising and meditative work Tony Conrad first performed on 11 March 1972 at The Kitchen in New York. The performance comprises the projection of four 16mm film loops each containing the same rapidly alternating pattern of black and clear vertical stripes that together produce an intense stroboscopic effect. A drone sound is produced on amplified string instruments throughout the performance's ninety-minute duration as the frames of each projection slowly begin to overlap and produce new optical effects. The performance unites Conrad's seminal experiments in structural filmmaking with the mode of minimal sound production he had helped develop within the context of The Theatre of Eternal Music ten years prior. In a 2015 audio interview with Tate curator Andrea Lissoni, Conrad explained that the work's 1972 title Ten Years Alive on the Infinite Plain referred specifically to the decade over which he had been exploring the potential of long-duration sound. Restricting himself to the basic materials of film and a vertical stripe pattern – a hallmark of minimalist painting at the time – Conrad aimed to 'subvert or extend the use of ultra-minimal images in a way that would emphasize the emergent complexity they make possible, rather than the images themselves' (quoted in Jay Sanders, 'Tony Conrad', Bomb 92, Summer 2005)​. 
Following on Tate's 2008 retrospective and commissioned Turbine Hall performance and 2016 premiere of Tyler Hubby's documentary Tony Conrad: Completely in the Present, this special performance continues the celebration of Conrad's legacy within and across the fields of sound, moving image, performance and visual art. In the wake of Conrad's 2016 passing, the performance has been researched and transmitted by those close to the artist and features long-time collaborators Andrew Lampert, Angharad Davies, Dominic Lash and Rhys Chatham, who played Conrad's long string drone in the original performance.
Programme
Tony Conrad's Fifty-Five Years on the Infinite Plain 1972–2017, 90 min
Musicians
Rhys Chatham, long string drone
Angharad Davies, violin
Dominic Lash, electric bass
Projection
Andrew Lampert
Please be advised that this programme contains stroboscopic images. 
This programme is supported by the Estate of Tony Conrad, Greene Naftali Gallery, Tate Americas Foundation​ and LUMA Foundation.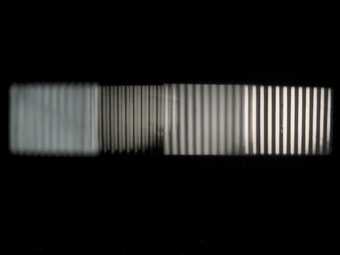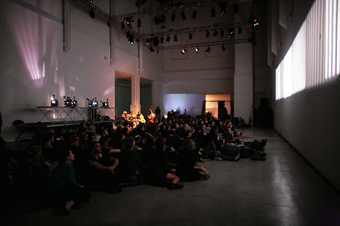 About Tony Conrad
Tony Conrad (1940–2016) was an American artist, composer, musician, performer, teacher and filmmaker. A key figure in the New York avant-garde art scene in the 1960s, Conrad is best known for his seminal experiments in minimal, long-duration sound and structural filmmaking. He was a central part of The Theatre of Eternal Music (later known as The Dream Syndicate), working collaboratively with La Monte Young, John Cale, Angus MacLise and Marian Zazeela among others. In 1966, Conrad created The Flicker, a landmark work in structural filmmaking which provided a model for the sub-genre of flicker films that would later emerge in experimental media practice. Conrad later ventured into video and public-access television while teaching in the Department of Media Study at The State University Of New York, Buffalo, where he lived and worked alongside filmmakers and media artists Hollis Frampton, Paul Sharits, Steina and Woody Vasulka and Peter Weibel.