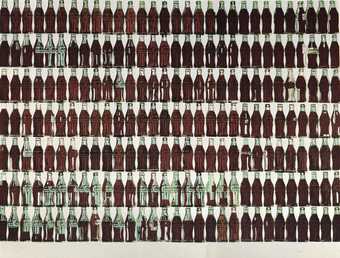 If you want to know all about Andy Warhol, just look at the surface of my paintings and films and me, and there I am. There's nothing behind it.
More than any other artist of his generation, Warhol showed us that the ubiquitous imagery of mass culture had come to reflect and shape contemporary life. Coca-Cola bottles, newspaper photographs of car crashes and of the empty desolation of the death chamber are as closely associated with Warhol as they are with America. This powerful subject matter, however, has often obscured his radical explorations into different media. He painted and drew with silkscreen, made moving film images appear still, stitched together identical photographs, and filled a room with silver balloons. His life's project was to explore the aesthetic and cultural associations of the term 'media', questioning structural boundaries in a way now heralded by some as 'post-medium'. This exhibition was organised by the Neue Nationalgalerie, Berlin, where it was curated by Heiner Bastian.
The Tate Modern presentation is curated by Donna De Salvo.