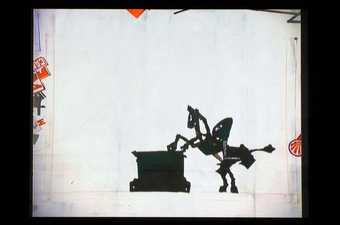 South African artist William Kentridge's eight-channel video installation I am not me, the horse is not mine is showcased in the UK for the first time in the Tanks at Tate Modern.
Projected simultaneously across the walls of the Tank, each film is played on a continuous loop to create an immersive audio-visual environment, which resists the establishment of a single narrative. Each short film contributes layers to a story that references Russian modernism, from Soviet film of the 1920s and 1930s to the calamitous end of the Russian avant-garde.
Kentridge grew up and continues to live in Johannesburg, where his parents were lawyers involved in the anti-apartheid movement. Informed by this background, Kentridge often addresses the fraught legacy of apartheid and colonialism through innovative use of charcoal drawing, printmaking, collages, stop-animation, film and theatre.