Born 1947 in Zagreb, Croatia, where he lives and works. Of Ukrainian-Jewish origin.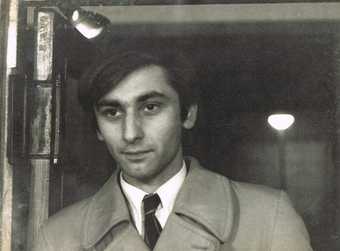 Boris Bućan is a Croatian artist and graphic designer. He studied at the School of Applied Arts in Zagreb, the Academy of Visual Arts in Ljubljana and the Academy of Plastic Arts in Zagreb, graduating in painting in 1972. Bućan belongs to the New Art Practice generation of artists who took an interest in combining visual art with newly available technologies such as photography, Polaroids, photocopies, film, video and graphic design. Their conceptual practices gravitated toward public space, breaking away from the gallery system, as an act of resistance against institutional infrastructures, which, at the time, were dominated by lyrical abstraction. Bućan first came to prominence in Zagreb in the late 1960s through his public interventions. These consisted, for instance, of painting the pavement of a street in central Zagreb bright blue or placing a brightly coloured image, reminiscent of pop art's flat imagery and strong palette, in the courtyard of a Zagreb gallery. In parallel with painting, he has maintained a prolific career as a graphic designer, producing posters for galleries, theatre, the Croatian Radio and Television, and National Theatre. In 1984 Bucan represented Yugoslavia at the Venice Biennale with a series of theatre posters.
Bućan Art 1972 is a series of fifty paintings featuring appropriated and modified corporate logos. The highly recognisable brand logos, such as Coca-Cola, IBM, Swissair, BMW and others, were modified to replace the company name with the word 'art'. Created at the height of Yugoslavia's economic boom and the invasion of consumerism in the country, the work responded to the omnipresence of global brands, media and advertising that suddenly flooded the Yugoslav public space. For Boris Bućan, inserting the word 'art' symbolically placed corporate culture at the service of art. The semantic play in the work comments on the commodification of art while proposing the possibility of art superseding global capitalism. 
Lina Džuverović
September 2015