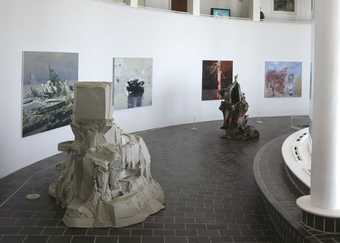 Art Now Cornwall is the first exhibition at Tate St Ives to present a large sample of artists living and working in Cornwall. Selected during thirty-five studio visits made last autumn, it features recent and new work of twenty eight of the county's most influential artists.
Due to limitations of space, the exhibition is a curatorial selection rather than a full survey. As such Art Now Cornwall presents a starting point for visitors to explore contemporary art made in this area, through a diverse range of media and conceptual concerns including painting, photography, print-making, sculpture, live art, drawing and video. The scope of the exhibition includes three generations, with the oldest artists aged sixty and the youngest thirty.
The exhibition, publication and education programme aim to discuss the major themes that are emerging from artists' practice in the region and how they relate to the wider context of artists' practice in the UK. Some trajectories that appear in the exhibition link to various artistic strategies such as Surrealism, appropriation, formalism, interpretation, nostalgia, childhood memories, play and narration, amongst others. Certain works were selected in relation to the gallery space or because of particular formal associations between them, but in all cases new and often surprising dialogues begin to emerge.